The IAM's
Executive Council
I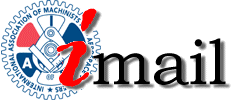 www.goiam.org
---
Tuesday, October 23, 2001
---
Wanted: Visionary CEO For United Airlines
Amid growing calls for the Chairman and Chief Executive Officer of United Airlines, James Goodwin, to step down, IP Tom Buffenbarger said the airline cannot afford a leader who does not believe the airline can survive. "Goodwin's letter predicting United Airlines will 'perish' was inexcusable," said Buffenbarger.

"In its 75-year history, United Airlines and its employees have survived war, economic depression and mismanagement. We fully intend to overcome the current crisis with or without the current CEO."

See the video:
IAM Rejects Goodwin Threat
---
IAM Takes Northwest Airlines to Court
The IAM filed suit this week in federal court against Northwest Airlines for forcing IAM gate agents to perform security screenings
without proper training. Northwest is forcing workers, under threat of discharge, to search passengers and luggage in gate areas prior to boarding.

"Our members are unarmed and many are understandably fearful that in the event an unstable person or terrorist is discovered through this process in the boarding area, it will unnecessarily expose them and the traveling public to serious bodily harm or death," said Robert DePace, District 143 president and directing general chairman.

The IAM suit called for Northwest to cease the practice and to
assign trained security personnel to the screening of passengers.

"We agree these security functions are necessary," said Transportation GVP Robert Roach, Jr. "But forcing untrained people to perform them endangers our members and the flying public."

Related LInk
IAM Transportation
---
IAM Wins Foundation Grant
The IAM came up a winner in its efforts to keep the union in the forefront of the unceasing struggle to win economic justice and social dignity for workers. For the past three years, the union's Strategic

Resources Department has conducted a comprehensive survey of what IAM members think of their union, their jobs and their society.

In an effort to expand that "Pulse of the Union" survey, the IAM teamed up with researchers at the University of North Carolina, the University of Massachusetts and the Economic Policy Institute in
Washington, D.C.

This past week, the Sloan Foundation awarded the IAM team a $398,000 grant to move this project forward. The results of the survey will help ensure the that the IAM remains "the Union of the 21st Century."
---
Per Capita Tax Hike Set
The Grand Lodge per capita tax for the year 2002 will be $18.63, reported GST Don Wharton. The $18.63 figure is the weighted average hourly earnings of members. This represents a 2.08 percent increase, Wharton added. "This is the final figure and there will be no further computations made."

In accordance with the revised IAM Constitution, 10 percent of the per capita tax ($1.87) or 10 percent of the reduced Grand Lodge per capita tax will be allocated to the IAM Strike Fund.

The final computations were based on information from 958 lodges that returned the required forms. These lodges have a combined membership of 671,349.
---
IAM Journal, Website Win Awards
The International Labor Communications Association (ILCA) honored the IAM with a first place award for Best Website, while the IAM Journal picked up a second place award for General Excellence and added a pair of Special Performance Awards.

The winning entries were selected from 1,216 submissions from 139 ILCA members. The awards will be presented at the Journalism Awards Banquet at the ILCA Convention in Las Vegas on November 30.
---
Railroad Retirement Awaits Senate Action
"It's time for the Senate leadership to follow the House's lead and vote on Railroad Retirement reform," said GVP Robert Roach, Jr.

"Even in these difficult times, the Senate needs to deal with the business they had prior to the September 11 attacks." The House
version of the bill passed on July 30, 2001 by a vote of 384-33.

IAM members are urged to contact Senate Majority Leader Tom Daschle to bring S. 697, the Railroad Retirement and Survivors Reform Act, to the floor for a vote. Due to security concerns with Senate mail, members are requested to contact their Senators by phone, fax and e-mail. Visit http://www.goiam.org/politics.asp for more information on how to contact state and federal legislators.
.

---

Comments, suggestions, or story items?
Contact IAMAW / Read previousimail