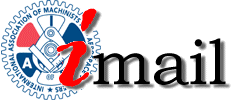 www.goiam.org
---
Wednesday, October 24, 2001 . . . SPECIAL EDITION
---

Machinists President Calls On UAL Board to Replace CEO James Goodwin
Washington D.C., October 24, 2001 - "The search for Chairman Goodwin's successor should begin immediately," said Machinists Union President Tom Buffenbarger in a letter delivered today to members of the UAL Board of Directors. "It is more apparent than ever that United's problems begin at the top."
Buffenbarger linked Goodwin's October 17 letter to UAL employees to a 21 percent drop in UAL's stock price. Describing the letter as "horribly timed and poorly conceived," the union president demanded to know if the board was consulted before the letter predicting the demise of the airline was released.
"I'm not sure which would be worse - discovering that Chairman Goodwin acted unilaterally or learning that the Board was aware of the letter before it was published and failed to stop it," said Buffenbarger.
Buffenbarger said the board should also direct legal counsel to determine if "cause" exists for Mr. Goodwin's termination under his employment agreement. "No single person, no single employee should be able to wreak such havoc without consequences.
"United Airlines' problems did not begin last week or last month," noted Buffenbarger, whose union represents 45,000 current and recently laid off UAL employees. "Years of mis-management and missed opportunities are the unfortunate legacy of the current management team. We need to move on.
"The best thing Mr. Goodwin can do for this company is to leave," said Buffenbarger. "And he should take UAL Vice President Andy Studdert with him when he goes." Studdert is widely regarded by employees as responsible for the contentious relationship between the company and 15,000 Mechanic and Related employees at United.
"Goodwin squandered the confidence of the constituencies to which the UAL Board is responsible," said Buffenbarger. "The public shareholders have expressed their dismay, moving the stock price to historic lows. Employees want Goodwin's resignation or removal. Perhaps it is only United's competitors who now favor Mr. Goodwin's continued stewardship.
"This is not the time to engage in lengthy, public debates," Buffenbarger told the UAL Board. "Your constituents deserve decisive action to select new leadership for this airline."
Read the full text of IAM President Buffenbarger's letter to the UAL Board of Directors.
.

---

Comments, suggestions, or story items?
Contact IAMAW / Read previousimail