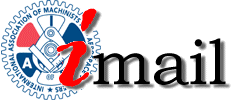 www.goiam.org
---
Friday, October 26, 2001
---

The Sounds of Silence
Since delivery of President Buffenbarger's letter to the United
Airlines Board of Directors, the sounds of silence have descended across the Chicago based corporation. It is Day Two, and employee owners, investors and the media are still waiting for . NEWS.

In a blistering 5-page letter delivered to members of the UAL Board of Directors, IP Tom Buffenbarger said the search for Chairman James Goodwin's successor should begin immediately. "His credibility is beyond repair," said Buffenbarger in comments widely covered by the national media. "Public shareholders are driving UAL stock to new lows and employees are clamoring for his removal. Perhaps it is only United's competitors who now favor Mr. Goodwin's continued stewardship."

Buffenbarger linked Goodwin's October 17 doomsday letter to a 21 percent drop in UAL's stock price and widespread alarm among
passengers, employees and investors. "No single person, no single employee should be able to wreak such havoc without consequences," said Buffenbarger. While airline stocks staged a general rally on

Thursday, UAL stock dropped another 4 percent to a 52-week low of $14.25 per share. The letter from IP Buffenbarger to the UAL Board of Directors is available on the IAM website at www.goiam.org.
---
'Fast Track to Lost Jobs' Pans Trade Deals
A new study finds more than 3 million U.S. jobs have been lost since 1994, when both NAFTA and the World Trade Organization (WTO) came into being. The Economic Policy Institute (EPI) study shows a long-term trend of job losses in trade-sensitive industries accelerated after NAFTA and the WTO stepped up to the plate. This trend spells trouble ahead as the economic downturn deepens, say EPI experts.

"NAFTA and WTO have been equal opportunity destroyers,
hitting every state without exception," said Robert Scott, the senior EPI economist who analyzed the jobs data. "During the economic boom, the loss of good manufacturing and other trade-related jobs was masked by rapid growth elsewhere, primarily in the volatile high-tech and lower-wage service sectors."

These job losses have been studiously ignored, even denied, by Fast Track supporters inside and outside the Bush administration, who have reported only on the impact of increasing exports while ignoring the jobs-destroying impact of more rapidly increasing imports. For more detail, visit the EPI website, www.epinet.org
---
Buffenbarger Puts Congress on Notice
Members of Congress came under fire in an address by IP Tom Buffenbarger to delegates attending the IAM's Women's Conference and its Retirees counterpart in a nearby Las Vegas hotel. Buffenbarger blasted the House for passing a so-called "economic stimulus" package larded with pork for Corporate America and upper-crust taxpayers, while flicking crumbs to working families.

He painted a grim reality facing workers. Buffenbarger pointed out that "the IAM could lose as many as 50,000 members by year's end, 10 percent of our active membership." And he reminded delegates to the two conferences that this comes as Big Business used the September 11 tragedies as a justification for raiding the U.S. Treasury.

"Congress did nothing for the laid-off workers idled by these tragedies," Buffenbarger said. He urged delegates to make their voices heard and to send a strong message to their senators and representatives. "Put them on notice," he suggested. "Deliver for the people or we'll hand you your pink slip without severance pay," he warned.
---
GOP Package Panders to Privileged
The House of Representatives walked away from the opportunity to pass a responsible economic stimulus package and narrowly passed, 216-214, a measure that gives even more goodies to Corporate America and to the wealthiest taxpayers. Only three Democrats voted for the GOP-backed bill, while seven Republicans broke ranks and voted against it.

"Despite its label, the package does absolutely nothing to stimulate the economy," said IP Tom Buffenbarger, "and it does even less for working families, including hundreds of thousands of laid-off workers."

AFL-CIO President John Sweeney was equally blunt. "This is a quick response to Big Business and the wealthy, no response to the needs of working families."

The package gives additional tax cuts to the richest taxpayers and a gaggle of generous handouts to corporations. One of the bill's provisions repeals the alternative minimum corporate tax. That is a tax levied on profitable corporations whose tax lawyers figure out ways for the firm to avoid any tax payment whatsoever.

"That one single provision means that General Electric, perhaps the world's richest corporation, could receive more than $650 million in tax rebates," Buffenbarger said.

The package faces tougher sledding in the Senate, where the IAM joins with the AFL-CIO in seeking to add more benefits for working families. A Democratic alternative measure targets smaller tax cuts combined with higher spending for health care, and jobless benefits among other proposals.
---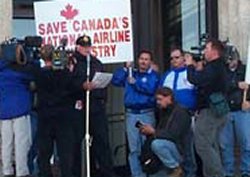 Winnipeg Machinists Rally for Airline Jobs
Canadian IAM members converged on the Manitoba Legislature to demand the federal and provincial government take action to ease the impact of recent job cuts announced by Air Canada.

"We're looking to all levels of government to get involved to save jobs and preserve the social and economic fabric of our Winnipeg community," said Mike Fennessy, president of IAM Local Lodge 714. "The lack of action on the part of the federal government is
appalling."

The Machinists, along with six other airline unions, are seeking federal funding to deflect involuntary layoffs by allowing senior members to retire without pension reduction. The price tag for the job saving pension supplement plan is approximately $117 million.

Related Link:
IAM Canada
---
Dismal Data Shows Economic Ennui
Home sales plunged, unemployment climbed and orders for durable goods fell for the fourth consecutive month in the most recent release of economic data. The latest indicators show an economy even weaker than expected, with one analyst describing the U.S. situation as part of a "global, synchronized recession."

Durable goods orders fell 8.5 percent in September and home sales sank 11.7 percent while the number of Americans filing new unemployment claims rose last week to 504,000, the second highest figure in nearly a decade.

The outlook for recovery is equally uncertain, with a stimulus package proposed by the Republican-controlled House of Representatives consisting mostly of tax breaks for
corporations and wealthy individuals.

"This Congress is busy returning favors for campaign contributions when they should be helping the working families who are the heart and soul of the American economy," said IP Buffenbarger. "We intend to remind voters next November who helped in this time of crisis and who merely helped themselves."
---
Hawaiian Air Members Ratify New Contract
A majority of IAM Mechanic and Related members joined Office, Clerical and Ramp workers at Hawaiian Airlines and ratified new contracts with increases and improvements to wages and benefits. The 42-month agreements also contain enhancements to an "early out" program for members considering retirement. IAM negotiators were joined by representatives from District 141 and 141-M who unanimously recommended the new agreements after 10 months of direct and mediated talks. The IAM represents nearly 1,700 members at Hawaiian Airlines and has negotiated contracts with the Honolulu-based carrier since 1951.

Related Links:
District 141
District 141M

.

---

Comments, suggestions, or story items?
Contact IAMAW / Read previousimail