Tue
sday, October 7, 2003
---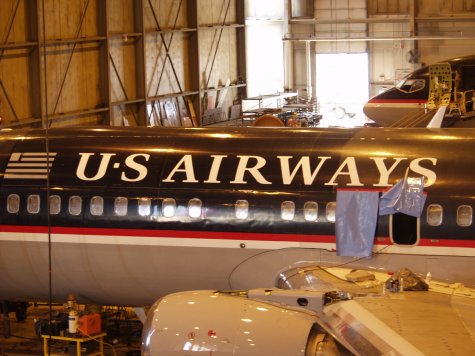 IAM Throws Roadblock In US Airways Farmout Plans

Following an announcement by US Airways that it plans to outsource heavy maintenance on 10 of its 121 Airbus aircraft, the IAM and District 141-M filed for a Temporary Restraining Order (TRO) to prevent the carrier from moving the work to an outside facility.
The carrier revealed it had reached an agreement with Singapore Technologies Mobile Aerospace Engineering, a foreign-owned firm located in Mobile, AL, to perform S-checks on Airbus aircraft operated by US Airways.
"In the 54 years the IAM and US Airways have had a collective bargaining relationship, the Company has never subcontracted heavy maintenance of aircraft," said the IAM in the court filing. (IAM Complaint Against US Airways.) "Such subcontracting is strictly prohibited by the parties' collective bargaining agreement.
"US Airways' attempt to seize what could not be attained through the collective bargaining process is equivalent to the destructive actions taken by Frank Lorenzo in the late '80's," said IAM GVP Robert Roach, Jr. "The move is an affront to the US Airways employees who brought the Company out of bankruptcy and to the communities where they live and work." For more information about the outsourcing dispute:
http://goiam.org/territories.asp?c=4779

---
Pratt Workers Slam Management Pay Cut Bid
Machinists at three Pratt & Whitney plants in central Connecticut rejected a management proposal to cut workers' pay by 15 percent in exchange for temporary job security. A total of 423 workers cast ballots on the issue, which affects 468 materials workers.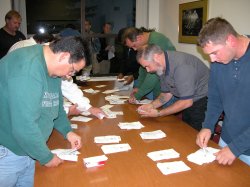 On the heels of the 219-203 vote, The Hartford-based aerospace subsidiary of United Technologies Corp. (UTC) announced 160 P&W jobs in Cheshire, East Hartford and Middletown would be cut and the work transferred to outside vendors.
The proposal by Pratt management was viewed as a "lose/lose" situation for workers, who balked at pay cuts while UTC executives routinely get exorbitant bonuses. Many workers objected on principle to making financial sacrifices, even at the cost of layoff.
The IAM plans to meet as soon as possible with Pratt management to discuss how to preserve jobs without reducing workers' pay. The IAM believes it is in the company's interest as well as the workers to preserve the critical parts shipping operation.
"We had to bring this proposal back to the members, because management said it was their final offer," said District 26 Assistant Directing Business Representative Jim Parent. "But we knew it was an ugly proposition, and this vote proves that. Now management has a chance to work with us instead of working against their own employees. Hopefully, they will take up that challenge."
---
House Puts Damper on Bush Overtime Proposal
The U.S. House of Representatives voted 221-203 to oppose a Bush administration proposal that could spell the end of overtime pay protection for up to 8 million U.S. workers. The vote reverses earlier support in the House for the OT proposal, which would gut the landmark 1938 Fair Labor Standards Act.
The vote was a major victory for working families and labor unions, whose members generated hundreds of thousands of e-mails and phone calls to legislators on the need to protect, rather than eliminate overtime pay protection.
The non-binding motion instructs members of the House conference committee to include an amendment that would deny funding for the Labor Department to implement the overtime scheme. Republican leaders are expected to hand pick supporters of the Bush proposal for the conference committee in a last ditch effort to revive the assault on overtime pay.
---
Seniors Win Voice, Votes on DNC Committee
IAM seniors gained a valuable new resource this week when the Democratic National Committee (DNC) welcomed civil rights activist Dr. Eugene Callendar and Maria Cordone, IAM Director of Community Services/Retirees, as voting members of the DNC's National Democratic Seniors Coordinating Council (NDSCC).
Callendar and Cordone were elected chair and vice chair respectively to the NDSCC and will officially represent the council as voting members of the DNC.
The mission of the NDSCC is to increase participation of seniors at all levels of the Democratic Party and to heighten the visibility of senior Americans as one of the Party's core constituencies.
"We are going to recruit, organize and turn out the senior vote like never before," said Cordone. "It is our job to ensure that seniors know the differences between Democrats and Republicans, and how destructive the GOP agenda is for seniors."
---
Retirees Plan National Day of Action for October 10
October 10 has been designated a "National Day of Action" by the Alliance for Retired Americans, who will coordinate "whistle blower" events around the country to protest Medicare prescription drug bills now being considered by Congress.
"The Oct. 10 activities are designed to inform the public and the media of just how devastating H.R. 1 and S.1 will be to older Americans," said Alliance President George Kourpias. "Our goal is to send Congress a message it cannot ignore."
"From the beginning of this debate, the Alliance has fought efforts to dismantle Medicare, arguing instead for Congress to enact a voluntary, universal, comprehensive prescription drug benefit as part of traditional fee-for-service Medicare programs," said Alliance Executive Director Edward F. Coyle.
Additional information about the Day of Action will be posted on the Alliance website at www.retiredamericans.org.
---
Jobs Disappear at U.S. Blue Chips
The number of jobless Americans continues to grow; with bellwether manufacturers Ford Motor Co. and Eastman Chemical Co. announcing another round of job cuts.
Ford announced it will eliminate over 3,000 jobs in North America by the end of the year, cutting 1,700 contract workers and eliminating more than 1,300 salaried positions. The company also cut 3,000 jobs in Belgium and 1,700 jobs in their German division.
The layoffs are part of the automaker's 5-year plan to eliminate 35,000 jobs, close five plants and discontinue four car models, all in hopes of improving profits by $9 billion.
Eastman Chemical, which produces the plastic for soda bottles and other chemicals, also announced 600 job cuts, blaming lower product prices and higher raw material costs.
Apparently the U.S. Department of Labor was unaware of the continuing erosion of jobs. It announced that the unemployment rate for September remained at 6.1%. It did, however, note that an additional 29,000 jobs were lost in the manufacturing sector, marking the 37th consecutive month for job losses in this critical sector.
---

Past iMail | Your Email | Visit www.goiam.org | Print Version | Sign-Up for iMail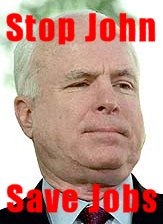 Senator John McCain (R-AZ) is back flying combat missions. This time, however, he seeks to shoot down the proposed lease of Boeing 767 tankers by the US Air Force. And he is using every weapon at his disposal to chalk up another kill. Help stop John McCain and save North American jobs.

---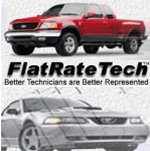 FlatRateTech is an organization "created for and by Ford and Lincoln Mercury service technicians solely to speak as one loud voice rather than 50,000 smaller voices," according to their website http://flatratetech.com. The fast-growing site offers forums for Ford customers, technicians and dealers to exchange information.

---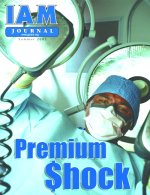 The Summer 2003 IAM Journal is now online. Skyrocketing health care costs are causing Premium Shock for members and employers. The IAM Journal looks at what's causing the increases and what can be done to change America's health care system.
---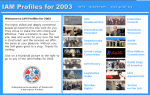 See who works for you, how the IAM is structured, and what services the IAM offers. Go to: IAM profiles for 2003.
---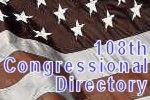 The 108th Congressional Directory . . . get your copy. Send $5 to the MNPL Education Fund, c/o IAMAW, 9000 Machinists Place, Upper Marlboro, MD, 20772.
---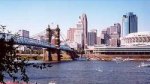 The official site for the 36th Grand Lodge Convention to be held in 2004 in Cincinnati, Ohio is now online. Check it our for convention news, sponsorship offers, and convention gear.