Attack on Airbus Subsidies,
'Too Little, Too Late'
IP Tom Buffenbarger called the government's complaint over Airbus subsidies "too little, too late" and questioned the timing behind the Bush administration's action.
"Thanks to existing unfair trade agreements, U.S. aerospace workers and the North American aerospace industry has been at a disadvantage for years," said Buffenbarger. "If this administration thinks U.S. voters will be fooled by a political smokescreen less than a month before the election, they are mistaken."
Democratic presidential candidate John Kerry agreed. "For the last four years George Bush has been asleep at the wheel when it comes to enforcing existing trade agreements," said Kerry. "And while the president dozes, American jobs are being stolen by foreign competitors relying on government handouts."
U.S. officials filed their complaint with the World Trade Organization (WTO), charging Airbus recently used $15 billion in direct subsidies to accelerate the development of the Airbus 380 and other aircraft.
Millions Watch Edwards-Cheney Debate
The first and only vice presidential debate featured sharp exchanges between the candidates and provided 43 million viewers with 90-minutes of raw political theatre.
Edwards displayed considerable skills as he crossed verbal swords with the dour Cheney on Iraq, jobs, healthcare and foreign policy. Over and over, the Democratic nominee accused the vice president of misleading the American public about links between Saddam Hussein and Al Qaeda. And despite new evidence regarding the absence of biological, chemical or nuclear weapons in Iraq, the unapologetic Cheney declared he would not do anything differently regarding the invasion and occupation of Iraq.
While analysts differ on the impact and value of vice presidential debates, a CBS poll gave John Edwards the win by a wide margin. Cheney, on the other hand, may have locked up the gargoyle vote with his grim visage and brooding performance. "There is no doubt about it - no one can match Dick Cheney when it comes to sneering, snarling and cursing," said one observer. "The question for voters is which of these two candidates should be a heartbeat away from the presidency."
Help Protect U.S. Shipbuilding Jobs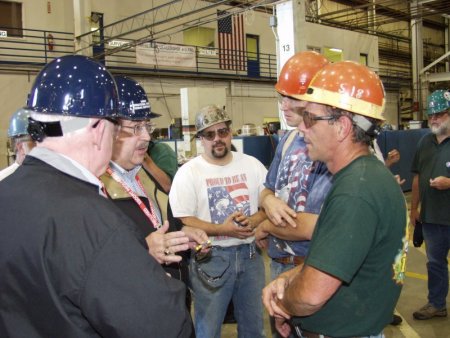 IP Tom Buffenbarger, second from left, greets IAM members of Local S6 at Bath Iron Works in Maine during a recent visit to the shipyard with AFL-CIO President John Sweeney.
The U.S. Department of Transportation Maritime Administration is gearing up to allow significant outsourcing of U.S. naval and commercial shipbuilding to foreign countries – a move that could cost tens of thousands of jobs and jeopardize the future of a critical U.S. industry.
Despite the passage in Congress last year of the Tank Vessel Construction Assistance Program, which provided for the production of five new tankers in U.S. shipyards, the Maritime Administration is proposing to allow 10 percent of each ship to be built in foreign shipyards - primarily in China and South Korea.
If allowed to stand, this misinterpretation of a program designed to create jobs here in the U.S. soon will become the law of the land for all commercial and naval ships. The economic and national security impact of outsourcing our shipbuilding capabilities is immeasurable.
IAM members can join the fight to protect U.S. shipbuilding jobs by contacting their representatives to urge their support for legislation that protects this vital U.S. industry.
Click here to send your message to Congress.
A House Out of Order
For more than 200 years, the U.S. House of Representatives has been the site of legendary debates, landmark legislation and historic speeches. Under the current administration, however, the tradition of free and open debate in the House is taking a back seat to the GOP's political agenda.
On September 29, a speech by Rep. Sherrod Brown (D-OH) was cut short by the House Speaker pro tempore when Brown spoke out about strong-arm tactics used to secure passage of last year's controversial Medicare Bill.
The Ohio representative's initial remarks focused on well-known information about how Bush administration officials illegally suppressed accurate cost estimates of the Medicare legislation and how millions in campaign contributions have flowed from the drug and insurance industries to the President and GOP leaders in Congress.
Brown's comments were interrupted by House Speaker pro temp Candice Miller (R-MI), who cited a rarely-used House rule barring "improper references to the President or Vice President, whether by accusation or innuendo."
"The gentleman may not, even by innuendo, allege a quid pro quo between receipt of campaign contributions and public policy decisions," said Miller, turning political reality on its head and imposing the parliamentary equivalent of a gag rule on Rep. Brown.
Before being silenced, Brown called the Medicare legislation scandal a "perfect circle" that included "tens of millions" in campaign contributions from the drug and insurance industry. "It is corrupt, it is shameful and it is morally reprehensible," said Brown.
September Layoffs Reach Eight Month High
With 107,863 layoffs in September, U.S. job cuts hit an eight-month high, according to a report released Tuesday by the firm Challenger, Gray & Christmas. The massive number of job cuts is 41 percent higher than in September 2003 and 45 percent more than in August of this year.
Transportation, consumer products, computer and telecommunications industries were the hardest hit by the job cuts. Adding to the bleak jobs picture was an extremely slow pace in job hiring, with only 16,166 new job openings, according to the report.
IAM Contract Protects Retiree Health Benefits
An innovative contract between IAM members of District 837 and The Boeing Company in St. Louis, MO is helping to offset the soaring cost of retiree healthcare.
Under terms of the agreement ratified by members earlier this year, 10 cents per hour will be diverted from a cost of living increase adjustment (COLA), giving IAM retirees a $45 per month reduction in health care premiums.
"While retiree health care is vanishing for many employees in the United States, IAM negotiators found a way to maintain affordable, high quality healthcare for our retirees, while reducing its cost," said IP Buffenbarger.
New Mexico Local 2515 Ratifies Contract
IAM members of Local 2515 in Alamogordo, New Mexico, who work under the EG&G contract at RatScat, ratified a new three-year contract by a vote of 19-6. Key changes in the new agreement include: a three percent pay raise each year; increased shift differential; a new healthcare plan and introduction of the IAM Pension Plan.
The new contract also includes improved language on the grievance procedure, disciplinary records, funeral leave, jury duty, and seniority provisions.
The negotiations were headed by DBR Marion "Bud" Duryea, who thanked committee members Robin Curry and Allen Sheppard for their hard work. He also thanked Chief Steward Mike Simms for his efforts. "I very much enjoyed working with this Committee and appreciated their dedication to the membership as a whole, which helped in securing such a good and fair contract," said Duryea.
---
Past iMail | Your Email |www.goiam.org | Print Version | iMail Sign-Up