Tuesday, October 8, 2002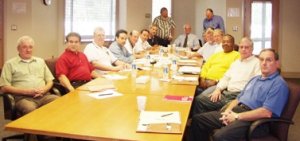 IAM Eyes GE Contract Talks
Representatives from IAM local unions at various General Electric facilities held a three-day strategy session at the Winpisinger Center last week. GVP Bob Thayer said the meeting set the agenda for contract talks with the giant corporation next year.
"We discussed ways to give our members a greater voice on their issues than was available through the GE/Collective Bargaining Committee setup," Thayer said. "This way, our members' concerns will be more directly addressed."
Thayer said follow-up meetings will be held with GE management to structure negotiations for next year. "We will be in close touch with our members during these talks," Thayer pledged. "We will make our voices heard."
---
Medical Costs Drive Strike at Lufkin

Nearly 300 Machinists from LL 1999 walked off the job Monday morning at Lufkin Industries and joined another 400 Boilermakers and Glass Molders in a strike over retirement and soaring medical insurance costs. Texas-based Lufkin employs about 1,200 people making truck trailers, power transmission equipment, foundry castings and oilfield pumping units.

"Many of our retired members pay more for insurance and prescription drugs every month than they receive in pension," said District 37 Directing Business Representative Todd Rogers. "The members just got hit with a 25% raise in the cost of insurance. We're tired of the company officials receive bonuses, while our members struggle to pay medical bills."
---
High Court Ducks NJ Ballot Dispute
The nation's highest court handed down a "hands off" decision that could have far-reaching consequences in the hotly fought campaign for control of the Senate. The Supreme Court rejected GOP appeals to once again enter the political thicket as it did during the 2000 presidential election debacle in Florida.
The court's ruling said New Jersey could put another candidate on the ballot instead of scandal-stained incumbent Sen. Robert Torricelli, who dropped out of the race. The ruling hands Democrats a major victory in the Senate battle. They quickly tabbed former Sen. Frank Lautenberg as their new standard-bearer. Early polls show Lautenberg has erased GOP candidate Doug Forrester's early lead. Republicans had high hopes for picking up the seat, which could have handed them Senate control.
The Senate currently stands at 50 Democrats, 49 Republicans and a single Independent. Only a handful of Senate races are said to be in play in the November elections.
---
Working Families Key to November Elections
Voter turnout is the crucial element in next month's looming election. Working families play a key role in that equation. With less than five weeks remaining until the election, working men and women, their families, friends and retirees are mobilizing to elect candidates who are pledged to support their issues at every level.
"The issues are far too important to sit at home and let others decide our future," said IP Tom Buffenbarger. "Rebuilding our industrial base, protecting Social Security, winning a fair and affordable prescription drug plan are just a few of the items on our agenda. We hold the key. Let's make our votes count," he urged.
He pointed out that a switch of just six seats in the House would hand that chamber to the Democrats, while in the Senate, the switch of a single seat would swing control to the Republicans.
Despite the critical nature of this election, only 17 percent of eligible voters bothered to cast ballots in the 37 states holding statewide elections this year.
---
GOP Stalls Homeland Security Bill
Senate Republicans once again blocked a vote on homeland security legislation solely because it preserved collective beginning rights and civil service protections for the 170,000 federal workers who would make up the new department.
Sixty votes are needed to end debate and bring the measure to a floor vote, the move failed by a 52-45 count, with almost solid GOP opposition.
President Bush has threatened to veto any measure that does not give him unlimited power over the workers and Senate Republicans also rejected a bipartisan bill that gave Bush most of what he sought.
With the Senate slated to adjourn Oct. 11, it is unlikely that a compromise can be found.
---
District 77 Organizes Inver Grove Hyundai
District 77 in St. Paul, MN brought eight new members into the IAM as a result of their organizing win at Inver Grove Hyundai in Inver Grove, MN. District 77 Business Representative Don Yetman said, "I am extremely proud of our new members. They were solid in their commitment and they were the key to this victory." According to Yetman, the main issues for our new members were a voice in the workplace, job security and insurance.
---
Pennsylvania Auto Techs Choose IAM
Automotive technicians at a Nissan dealership in East Petersburg, PA, voted to join the IAM recently, making them the first in the Central Pennsylvania area to organize with any union.
A National Labor Relations Board (NLRB) election confirmed the majority support for the IAM among the technicians, who now look forward to their first collective bargaining agreement.
"Auto technicians are underpaid for their skills and knowledge," said Bob Myer, IAM District 98 organizer, who praised the technicians for being courageous enough to step up and set a new standard for auto techs in their area.
"Organizing automotive technicians is a national priority for the IAM," added Boysen Anderson, coordinator of the IAM Automotive Department. "We are focusing on the dramatic difference in pay and benefits between union and non-union professionals."
The Pennsylvania victory may be the first in that area, but it is not likely to be the last. According to Myer, the IAM filed a petition with the NLRB for an election to determine IAM representation for technicians at nearby Chapman Ford in Lancaster.
---