Thur
sday, October 9, 2003
---
US Airways Lands in Court Over Outsourcing
A U.S. District Court Judge in Pennsylvania scheduled a hearing for October 10 to hear arguments on the IAM's motion for a Temporary Restraining Order (TRO) to block US Airways from subcontracting IAM members' work to a foreign-owned facility located in Mobile, Alabama.
Earlier this week, US Airways announced it would subcontract heavy maintenance on 10 of its Airbus aircraft, a move the IAM considers to be a major contract dispute under the Railway Labor Act. The airline claims it lacks adequate facilities and equipment to perform the work, despite a long history of performing identical work on the airline's non-Airbus fleet.
"All heavy maintenance work, regardless of aircraft type, falls under the scope of our contract," said GVP Robert Roach, Jr. and leaders of District 141-M in a letter (link) to members.

---
Shareholders Challenges Gather Momentum
The Securities and Exchange Commission (SEC) voted unanimously this week to propose sweeping new rules to increase shareholder access to the annual proxy ballots used to nominate corporate directors and determine major corporate governance issues.
Under current rules, shareholders can nominate directors at a company's annual meeting, but such efforts rarely succeed because most shareholders vote by returning a mailed proxy ballot before the annual meetings are held. These ballots are prepared by the company and typically do not include any information on shareholder-nominated directors.
Additionally, most shareholder-led initiatives are non-binding and sitting directors are relatively free to ignore large blocks of dissatisfied investors, including employees and pension fund managers seeking greater accountability and transparency.
"The recent corporate crime wave that robbed millions of Americans of their jobs, savings and retirements is more than enough reason to change the way current CEO's are allowed to operate," said IP Tom Buffenbarger. "The new SEC rules are an important step toward repairing a system that allows a company like Lockheed Martin to keep former Enron director Frank Savage on its' board despite overwhelming opposition by shareholders and employees."

---
United Airlines to Request IRS Waiver
United Airlines advised employees today that it will apply to the Internal Revenue Service (IRS) for an extension on the schedule of payments required to fund defined benefit pension plans at the bankrupt carrier.
The request, if approved, would not affect the amount United is required to pay into employees' pension plans, nor would it reduce the amount of pensions due current or former United employees.
If the IRS grants United's application for a waiver, the carrier would be given additional time to meet its pension funding obligations. Such relief is not without precedent yet differs dramatically from the liquidation of a pension plan, an action recently imposed on pilots at then-bankrupt US Airways.
In a letter to employees, the carrier said it is also seeking legislative relief in Washington D.C. from the current pension payment schedule.
"Few things are more important to an employee than their pension," said Randy Canale, IAM District 141 President, representing 26,000 IAM members at United. "And few things threaten employee pensions more than bankruptcy. If the IRS payment extension puts United on the road to financial recovery without reducing employee pensions by so much as a dime, then it should be granted."

---
Hospital Errors Kill Thousands Annually
A new study identified a handful of medical errors and complications that kill more than 32 thousand U.S. hospital patients each year and add more than $9 billion annually to hospital bills.
The study appears in this week's Journal of the American Medical Association and identifies 18 common medical errors ranging from minor medical mishaps to post surgical infections that add an average of $58,000 in costs and 11 days to a hospital stay. Additionally, the study found post-surgical infections increase the risk of dying in the hospital by 22 percent.
"The study confirms our strong belief that preventable medical errors are a leading cause of the high cost of health care in this country today," said Steve Sleigh, director of the IAM Strategic Resource Dept., who also serves as a director on the National Committee for Quality Assurance. "The issue of quality health care and the steps we can take to ensure our members get the most for their health care dollars can no longer be taken for granted."

---
Justice for Janitors - Canadian Style
Employees of Martin Building Maintenance in Stratford, Ontario voted overwhelmingly in favor of the IAM. The 39 new IAM members clean and maintain various facilities throughout Stratford including the mall, post office, banks and a number of factories. Wages and benefits are very low and they know that the IAM will assist them in getting a better deal.
The IAM represents Dura Automotive, Crane Canada, Spartech and Cedarcroft Nursing Home in the City of Stratford which is also the birthplace of the Canadian Machinists, chartering Local Lodge 103 in 1890.

---
Workers at Héroux-Devtek join the IAMAW
Motivated by the IAM's aerospace expertise, more than 90 percent of the hundred or so highly specialized workers at Héroux-Devtek's landing gear division located in Laval, Quebec voted in favor of joining IAM Local Lodge 1758. By joining forces with the IAM, they are now in a better position to negotiate their next collective agreement.
"It is with great pride that I welcome all these new members to the fold," said District 11 organizer Gérald Tremblay. "After having worked closely with the current leaders, there is no doubt in my mind as to their ability to represent their members best interests during the upcoming bargaining round."

---
Minnesotans to Highlight Jobs Lost to Bad Trade Deals
More than 170 IAM members, employees Home Products in Eagan, Minnesota, will hold a "Memorial for Lost Jobs" on Friday, October 10 outside the company's facility (900 Apollo, Road, Eagan, MN). The company intends to close the plant and send its work to Mexico.
---

Past iMail | Your Email | Visit www.goiam.org | Print Version | Sign-Up for iMail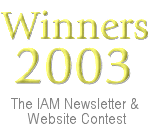 Once each year an independent panel of judges decide which locals and districts publish the best newsletters and best websites. Check out the winners.
---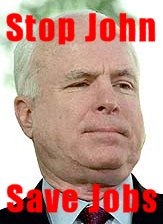 Senator John McCain (R-AZ) is back flying combat missions. This time, however, he seeks to shoot down the proposed lease of Boeing 767 tankers by the US Air Force. And he is using every weapon at his disposal to chalk up another kill. Help stop John McCain and save North American jobs.

---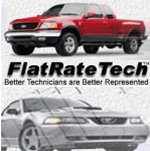 FlatRateTech is an organization "created for and by Ford and Lincoln Mercury service technicians solely to speak as one loud voice rather than 50,000 smaller voices," according to their website http://flatratetech.com. The fast-growing site offers forums for Ford customers, technicians and dealers to exchange information.

---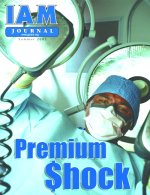 The Summer 2003 IAM Journal is now online. Skyrocketing health care costs are causing Premium Shock for members and employers. The IAM Journal looks at what's causing the increases and what can be done to change America's health care system.
---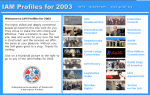 See who works for you, how the IAM is structured, and what services the IAM offers. Go to: IAM profiles for 2003.
---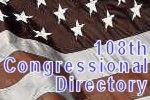 The 108th Congressional Directory . . . get your copy. Send $5 to the MNPL Education Fund, c/o IAMAW, 9000 Machinists Place, Upper Marlboro, MD, 20772.
---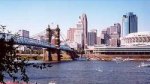 The official site for the 36th Grand Lodge Convention to be held in 2004 in Cincinnati, Ohio is now online. Check it our for convention news, sponsorship offers, and convention gear.