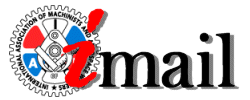 www.goiam.org


Thursday
, October 10, 2002


I
AM, UAL Work To Avoid Bankruptcy

The IAM declared it will directly engage United Airlines to discuss cost reductions as part of an effort to avoid a bankruptcy filing at the nation's second largest carrier.


"The United Airlines Labor Coalition proved that the labor groups at United can effectively work together to reach a common goal," said IAM District 141 President Randy Canale. "The most efficient and logical next step is for the Machinists Union to directly engage the company to identify individual cost reduction items," said Canale.

"The IAM believes a large portion of the cost reductions can be achieved by working with United to improve the efficiency of its operation."

"We are committed to fixing the problems at United Airlines," said General Vice President Robert Roach, Jr. "If needed, wage reductions should only be considered as an option when there are no other choices for cost reductions."

"The IAM will continue to coordinate with the other labor groups at United Airlines while they pursue cost reductions with the company," said IAM District 141-M President Scotty Ford. "United must recognize the $500 million contribution our members have already made to United's recovery by deferring retroactive wages."

IAM members at United will vote on any proposed changes to the current collective bargaining agreements.
---
IAM-UPS Bargaining Set to Begin
Four days of contract talks between the IAM and United Parcel Service (UPS) will begin October 15 on behalf of 3,200 mechanics and maintenance personnel who maintain Big Brown's familiar fleet of delivery trucks and vans.
"The work rule issues have nearly all been hammered out during earlier talks between local IAM representatives and management," said Boysen Anderson, lead negotiator and coordinator of the IAM's Automotive Department. "We are now set to resolve pay, pensions and health benefits in the upcoming round of national bargaining."
The IAM represents the UPS mechanics under 21 agreements at nearly 100 maintenance facilities nationwide, where individual UPS trucks can make up to 500 deliveries a day.
"These negotiations will be unique," said Steve Sleigh, IAM director of Strategic Resources. "A two-step process gives members the opportunity to bargain local issues locally and then combine their resources to address economic issues in a way that ensures all members benefit equally."
---
White House Wades Into Dockworkers Fight
Bush administration officials admitted they held an extensive briefing with corporate lobbyists just hours before President George Bush stepped into the West Coast dockworkers dispute using the federal Taft-Hartley Act. Those same White House officials admitted they did not meet with any union officials before Bush waded into the fight.
Corporations and industry groups, many of them headed by GOP donors, have been lobbying Bush to end the lockout of more than 10,500 union dockworkers at 29 West Coast ports. A federal court ordered the Pacific Maritime Association (PMA) to end the lockout and forced dockworkers to return to work without a contract.
"This is the first time in the history of the United States that a President has let an employer lock out workers in an extended quest to undermine the workers' union―creating a phony crisis―and then reward the employer's action with government intervention," said AFL-CIO Secretary-Treasurer Rich Trumka.
Talks between the PMA and the International Longshore and Warehouse Union (ILWU) broke down when the PMA refused federal mediator's suggestions, accepted by the union, that the dockworkers return to work under their expired contract for seven days, to be renewed on a rolling basis as mediation continued.
---
Court Hands Workers A Win
A federal bankruptcy court in New York ruled that nearly 9,000 laid-off WorldCom workers can be paid their full severance, commissions, health care, unpaid vacations and other unpaid monies owed. When WorldCom filed for bankruptcy in July, the company froze payments at $4,650 per worker. The employees' court victory marks the second legal win for workers of scandal-ridden, bankrupt firms who were faced with losing their full severance pay and other funds.
In the WorldCom and earlier Enron Corp. cases, the AFL-CIO stepped in to support the nonunion workers with legal assistance and advice as part of its campaign to put workers first and hold corporations accountable.
---
Poverty, Bankruptcy on Upswing
A new report shows safety nets for workers are disintegrating, leading to sharp hikes in poverty and bankruptcy. The AFL-CIO report calls on Congress to extend emergency unemployment benefits, enact health care cost reforms including a Medicare prescription drug benefit, create meaningful 401(k) reform, abandon proposals to privatize Social Security, provide financial relief to state governments and raise the federal minimum wage.
The federation released the report as part of the labor movement's commitment to keeping economic issues a high priority in Congress and part of the public debate.
"The economic stimulus plan of last year failed to create new jobs or provide adequate relief to workers who cannot find jobs," said AFL-CIO President John Sweeney. For more information, visit www.aflcio.org/publ/press2002/pr0930.htm.
---
Wal-Mart Slammed on Federal Charges
Wal-Mart was found guilty of violating federal labor laws in its campaign to deny workers a voice on the job at 14 Las Vegas-area stores. The National Labor Relations Board (NLRB) ordered the giant retailer to stop preventing workers from handing out union materials, confiscating those materials, interrogating workers about their union views and threatening workers with loss of benefits.
The NLRB official ordered the company to reverse disciplinary action against two pro-union workers. Wal-Mart workers are engaged in a nation wide campaign to win a voice on the job with the United Food and Commercial Workers. The NLRB has issued almost 30 complaints against Wal-Mart for its anti-worker actions.
---