T
uesday, October 14, 2003
---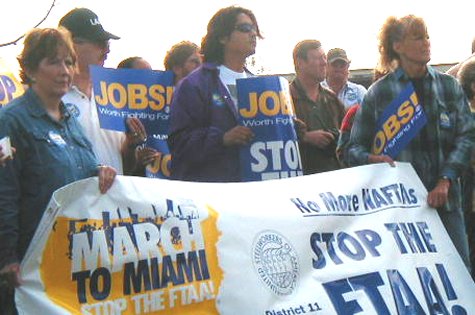 Minnesotans Mobilize Against FTAA
Workers in Minnesota planted more than 1,200 black flags in front of Home Products International in Eagan, MN, in a stark memorial to the good jobs lost to free trade agreements during the past 3 years.
Home Products recently announced it would close its Eagan facility, putting 173 IAM members out of work. The company is one of many opting to pay poverty wages to workers in Mexico rather than continue operating in the U.S.
"I think any corporation that leaves the United States to exploit workers and pollute the environment in other countries is unpatriotic," said Wendy Meath, Local 459 Shop Steward and 31-year employee at Home Products. "Everything those companies have: money, power and success is a result of the hard work of the people in the country they are deserting."
The event was held in conjunction with a rally in nearby Eveleth, MN, where union members, their families and communities came together to oppose the Free Trade Agreement of the Americas and the expansion of NAFTA.
Both rallies are part of a nationwide effort to highlight the devastating effects of current trade policies and to sound an alarm about the proposed Free Trade Agreement of the Americas. The grassroots effort will culminate in Miami on November 20, where Western Hemisphere trade ministers will be meeting to push for FTAA.

---
Seniors Launch 'Day of Action'

Senior citizens turned up the heat in the battle to save Medicare benefits threatened by a GOP-controlled Congress. Thousands of irate seniors mobilized last week to make their voices heard in a "National Day of Action."

The Alliance for Retired Americans co-coordinated the event, which targeted senators and representatives who support bogus prescription drug bills now being hammered out in a House-Senate conference debate.

"This Day of Action shows our elected officials that seniors are united on this issue," said George J. Kourpias, Alliance president. "Seniors will not accept any legislation that privatizes the traditional fee-for-service Medicare program or fails to control the costs of prescription drugs." At the same, Kourpias warned that seniors would resist any program that cuts or eliminates existing employer-provided benefits.

The Alliance supports a prescription drug benefit under Medicare that is universal, voluntary, comprehensive and affordable. "Older Americans deserve nothing less," Kourpias added.

---
Raytheon Workers Authorize Strike

IAM members of Local 933 voted overwhelmingly to authorize a strike at Raytheon Missile Systems in Tucson, Arizona, if the aerospace giant fails to make a reasonable contract offer. Nearly 1000 members cast ballots on the strike issue, giving the IAM negotiating team a powerful tool as talks move closer to the contract's expiration at midnight on October 26, 2003.

Members voted their disgust over proposed takeaways by the company in the area of wages, retirement medical benefits and medical coverage for active employees. Local 933 Directing Business Rep. Bobby Martinez noted the pride and dedication Raytheon's IAM members have for the jobs they do. "They are as competitive and as skilled as anyone in the country," said Martinez. "And they deserve to be treated that way."
---
Economy Sinks Bush Poll Numbers

A new poll by CBS News and the New York Times finds 56% of Americans are uneasy about Bush's ability to make the right decisions regarding the nation's economy, compared to only 40% who expressed confidence in the president. When asked the same question in April, only 42% of people polled expressed concern with Bush's ability to handle the economy.

Among the reasons for concern are current unemployment figures and the projected federal deficit, expected to reach a breathtaking $480 billion in 2004. The figure marks a dramatic decline from a $127 billion surplus just three years ago.

This year's overall unemployment rate, currently at 6.1 percent, is expected to be the largest since 1994, according to the U.S. Department of Labor.

The CBS/New York Times poll also reported that 56% of Americans feel Bush does not have the same priorities for the country as they do, up from 46% in April, and 60% of those polled feel that Bush favors the rich.
---
Forest Workers Dodge Bush Jobs Bullet

Government employees at the U.S. Forest Service won a victory recently when a cost-benefit study revealed that nearly 1,000 maintenance jobs at the federal agency could not be done any better or less expensively by outside contractors. The bid to outsource forest workers' jobs is part of the government-wide effort by the Bush administration to shift hundreds of thousands of federal jobs to outside contractors.

The nine-month job study compared the cost of obtaining an outside contractor to the costs of the work currently being performed by forest service employees. Less than 50 positions were identified as vulnerable for outsourcing to private contractors.

"Few initiatives are as unfair and unnecessary as the Bush administration's effort to replace tens of thousands of federal workers with politically connected private contractors," said IP Tom Buffenbarger. "Rather than recognize the valuable service these loyal employees perform every day, this administration is intent on strip mining these agencies to ensure a steady flow of campaign contributions and support from an army of private contractors."
---
Editor School, Web Class Schedules
Make your plans now for next year's popular Editor Schools and Web classes. Enrollments are limited and the classes fill quickly. Classes are held at the IAM's innovative Winpisinger Education & Technology Center at Placid Harbor in southern Maryland.

Basic Editor's School will be held March 21-26; the Advanced Editor's School is slated for November 7-12. The Basic Web Development School kicks off May 2-7, with the Advanced Web Development session scheduled for October 17-22.

Additional information about each school will be mailed to local and district lodges approximately 16 weeks prior to the class.
---
Retirees' Conference Deadline Looms

Room reservations for the Third International Retirees' Conference in Las Vegas must be made by October 19 in order to receive the group rate, reports Maria Cordone, Retirees/Community Services director. To make your reservations, call the Flamingo Hotel at 800-835-5686.

The conference is scheduled for November 10 – 13.
---

Past iMail | Your Email | Visit www.goiam.org | Print Version | Sign-Up for iMail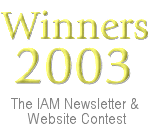 Once each year an independent panel of judges decide which locals and districts publish the best newsletters and best websites. Check out the winners.
---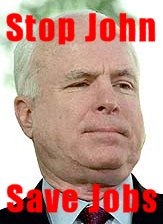 Senator John McCain (R-AZ) is back flying combat missions. This time, however, he seeks to shoot down the proposed lease of Boeing 767 tankers by the US Air Force. And he is using every weapon at his disposal to chalk up another kill. Help stop John McCain and save North American jobs.

---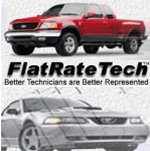 FlatRateTech is an organization "created for and by Ford and Lincoln Mercury service technicians solely to speak as one loud voice rather than 50,000 smaller voices," according to their website http://flatratetech.com. The fast-growing site offers forums for Ford customers, technicians and dealers to exchange information.

---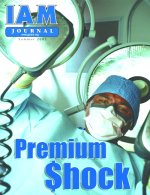 The Summer 2003 IAM Journal is now online. Skyrocketing health care costs are causing Premium Shock for members and employers. The IAM Journal looks at what's causing the increases and what can be done to change America's health care system.
---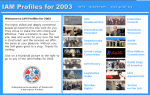 See who works for you, how the IAM is structured, and what services the IAM offers. Go to: IAM profiles for 2003.
---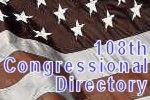 The 108th Congressional Directory . . . get your copy. Send $5 to the MNPL Education Fund, c/o IAMAW, 9000 Machinists Place, Upper Marlboro, MD, 20772.
---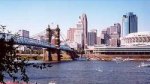 The official site for the 36th Grand Lodge Convention to be held in 2004 in Cincinnati, Ohio is now online. Check it our for convention news, sponsorship offers, and convention gear.