Get Your Convention Gear Check out gear for the 2004 IAM Convention
---

The IAM
Executive Council
International President
R. Thomas Buffenbarger

Secretary Treasurer
Donald E. Wharton

GVP Western
Territory
Lee Pearson

GVP Canada
Dave Ritchie

GVP Midwest
Territory
Alex M. Bay

GVP Headquarters
Robert V. Thayer

GVP Southern
Territory
George Hooper

GVP Eastern
Territory
Warren L. Mart

GVP Transportation
Robert Roach, Jr.

Tuesday, October 22, 2002

Economic Issues Drive Election
Despite all the drum-beating and chest-thumping about regime changes in Iraq dominating the airwaves, next month's mid-term election hinges on other issues. Even President George Bush acknowledged as much with a belated plan to hold down prescription drug prices in the face of rising discontent on that issue.
With good reason, both the White House and the Republican Party would prefer to blur the lines on economic issues. Since President Bush took office two years ago, unemployment has risen, health care costs scored the biggest increase in more than 10 years, the number of Americans without health care is up 1.4 million, the poverty rate went up, household incomes fell for the first time in a decade. At the same time, both the S&P 500-stock index and the Dow Jones industrial average dropped 18 percent, the worst in 15 years, during the third quarter of this year.
"Working families hold the key to which party controls Congress next year," noted IP Tom Buffenbarger. "Our votes can make the difference in this election. Take a long hard look at the candidates and their voting records. See where they stand on protecting American jobs, protecting our retirement security, keeping our workplaces safe. Don't be fooled by their campaign promises. Take a look at how they voted on issues that impact working families. We can make a difference."
To see how your lawmaker voted on issues of importance to working families, visit http://goiam.org/politics.asp. Just type in your zip code, click on "Issues & Legislation," then click on "Key Votes."
---
UPS Negotiations to Continue
A week of negotiations between the International Association of Machinists and Aerospace Workers (IAM) and United Parcel Service (UPS) concluded last week without an agreement. Despite high hopes and progress toward a settlement, several issues remain unresolved.
"We are determined to reach an agreement that fully addresses our members' primary concerns: pay, pensions, and health benefits," said Boysen Anderson, overall coordinator for the IAM team. "Obviously, these are also the most costly and difficult issues to resolve. We intend to reconvene as soon as possible to finish the job we started."
"I want to express my thanks to each member of this negotiating committee," said Anderson. "We came together in the finest IAM tradition to bargain in a united, coordinated fashion. Ultimately, we will prevail."
---
IAM Workers at Boeing Key to Legal Victory
Two Machinists at Boeing, Carl Heidy and William McGraw, were recognized recently for their role in an important legal victory in the case of Boeing Company v. Heidy. The lawsuit produced a unanimous decision protecting the hearing loss benefits for retired and older workers.
Despite being ordered by the Washington State Department of Labor to pay 100 percent of seven work-related hearing loss cases, Boeing appealed, arguing that hearing loss was a function of aging. The argument was rejected by the Board of Industrial Insurance Appeals, the lower court and ultimately, by the State Supreme Court.
"A worker's age is irrelevant to establishing the existence and extent of a worker's disability," wrote Washington Supreme Court Justice Charles Johnson in the unanimous decision.
"These two machinists put a human face on a case that was quite technical, both legally and factually," said Christine O. Gregoire, Attorney General of Washington State in an Oct. 3, 2002 letter commending their involvement. "Without the contributions of Mr. Heidy and Mr. McGraw, the case could have turned out very differently."
---
Corporate Scandals Cost USA $200 Billion
The recent corporate crime wave cost Americans more than $200 billion in lost savings, jobs, pensions and tax revenue, according to a report using data culled from government and public sources.

The report tallied the damages: $175 billion in losses from 401(k) and public pension funds and at least $6.4 billion in stock losses. It was estimated that a million workers lost jobs at the affected companies, often while company executives cashed out billions of dollars in their own stock.

"Tens of thousands of jobs, lost. Billions of dollars in personal and public retirement savings, gone," said Senate Majority Leader Tom Daschle (D-SD). "The lesson ought to be clear: when corporate fraud leads to corporate failure, we all get hurt. Unfortunately, this administration and many of our Republican colleagues continue to deny that obvious fact."
---
House Rejects Jobless Pay Benefit
In a straight party-line vote, the U.S. House of Representatives torpedoed a Democratic-sponsored economic stimulus plan to extend the emergency federal unemployment benefits program for another six months and to add 13 weeks of benefits for jobless workers in all 50 states. Additionally, the plan would have increased the federal minimum wage by $1.50 an hour, create jobs and improve the infrastructure by boosting highway spending.

The vote drew a stinging rebuke from AFL-CIO President John Sweeney. He called the vote the "capping event in a legislative session marked by the astonishing arrogance of the Republican-led House in handing out legislative awards to corporations, such as a $254 million tax break for Enron, while ignoring the very real needs of families struggling through the recession."
---
Congress Agrees on 'Lame Duck' Session
The budget impasse on Capitol Hill forced Congress to return for a "lame duck" session after the Nov. 5 mid-term election. With only two of 13 required spending bills approved by both chambers, the federal government will operate on a continuing resolution until Nov.22. That means federal agencies will continue to operate at current spending levels.

The House passed three other spending bills. The Senate approved one. Issues likely to come up in "lame duck" session include pension reform and certain Medicare provisions. For now, both House and Senate have recessed until Nov. 12.
---
HPWO: Working Together Pays
IAM Local 61 and Diesel Recon won a top state award earlier this year. The local union and the company, both located in Memphis, were awarded the Tennessee Labor-Management Excellence Award at the 15th Annual Tennessee Labor-Management Conference. The award goes to the best labor-management partnership in the state. Workplaces are judged on leadership, employee involvement and development, diversity and morale.

Local 61 and Diesel Recon, a division of Cummins Engine, have been working on an HPWO Partnership since 1998. During this time, leaders from both the union and the company attended the IAM's HPWO Partnership classes at the Winpisinger Center in southern Maryland.
---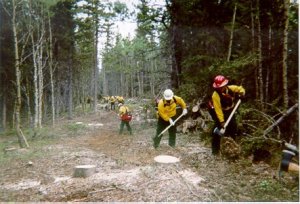 IAM Shutterbugs Notch Honors


The IAM Communications Department announced the winners of the 2002 Photography Contest. The top award went to LL 2061's Edward W. Griffith for his photo, Ready for Blastoff. LL 1426's Eric Waldon took second-place honors for Moving Along. Third place was a draw between LL 837b's Thomas Pinski with Loading a Missile Launcher, and LL 2458's Dave Francis with Par Kicker Maintenance. Four entries received honorable mention, including Fire in New Mexico (shown above) by Jozef J. Drozdowski from FL 2086.

The 2003 IAM Calendar features the first, second and third place winners, as well as all of the honorable mentions. Preview the winning entries right now at: http://www.iamaw.org/publications/2002photocontest/winners.htm

---