Thur
sday, October 23, 2003
---
Kerry Swings, Misses on Jobs Pitch
Looking to gain traction on a political battleground where his voting record gives him little help, Sen. John Kerry lashed out this week at his democratic rivals over their plans to aid U.S. workers in the smoldering manufacturing sector.
Calling former Vermont Gov. Howard Dean's economic plan "vague" and U.S. Rep Richard Gephardt's trade proposals "protectionist," Kerry touted his own agenda, which more closely resembles the corporate-friendly policies of Connecticut Sen. Joe Lieberman.
Like Lieberman, Kerry voted for the North American Free Trade Agreement (NAFTA) and supported most favored trading status for China. Both moves are widely considered to be responsible for the loss of tens of thousands of U.S. manufacturing jobs.
"If Sen. Kerry had stood up for American workers during the NAFTA fight in1993, he might find more American workers at his side today," said IP Tom Buffenbarger. "Instead, his voting record is the single most compelling reason to ignore any claims or criticism he might have on the subject of jobs or job creation."
The IAM endorsed Rep. Gephardt last July at the IAM National Staff Conference in Cincinnati, largely based on his decades-long record of support for IAM members and his opposition to trade deals that opened the doors to widespread job losses in the U.S.

---
Int'l Currency Rates Cost U.S. Jobs
The U.S. manufacturing sector continues to shed jobs, with unchecked currency manipulations adding to problems caused by foreign countries luring U.S. firms overseas with modern facilities and labor rates as low as $1 per day.
Currency exchange rates in China and Japan keeps the prices of their products extremely low, giving these countries a significant advantage in the global market. Despite pleading by U.S. business leaders for President Bush to address this problem, little has been done.
Among efforts to keep jobs in the U.S. is a bill sponsored by New York Rep. Charles Rangel to provide tax incentives to manufacturers who keep jobs in the U.S., rather than move to low wage, offshore locations. Rangel also introduced a resolution that asks the White House to "use all available means" to get China and Japan, as well as Taiwan and South Korea to stop manipulating their currencies.
Meanwhile, Textron Inc. announced last week that it will close two more plants in Rockford, IL, pushing job cuts for the company to over 1,000 this year. Rockford, whose unemployment is 11.3 percent, has had an especially rough year as Ingersoll International Co., Dial Machine Inc. and Acme Grinding Inc. have all made significant job cuts.

---
FAA Bill Gets GOP Treatment
Republican lawmakers came under sharp criticism for their proposal to shield air traffic control towers in Republican districts from privatization while allowing outsourcing plans to go forward in areas controlled by Democrats.
The GOP plan would remove about half of the 69 airport towers from the list currently slated for privatization. Republicans hope the move will shore up support in the Senate for the controversial FAA reauthorization bill, currently stalled over the outsourcing issue. Additionally, the bill includes provisions allowing foreign cargo carriers to service point-to-point markets within the U.S. and fails to make anti-terrorism training mandatory for Flight Attendants.
"We cannot allow partisan politics to permit foreign airlines unprecedented access to U.S. markets at the expense of our hard-working airline employees," said GVP Robert Roach, Jr. "Furthermore, cash-strapped airlines must not be given the option to refuse the critical training Flight Attendants need to defend themselves, their passengers and their aircraft."

---
Social Security Benefits Rise
A 2.1 percent hike in Social Security benefits raises the monthly payout to $922 for the average single retiree. The benefit for the average couple rises to $1,523. More than 47 million retirees, survivors and persons with disabilities will receive the annual cost-of-living increases, according to the Social Security Administration.
The bad news is that premiums for Medicare Part B, which pays for doctors' services and other out-patient care increase by 13.5 percent next year to $60.60 a month.

---
Bush Popularity Drops Among Older Voters
Senior citizens show increasing skepticism towards President Bush and his policies on Medicare, the economy and Iraq, according to recent polling. This trend surfaces as the White House and GOP leaders try to force controversial Medicare provisions through a balky Congress.
Bush, who campaigned as a "compassionate conservative," has seen his approval ratings drop significantly among older voters. Republicans hoped to make serious inroads among seniors, who vote in higher numbers than other age groups. Older voters are likely to play a major role in such swing states as Florida and Pennsylvania in the 2004 elections.
A New York Times/CBS News poll showed Bush had a 41 percent approval rating among 65-and-older voters, his lowest among any age group. That's down from 63 percent in May.
"Analysts in both parties cite the economy, the stock market and the situation in Iraq as major factors in the slippage, along with more traditional concerns for older Americans like Medicare and the cost of prescription drugs," the Times noted.

---
Eastern Territory Organizing Wins
District Lodges 26 and 54 notched first agreements for new IAM members at Swissport Fueling, Inc. in Boston, MA and at RU Marketing in Grafton, Ohio, following organizing victories at opposite ends of the Eastern Territory.
The ratified accords bring the total number of first agreements in the Eastern Territory to a total of 22 for the year.
Eastern Territory GVP Lynn D. Tucker congratulated the new members in each location and thanked District 54 DBR Tom Frisbie, BR Dean Wright and District 26 DBR Everett Corey and BR Jeff Perinetti for their work on the new contracts.
---
Past iMail | Your Email | Visit www.goiam.org | Print Version | Sign-Up for iMail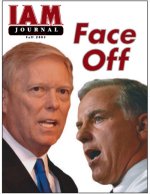 Two candidates came to Cincinnati to vie for the IAM's endorsement for President in 2004. Only one came away with the prize. Read all about it in the online version of The IAM Journal.
---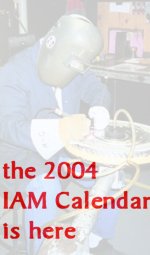 . . . and it's time to order your copy. This years calendar is filled with the winners of the annual IAM photograohy contest. Plus, for every calendar sold, the IAM will donate one dollar to the Guide Dogs of America. Last year, calendar sales earned $25, 000 for the GDA. Click here to download a calendar order form. Print it our on your home computer and mail it back to the IAM.
---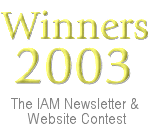 Once each year an independent panel of judges decide which locals and districts publish the best newsletters and best websites. Check out the winners.

---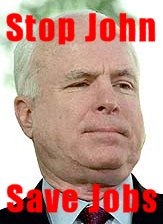 Senator John McCain (R-AZ) is back flying combat missions. This time, however, he seeks to shoot down the proposed lease of Boeing 767 tankers by the US Air Force. And he is using every weapon at his disposal to chalk up another kill. Help stop John McCain and save North American jobs.

---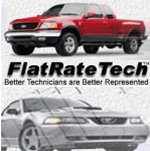 FlatRateTech is an organization "created for and by Ford and Lincoln Mercury service technicians solely to speak as one loud voice rather than 50,000 smaller voices," according to their website http://flatratetech.com. The fast-growing site offers forums for Ford customers, technicians and dealers to exchange information.

---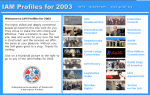 See who works for you, how the IAM is structured, and what services the IAM offers. Go to: IAM profiles for 2003.
---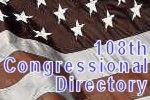 The 108th Congressional Directory . . . get your copy. Send $5 to the MNPL Education Fund, c/o IAMAW, 9000 Machinists Place, Upper Marlboro, MD, 20772.
---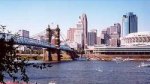 The official site for the 36th Grand Lodge Convention to be held in 2004 in Cincinnati, Ohio is now online. Check it our for convention news, sponsorship offers, and convention gear.