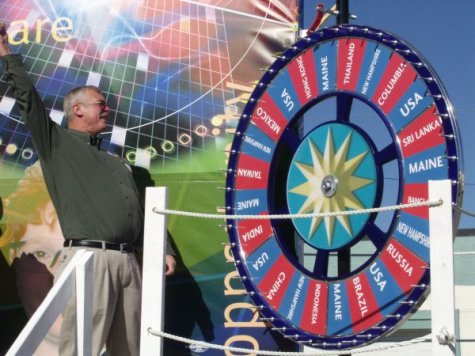 At each stop in Maine and New Hampshire, union members get to spin the "Wheel of Misfortune," representing the chance that their jobs will be shipped overseas or stay in the Unied States. State Senator Stephen Stanley, a member of PACE, rwas instrumental in keeping the mills open, celebrates after his spin landed on New Hampshire.
Jobs Worth Fighting For Kicks Off in Maine
The first event in the push to make "JOBS Worth Fighting For" a centerpiece of the national debate kicked off with IAM Local 362 and other union members in Millinocket, Maine. "Too many jobs are leaving America and it's time to do something about it," said IAM President Tom Buffenbarger. "We're here to get people to send a message to Washington, D.C. – 'We want good jobs in America and what are you going to do about it?'"
The Millinocket area was one of the world's leading producers of paper products and the area mills employed thousands. Unfair competition from bad trade laws and a series of corporate takeovers left the mills reeling. Today, employment is at a fraction of former levels and the community is hurting.
Members of several area unions spoke out about the need to fight unfair competition and for investment in the mills. "We're going from good $20 an hour union jobs to eight-dollar an hour jobs at Wal-Mart," said PACE Regional Director Gary Cook. "Is that what America is about?"
The Millinocket rally is the first of several planned events for AFL-CIO affiliated union members in Maine and New Hampshire that features a 40-foot truck with "JOBS Worth Fighting For" on one side and "Don't Take Chances When it Comes to Your Job" on the other.
"Our brothers and sisters in other states made some of the machinery in these mills. Their jobs are gone and now these mills are struggling," said Buffenbarger. "No matter what state we live in, our jobs are connected in some way. We have a common interest in this election: Our jobs are JOBS Worth Fighting For!"
IAM Asks Court to Reconsider US Airways Relief
The IAM this week filed a motion in bankruptcy court for reconsideration of the court's October 15, 2004 order granting US Airways interim relief from collective bargaining agreements.
"The magnitude of wage reductions and duration of interim relief granted US Airways is unjustified," said District 141 President Randy Canale and District 142 President William O'Driscoll in a joint letter to their members:

"By allowing the company to subcontract our members' work and reduce pension contributions, the court has improperly granted US Airways permanent relief without allowing the formal negotiations and information sharing required by law."
The IAM requested that the Court reconsider the interim relief by lessening the wage reductions imposed upon IAM-represented employees, allowing full contractually required employer contributions to the IAM National Pension Plan and prohibiting outsourcing of Airbus heavy maintenance.
The IAM has asked for a November 18, 2004 hearing on its motion for reconsideration, which is available on the District 141 & District 142 websites.
United to Outsource Reservation Jobs
In a move that will negatively impact customer service, United Airlines announced plans to close a Bloomington, Indiana reservations center and subcontract some reservation agent work to India.
"This is just another United Airlines assault on the morale of its employees," said General Vice President Robert Roach, Jr. "The airline being in bankruptcy is no excuse for management to be morally bankrupt as well."
The move is a result of changes made to the collective bargaining agreement under bankruptcy 1113(c) rules. Under those terms, no IAM member can lose his or her job because of outsourcing. The 83 IAM members at the Bloomington center will have an option to fill vacancies at the Chicago, Illinois reservation center. United is also training an additional 300 new hire reservation agents who will work in the airline's U.S. reservation centers.
Federal Workers Oppose Rigged Bidding Process
Under pressure from lawmakers and union representatives, the federal government recently agreed to provide additional information about their efforts to shift jobs from government workers to private contractors.

The Office of Management and Budget (OMB) issued new guidelines requiring federal agencies engaged in so-called "competitive sourcing" to report on any costs or savings from the competition and to disclose how the winning bid was chosen.

The Bush administration's efforts to move government work to private contractors is opposed by unions representing government workers as a back door means to reward political allies and campaign contributors. "The new OMB requirements might limit outsourcing decisions that are based on contacts and friendships," said Frank Carelli, IAM Director of Government Employees, who welcomed any added transparency in the bidding process.

"The new rules are a step in the right direction, but we need to reconsider the whole idea of privatizing the federal workforce. The potential for political favoritism is immense."
Guide Dogs of America Scores $15,000 Donation
Representatives from the Connecticut, Rhode Island and Western Massachusetts Chapter of the Guide Dogs of America were recently presented with a $15,000 donation from United Technologies Corporation (UTC).
"We hope this is the beginning of a long term commitment by UTC to support this worthy organization" said IAM Grand Lodge Representative William Rudis, (above right)who accepted the donation from Krista Pilot, UTC Director of Community Giving (above middle).

Also attending the event was IAM District 26 DBR Everett Corey (above left), IAM Local Lodge Presidents David Durbin Sr. (LL 700), Mark Hebert (LL 43), Mike Stone (LL 1746) and Mark McWilliams (LL 1746A).
Members Okay New Contract at Rivera Concepts
The members of Local Lodge 235 have overwhelmingly ratified a new three-year collective agreement with Riviera Concepts. The 203 members manufacture perfumes and fragrances at a facility in north Toronto.
The new agreement calls for wage increases of three per cent in each of the first two years and four and a half per cent in the third year. Other contract provisions include extra floater holidays in the last two years of the agreement, increased eye care benefits, improved bereavement language, expansion of the scope clause, improved notice of layoff and the inclusion of the RSP-matching pension plan in the collective agreement.
---