The IAM's
Executive Council
I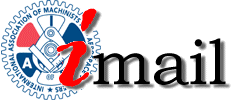 www.goiam.org
---
Friday, November 2, 2001
---
House Action Delays Airport Security
By a 218-214 vote, the House of Representatives rejected a Senate proposal to professionalize the nation's 28,000 airport security screeners. House GOP leaders and industry lobbyists led the effort to block the bill that would place airport baggage screening in the hands of federal law enforcement personnel.

"Seven weeks after the terrorist attacks, the front lines of airport security are still staffed by poorly trained and poorly paid private contractors," said IP Tom Buffenbarger. "The House bill does absolutely nothing to restore passenger confidence in an industry still reeling from the effects of last month's attacks."

GOP leaders scuttled the Senate bill with the help of six shocking Democratic defections, including Illinois gubernatorial candidate Rep. Rod Blagojevich (D-IL).

"This delay could cost lives," said Buffenbarger. The vote to reject the Senate bill was followed by approval of an industry-backed bill supported by House Republicans. "Time is critical, yet we have to wait for the House and Senate to meet," said Buffenbarger.
---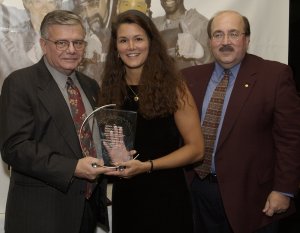 New Awards Honor Top Labor Editors
More than four dozen IAM editors and web page managers took center stage during the Awards Banquet that traditionally highlights the IAM Communications Conference. For the first time, two new awards added special significance to the affair.

Connie Kelliher, (above with former IAM President George Kourpias, and President Tom Buffenbarger) the veteran editor of the District 751 newspaper, received the George J. Kourpias Award for excellence in labor journalism. The award is named for the IAM's immediate past president. Kelliher also took top honors in the newsletter contest.

Neville Hamilton, the IAM's communications director for Canada, took the first-ever Robert J.Kalaski Award for distinguished communications effort promoting the mission of the labor movement. Kalaski recently retired after more than two decades as IAM communications director.
---
P&W Workers Fund Disaster Relief
IAM members and other Pratt & Whitney workers contributed $35,786 to victims of the September terrorist attacks through union gate collections at four P&W plants in Connecticut. IAM District 91 joined the Independent Fire/Security Officers Association and the Firefighters union in manning the effort.

Pratt & Whitney matched the workers' contributions, raising the total to more than $71,573. The money has been given to the Red Cross and the Salvation Army for their 9-11 disaster relief funds.
---

Comments, suggestions, or story items?
Contact IAMAW / Read previousimail