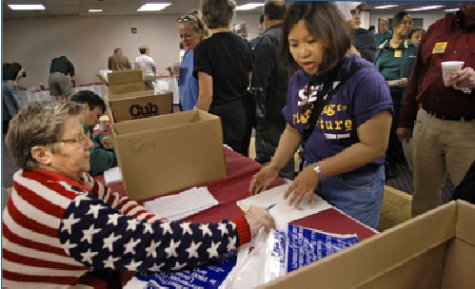 Get-out-the-vote activities by union volunteers like the ones pictured above in Minnesota helped make for a memorable turnout for the 2004 election.
Union Members Showed Up in Force
Union members made sure their concerns about jobs were heard on Election Day. Union households accounted for nearly one out of every four votes cast. "Our members did their part for democracy," said IAM President Tom Buffenbarger. "They worked hard to register and educate their fellow members about the important issues in this election. I want to thank everyone who put in so much effort to make sure IAM voters knew where the candidates stood on our issues of jobs, affordable healthcare, the right to organize and the right to a safe workplace."
"One quarter of votes cast will be a hard block of voters to ignore," said Buffenbarger. "Now we'll see if keeping good jobs in North America is really part of the governing party's agenda."
Despite a high turnout, which historically favors Democratic candidates, GOP candidates eked out wins in several close Congressional races. The GOP extended its majority to 55 seats in the Senate, up from the current 51. In the House, Majority Leader Tom DeLay's underhanded redistricting plan in Texas succeeded in knocking off several Democratic incumbents. The result was a net gain for the GOP in the House, who now hold a 231 to 201 majority, up from 229 to 205.
According to an election-day survey of union voters, jobs and healthcare topped their concerns in their decision for president. About 65 percent of union members voted for John Kerry and 67 percent of those surveyed said they have only some or very little confidence President Bush will look out for working families.
Western Territory Scores Organizing Win
District 160 in Seattle, WA added to an impressive string of organizing successes last week by bringing the benefits of IAM membership to 125 federal workers in Silverdale, WA.
Under the direction of DBR Don Hursey, District 160 is one of the first IAM district lodges to exceed the new Grand Lodge Convention goal of organizing 250 new members per district per year. Prior to this latest election win, District 160 organizers secured applications for dues check off from 80 percent of the new bargaining unit.
Western Territory GVP Lee Pearson congratulated District 160 Organizer Sam Martin, Business Rep Mike Goddard and the entire district for a job well done. "This is a great win, and this district continues to prove that effort and talent can get the job done," said Pearson.
District 250 Helps Stricken Member
Richard "Rick" Wilkinson, a 43-year old member of IAM Local 692 in Vancouver, British Columbia is proof that it pays to belong to the IAM.
Recently diagnosed with Lou Gherig's Disease, Wilkinson bravely endured the battery of medical tests and questions that come with any serious medical condition. Married and the father of two children, Rick also faced the daunting prospect of caring for himself and his family as the disease progressed.
With help from IAM District 250 Business Rep Ron Jordan, Rick was able to secure a disability pension and financial assistance to meet his medical and drug expenses. Local IAM members also joined a community fundraising effort that provided money to build wheelchair access in the Wilkinson home.
Click here for more information about this IAM member and how his union is helping him meet one of life's biggest challenges.
Woodworkers Contract Survives Ownership Change
IAM Local W33 members employed at Boise Cascade's International Falls paper mill in northern Minnesota welcomed news this week that their contract and pension will remain intact despite a change in ownership at the mill.
Unlike many corporate transactions that call for existing labor contracts to be renegotiated, the new owners of the International Falls paper mill will continue operations with the existing workers under terms of the current labor contract.
"They took our contracts 100 percent," said District W3 Business Rep Bob Walls. "There's no change." Walls said the 375 IAM members will not need to reapply for their jobs and that officials of the new business agreed to fully fund the Boise pension fund, which was $200 million short.
Following the sale of the International Falls mill and other facilities, Boise Cascade Corp. plans to change its name to OfficeMax, the name of the Cleveland-based office products company it bought last year for $1.2 billion.
IAM members of Local 2552 who provide security at a NASA flight facility in Wallops Island, VA ratified a new contract that increases hourly pay and preserved the workers' existing pension and health insurance plans.
The security guards, who work at the flight facility under contract for Sterling, VA-based Cube Corp., threatened to strike over changes that would have left some employees paying hundreds of dollars each month in insurance premiums. Under the new agreement, workers will retain their current health plan, though they will have to pay some of the premium. The company now pays the entire cost of the plan.
IAM negotiators also scored a victory in getting the company to remove an opt-out provision for the workers' pension, a change which would have jeopardized the future of the workers' pension plan.


Railroad Locals Hold Day of Action
Railroaders and their families from IAM Local Lodge 27 and 356 recently rallied in Kansas City, MO to call attention to their nearly 5-year long battle to reach new contract terms with the National Carriers Conference Committee.
Machinists from the Burlington Northern Santa Fe and Union Pacific railroads assembled at Kansas City's Mill Creek Park to educate the public about their stalled negotiations and how the Bush-appointed National Mediation Board (NMB) is holding the livelihoods of thousands of railroad workers hostage. Nearly 7,500 IAM members are employed at the nation's Class 1 rail carriers.
"The National Mediation Board has derailed these negotiations and obstructed the collective bargaining process," said GVP Robert Roach, Jr., who was joined at the rally by Railroad Coordinator Mark Filipovic and Railroad District 19 President Robert Reynolds. "The NMB must get off the tracks, declare an impasse and move the process forward."
IAM members should urge Congress to force the three-member National Mediation Board to move the negotiating process to the next step.
Bulk Orders for 2005 IAM Calendar
Local or District Lodges who want to order bulk copies of the 2005 IAM Calendar can use the Bulk Order Form. This year's calendar features winners of the IAM Photo Contest. Two dollars from each calendar sale will go the IAM-sponsored charity Guide Dogs of America. For individual orders, please use the order form in the Fall 2004 IAM Journal.

---
Past iMail | Your Email |www.goiam.org | Print Version | iMail Sign-Up