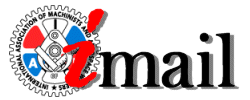 www.goiam.org


Tuesday
, November 5, 2002


Voter Turnout: Key to Victory
Even the experts agree. The 2002 election hinges on voter turnout. "Working families can tip the balance," said IP Tom Buffenbarger. "This is a critical election. Both the Senate and House of Representatives hang in the balance and governor's mansions across the country are up for grabs."
Buffenbarger pointed out that the choice is between a government controlled by the special interests or one that fights for working families. He urged voters to check candidates' records and not to be fooled by phony promises and reactionary rhetoric.
Working families demand a government that protects worker rights, a government with a workable plan to restart the nation's economy. Working families demand a government that protects and strengthens Social Security, not one that underwrites tax giveaways for companies like Enron and WorldCom.
"We can make the difference," Buffenbarger said. Between 1992 and 2000, working families' share of the vote rose from 19 percent to 26 percent and helped hold the worst excesses of an anti-worker administration.
President George Bush and his team hit the campaign hard, seeking to win a Congress that will rubber-stamp his agenda. "That agenda ended five years of economic prosperity, five years of balanced budgets and low employment," Buffenbarger noted. "This administration not only ended that prosperity, but it brought us a budget deficit and spent a $1.3 trillion federal surplus."
Most of that surplus was earmarked for Social Security, but went instead to massive tax cuts for corporate America and the wealthiest taxpayers.
---
Economic Woes Worry Workers
The president and many members of his party offer a mix of tax cuts and sound bites as a solution for the nation's economic woes. Working families understand that the economy needs more than slogans. The economy is in trouble.
Lopsided majorities of Americans tell pollsters they want to hear more about the economy. On economic measures that matter most, working families are much worse off than they were two years ago.
Fourteen million Americans are jobless, four million more than 2000. More than 41 million Americans have no health insurance, despite exploding health care costs. Also, fewer workers have guaranteed pensions now and more are being forced into 401(k) plans. Those funds have lost, on average, more than one-fourth of their value so far this year.
At the same time, personal bankruptcies are breaking records. During the 12 months ending in June, more than 1.5 million individuals filed for bankruptcy, an 8.6 percent increase over the previous year. It is the highest level on record.
"These are not just cold statistics," said IP Tom Buffenbarger. "These are real, flesh-and-blood people, people with families and hopes and aspirations for a good life. Think about this when you mark your ballots. Your votes do count."
---
Tennessee Workers Vote IAM
Nearly 300 workers in Cumberland City, TN, voted for IAM representation by a better than 2-to-1 tally. "Our in-plant committee kept on top of everything," said Bobby Sapp, Southern territory organizer. "We couldn't have done it without them."
The workers will join District 711, possibly as a new local lodge. The new members build aviation wire harnesses for Nagle, Inc., a division of parent company Leggett & Plant.
"I want to congratulate Bobby Sapp, District 711 Business Representatives Rickey Wallace and Chuck Killebrew and the entire organizing committee for a job well done," said GVP George Hooper.
"We had members from other IAM locals come by with signs of support the day of the vote," Sapp added. "It buoyed everyone's spirits."
---
Monthly Layoff Figures Up by 151 Percent
U.S. companies announced 7,600 layoffs for each business day last month, a whopping 151 percent increase from September and the second highest monthly figure this year.
The government's official unemployment rate also surged to 5.7 percent last month, adding to fears the country is at the edge of a double-dip recession.
Manufacturing was especially hard hit, shedding 49,000 jobs in October and bringing employment in that critical sector to the lowest levels since 1961. More than 2 million U.S. industrial jobs disappeared since January 2000.
Additional layoffs announced last week hit a broad cross section of the U.S. economy, including 2,200 at Morgan Chase, 4,400 at Sun Microsystems, 2,200 at Corning and 1,200 at Boeing.
---