Tue
sday, November 11, 2003
---
Seniors Draft Grassroots Action Plan
A rollicking delegation of more than 700 retirees adopted an ambitious political action plan to shield senior citizens, and all working families, from the anti-worker policies of the Bush administration and its compliant congressional cohorts.
Meeting in Las Vegas, delegates to the IAM Retirees Conference hammered out a detailed plan to make their voices heard—both at the ballot box and from City Hall to Capitol Hill. The delegates, including more than two dozen from Canada, participated in a series of instructive workshops focused on political organizing and lobbying techniques.
Delegates heard from a range of distinguished guests, including IP Tom Buffenbarger. "The skill, the experience and the wisdom you gained during your working lives are potent weapons in our unceasing struggle to win fairness for all," he said. These economic wars must be won in the marble halls of Congress and Parliament, in the legislatures and town halls of North America.
"As legislative advocates working together towards our common goals, we can overcome the powerful interests of those who oppose us. We have the know-how to wage, and to win, these wars," Buffenbarger said.
Retired IP George J. Kourpias, who now heads the Alliance for Retired Americans, was among the list of distinguished speakers slated to address the conference. Other speakers included GST Warren Mart and members of the IAM Executive Council, members of Congress and representatives from advocacy groups with similar interests.

---
Raytheon Moves Wire Work to Mexico
The announcement by Raytheon Aircraft Co. that it will move its aircraft wire harness production from Wichita, Kansas to Chihuahua, Mexico means nearly 350 jobs will be eliminated at the company's plant in east Wichita.
The bitter news for employees comes despite months of work by IAM members at Raytheon who sought to preserve their jobs with proposals designed to increase productivity and cut costs.
Raytheon officials have said they want to outsource all of the company's component parts manufacturing, keeping only final assembly.
The move is expected to financially devastate hundreds of Wichita families, including many who worked at Raytheon for decades. With each Raytheon job that is lost, up to 4 additional jobs in the surrounding area are expected to disappear.
More than 2,000 jobs at Raytheon have been eliminated since the industry-wide downturn began in 2001. However, many believe not all the cuts are necessary. "These are not the results of 9-11," said Steve Rooney, president of District 70. "These are the result of companies using the disasters of 9-11 to further their own agendas."

---
Vote Now to Stop FTAA
Hundreds of thousands of union members across North America are making their voices heard in a unique forum by casting 'ballots' against the proposed Free Trade of the Americas (FTAA).
The ballots, arriving daily from IAM districts, locals and individual members, will be delivered to the trade ministers of the Western Hemisphere when they converge on Miami on Nov. 20 and 21.
The FTAA, often called 'NAFTA Times 10,' is a plan to envelop all countries of the Western Hemisphere – except Cuba - in a NAFTA-like free trade deal. More than 800 million people in 34 countries would be subject to decisions that could cost millions of jobs and devastate entire communities as companies move operations across borders in search of the lowest wages, the loosest environmental regulations and the sharpest repression of labor unions.
More than 500,000 individual 'Stop FTAA' ballots were distributed in the Fall 2003 issue of the IAM Journal. Additional ballots are being circulated at IAM conferences, classes and at local lodge meetings. To request more ballots call the IAM Trade and Globalization Department at (301) 967-4596. For more information about the FTAA, go to www.aflcio.org/stopftaa.

---
Wall of Shame Highlights Bush Job Loss
Local 831 in Cedar Rapids, Iowa is attracting national attention from reporters covering political events in Iowa with its "Wall of Shame" poster. Placed in the Local 831 hall, the poster displays the names of 1,007 members of the local who have lost their jobs since George W. Bush took office. The Associated Press and the Cedar Rapids Gazette have featured stories about the poster.
IAM District 6 Business Representative Joe Ironside came up with the idea after listening to political speeches in Iowa. "These are real people with real families and the politicians crisscrossing Iowa seeking our votes need to understand the effects failed economic and trade policies have had on our members," said Ironside.
According to the AFL-CIO, Iowa has lost 44,900 jobs since January of 2001. Manufacturing jobs were hardest hit, representing 23,100 of the jobs lost.

---
Local 917 President Elected Mayor
Thanks to a strong campaign by labor and community activists, voters in Nesquehoning, Pennsylvania elected Tony Walck, president of IAM Local 917, to be the town's next mayor. Walck will take office alongside a slate of IAM–endorsed candidates for the Scranton City Council and County Commissioners.
District 1 DBR Danny Chmelko said he looked forward to having labor's voice in Nesquehoning and Scranton. "Labor sent a clear message to both Democratic and Republican candidates in Pennsylvania – "If you're not for working families, you're out," said Chmelko.
Additional Election Day winners include Eastern Territory GLR James D. Smith, who was re-elected to a third term as Mayor of South Lebanon, Ohio and David Schooley, District 57 DBR, who won re-election to the Hicksville, Ohio School Board.
"The IAM encourages all members to become active on the local state and federal level and to always remember that no matter how well your union negotiates a contract, it can be wiped out by a single stroke of a politician's pen," said Eastern Territory GVP Lynn D. Tucker.

---
CLUW Launches Cancer Awareness Project
The Coalition of Labor Union Women (CLUW) and the Academy for Educational Development joined forces to coordinate Working Women Reaching Out against Cervical Cancer (Working Women ROCC!), a project aimed at reducing cervical cancer rates among working women, reports Cheryl Eastburn, IAM Women's Department director.
"The project promotes increased screening and annual follow-up for union women and their families," Eastburn said. The five-year project, funded by a grant from the Centers for Disease Control, will educate union members on the risk factors for cervical cancer and the critical need for regular screening to ensure early diagnosis and screening.
Evidence suggests that annual screening rates for cervical cancer saves lives, and knowledge of the risk factors can help women take action to drastically reduce their chances of getting this form of cancer. A majority of women are hearing the message and being screened, but a significant minority are not. "With this grant, we can help change that," Eastburn said.

---
Past iMail | Your Email | Visit www.goiam.org | Print Version | Sign-Up for iMail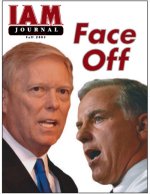 Two candidates came to Cincinnati to vie for the IAM's endorsement for President in 2004. Only one came away with the prize. Read all about it in the online version of The IAM Journal.
---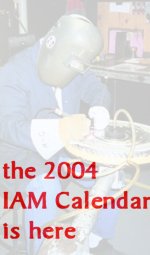 . . . and it's time to order your copy. This years calendar is filled with the winners of the annual IAM photograohy contest. Plus, for every calendar sold, the IAM will donate one dollar to the Guide Dogs of America. Last year, calendar sales earned $25, 000 for the GDA. Click here to download a calendar order form. Print it our on your home computer and mail it back to the IAM.
---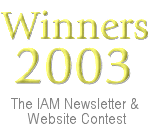 Once each year an independent panel of judges decide which locals and districts publish the best newsletters and best websites. Check out the winners.

---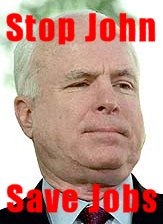 Senator John McCain (R-AZ) is back flying combat missions. This time, however, he seeks to shoot down the proposed lease of Boeing 767 tankers by the US Air Force. And he is using every weapon at his disposal to chalk up another kill. Help stop John McCain and save North American jobs.

---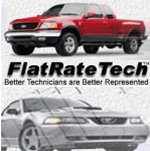 FlatRateTech is an organization "created for and by Ford and Lincoln Mercury service technicians solely to speak as one loud voice rather than 50,000 smaller voices," according to their website http://flatratetech.com. The fast-growing site offers forums for Ford customers, technicians and dealers to exchange information.

---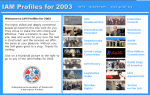 See who works for you, how the IAM is structured, and what services the IAM offers. Go to: IAM profiles for 2003.
---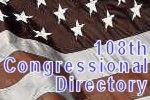 The 108th Congressional Directory . . . get your copy. Send $5 to the MNPL Education Fund, c/o IAMAW, 9000 Machinists Place, Upper Marlboro, MD, 20772.
---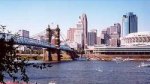 The official site for the 36th Grand Lodge Convention to be held in 2004 in Cincinnati, Ohio is now online. Check it our for convention news, sponsorship offers, and convention gear.