Tuesday, November 12, 2002

Stock Market Plunge Rocks Retirement Plans
The 10-year trip down Wall Street turned out to be a dead end for millions of workers who saw their retirement plans shattered when a slumping stock market claimed billions in stock-based retirement fund portfolios.
A study by the non-profit Economic Policy Institute (EPI) found it will take the average household 30 years to recover the wealth lost in 2000 and 2001 when the stock bubble burst.
The EPI report, "Retirement Out Of Reach" also found the ratio of household debt to income jumped from 72 percent to 83 percent since 1992, which combines with stock losses to leave the average family with only 43 percent of the income they will need for an adequate retirement.
"One of the saddest things about this situation," said George Kourpias, President of the Alliance for Retired Americans, "is that retires who had lost their 401(k) funds invested in the stock market do not have the luxury of 30 years to rebuild their so-called wealth."
---
US Airways' Financing Approved

Judge Stephen Mitchell of the U.S. Bankruptcy Court has approved a plan to provide US Airways with $500 million in debtor-in-possession financing (DIP) as part of the bankrupt airlines' reorganization plan.
The DIP financing will be provided by Retirement Systems of Alabama (RSA), who also offered $240 million in exchange for a 37.5 percent ownership stake in the airline. The bankruptcy court established a November 15 deadline for competing, qualified offers.
Attorneys representing the Machinists Union were present at hearings last week where the court approved a number of agreements related to aircraft, allowing US Airways more time for negotiations with lessors and lenders. US Airways' attorneys declared the company is on track to emerge from bankruptcy in the first quarter of 2003.
---
Local Machinists Win State and County Races

Two IAM members, one in Missouri and the other in Minnesota, won political races in last week's election. Local Lodge 837 B's Bruce Darrough won the seat for the 75th District of the Missouri House of Representatives. Darrough, who works as an assembly inspector for Boeing and serves as his local lodge's secretary-treasurer, took nearly 60% of the votes in his victory. "This was a long and tough battle," said Darrough. "I would like to thank the Machinists Union and all of St. Louis organized labor for the support I received in this election."
In Minnesota, Local Lodge 737's Richard Olseen scored an impressive 53% - 47% victory over Bob VandeKamp a 20 year incumbent on the Chisago County Commission. "I'm really excited about the opportunity to serve the people of the 2nd District," said Olseen. "It's very important to me to open up government so people feel they are a part of it."
---
EAP Program Kicks Into High Gear
Nearly two dozen IAM activists gathered at the Winpisinger Center for an intensive four-day program designed to gain increased levels of professionalism and certification for the union's employee assistance program (EAP) representatives. In addition, the group learned of an advocacy program called Labor Assistance Professionals (LAP) that broadens the horizons of such worker-assistance programs.
It's an exciting new approach that offers new ways to deal with serious problems in the workplace," explained Maria Cordone, the IAM's director of Community Services and Retirees Department. Through the LAP program, union EAP representatives can get credit toward a college degree. Candidates attend a weeklong program at the George Meany Labor Center in Silver Spring, MD and take a series of learning modules provided through the Internet. "The program offers as many as 90 college credits for the candidates' work experience and union service," Cordone said.
EAP workers offer confidential counseling to workers dealing with personal or work-related issues. Such counseling covers a wide range of topics that may include physical, emotional, marital or family distress, legal or financial problems and other issues.
"Most people think we only work with alcohol or drug problems," one participant said. "We deal with life issues."
EAP chairman for District 141-M at US Airways reported, "a dozen suicides related to work issues" at one major airlines facing serious financial problems. "If we can help just one person, then it's all worth it," Paul Shultz said.
---
Health Insurance Costs Soar

Working families face ever-climbing costs for health insurance. Health insurance prices are expected to jump more than 15 percent next year. Employers pass an ever-increasing share of those costs onto workers. Some estimates show that workers will pay an average $1,753 for health care insurance—up by an average $342.
---
China Faces Jobless Crisis

The prospect of millions of angry and unemployed Chinese workers migrating toward urban centers is presenting China's leaders with potentially explosive problems as the country undergoes the largest social and economic transformation in decades.
Estimates of unemployment in China range from the official figure of 7.25 million in the cities to a largely unemployed migrant population of 80 to 100 million. The numbers are expected to increase as China continues to shutter state industries in a wholesale bid to modernize its economy.
Recent protests by unemployed workers in several cities in northeastern China were violently suppressed by police who arrested protestors and jailed suspected organizers. China permits no labor unions other than the government controlled All China Federation of Trade Unions. Public displays of anger over unemployment and government corruption are increasing as Communist leaders alternately suppress and embrace capitalist-style economic reforms.
---
Eastern Territory Scores Wins

Eastern Territory organizers racked up a trio of wins recently. District 15 reports that 39 workers at Ryder Integrated Logistics voted for IAM representation. The new members will join IAM Local 447. At the same time, workers at Bernardi Italian Foods, Bloomsberg, PA, voted for IAM Local 1971. Finally, seven auto mechanics at Kings Nissan in Cincinnati will be represented by IAM District 34. "We congratulate the organizing team for these successes," said GVP Warren Mart. "We welcome these new members into our union."
---
IAM District 75 Racks Up Wins

The organizing team at District 75 is definitely on a roll. The team scored a win when a 138-member unit at Trend Western Technical voted for IAM representation. The new members provide fueling, transportation and supply services to the F-15 fighter squadrons at Tyndall Air Force Base in Panama City, FL. An earlier election brought 18 workers into the IAM. These new members work for Government Contracting Resources, Inc. at Navy facilities in Pensacola, FL and Pascagoula, MS. Finally, AHNTECH, Inc. recognized the IAM as the bargaining representative for 20 of their employees at Tyndall AFB.
District 75 has brought more than 700 new members into its ranks so far this year. "The District 75 organizing team has done an outstanding job," noted GVP George Hooper. "We congratulate them and extend a warm Machinists welcome to these new members."
---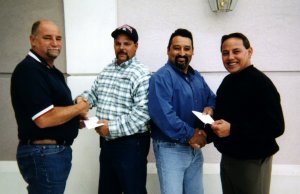 (from left) Gary Yengich
-
President Local Lodge 568;
Todd Taylor; Mike Duran and GLR Bud Michel.

Justice on the Job in Utah

IAM Members, Todd Taylor and Mike Duran know that "it pays to belong" to a strong union. Taylor and Duran, members of Local Lodge 568 in Salt Lake City, UT, received make whole awards totaling $42,711.54 and $56,325.45 respectfully after impartial arbitrators found that their employer unfairly discharged them.
Western Territory General Vice President Lee Pearson said, "This is what being a part of the IAM is all about. Our members are able to stand up to discriminatory employer tactics and win.
---
Medicare Patients Face Health Care Crisis

Older Americans, already facing serious problems trying to pay for their prescription drugs, are now finding it difficult to find doctors to care for them. Recent surveys find that as many as one in nine Medicare recipients say they can't find doctors who accept Medicare. Last year brought a 5.4 percent cut in Medicare fees for doctors. The problem could become even more acute if an additional 4.4 percent cut is allowed to take effect this year. A bill to boost Medicare reimbursements to physicians languishes in Congress, but the Bush administration says the proposed increase costs too much. It is unlikely to pass the GOP-controlled Congress.
---