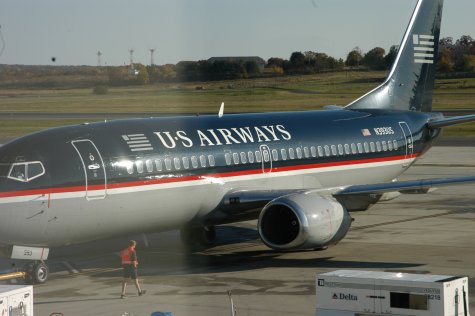 IAM members at US Airways ready a Boeing 737 for takeoff at Portland International Airport in Portland, Maine.
US Airways filed motions on Nov.12 in U.S. bankruptcy court asking a judge to abrogate labor agreements covering flight attendants, passenger service agents and machinists if replacement agreements cannot be hammered out. Attorneys for the airline also filed a motion to eliminate nearly all health care coverage for retirees.
The ominous filings brings all parties a step closer to the most draconian option available to companies under bankruptcy law and establishes a timeline for discussions between union representatives and US Airways. During this time, contracts remain in effect and unchanged except for the temporary modifications previously ordered by the court.
Under bankruptcy law, the judge has only two options when ruling on an 1113c motion; reject the company's application and leave the labor contract intact, or approve the application and terminate the labor agreement entirely. If the judge elects to abrogate the agreements, US Airways would then be free to unilaterally establish wages, work rules and benefits. The judge cannot impose permanent contract terms on the parties.
PBS Highlights Wal-Mart Sweatshops
The PBS program Frontline will air a documentary on Nov.16 about Wal-Mart, its worldwide use of sweatshops and its relationship to American job loss.
Over 100 million Americans shop every week at Wal-Mart to get "every day low prices" but many economists say the retailer is destroying good American jobs by pushing production of consumer goods to China.

Frontline correspondent Hedrick Smith travels across the U.S. and to China to investigate Wal-Mart's impact on America's economic future. "Is Wal-Mart Good for America?" will air Tuesday, Nov. 16, at 9 P.M. on PBS (check local listings).

If you can't watch the TV broadcast, you can catch it via streaming video on the film's web site (following the broadcast).
In a disturbing indication of the kind of decisions that can be expected from the National Labor Relations Board (NLRB) during the second Bush administration, the board rejected a remedial bargaining order in a case involving workers who encountered threats, intimidation and firings during a lawful organizing campaign.
Despite repeated unfair labor practices by managers at Hialeah Hospital that included secret videotaping of employees, captive audience meetings and a threat to discharge workers who contacted the union, a two-member majority of the board issued a decision that rejected an Administrative Law Judge's (ALJ) bargaining order as "unnecessary."
In a strongly worded dissent, NLRB member Wilma Liebman blasted the company for it's illegal behavior. "Within hours of learning of the Union's organizational campaign, the respondent embarked on a course of unlawful conduct," wrote Liebman. "…the Respondent not only threatened the entire unit with job loss for union activities, but it made good on that threat by discharging Rodolfo Rodriguez, a leading union adherent." Liebman would have enforced the law judge's bargaining order.
Bargaining orders have been a customary remedy in cases before the board where companies violate labor laws to the degree where a fair election is deemed impossible. This latest decision represents a highly troubling indicator for future organizing cases that come before this board.
Bush Trade Agenda Hinges on CAFTA Vote
The first big test for the Bush administration's free trade and outsourcing agenda could come next year with a vote in the House of Representatives on the Central American Free Trade Agreement (CAFTA). The up or down vote is expected to be close and contentious, with representatives from manufacturing and textile states still smarting over massive job losses that followed the passage of the 1994 North American Free Trade Agreement (NAFTA).
Labor unions are preparing an aggressive campaign to counter lobbying efforts by multinational corporations to win approval for the pact, which would loosen trade and tariff regulations between the U.S. and Costa Rica, El Salvador, Guatemala, Honduras and potentially the Dominican Republic.

The proposed accord is also expected to draw resistance from fiscal conservatives who view the $500 billion U.S. trade deficit with alarm.

"The problems of a soaring trade deficit will not be resolved by creating additional one-sided trade deals without any protection for workers, the environment or local economies," said IP Buffenbarger. "It's time we demanded fair trade instead of free trade."
Passage of CAFTA would also clear the way for additional free trade pacts being negotiated by the Bush administration with Columbia.
Western Territory Adds New Members
District 751 organizers used the voluntary recognition procedure to bypass costly and time consuming National Labor Relations Board (NLRB) procedures and win new IAM members at two Washington state locations; Aerospace Defense Manufacturing Inc. and Diamond B Constructors.
Western Territory GVP Lee Pearson credited District 751 DBR Mark Blondin and District 751 Organizer Jesse Cote, Jr. for the win but warned that voluntary recognition and card check procedures are the target of a coalition of anti-union lawmakers and pro-business lobbyists.

"The NLRB is poised to decide a case this spring that could severely limit union organizing via neutrality agreements and card check certifications," said Pearson. "We must be prepared to oppose presidential appointments to the courts and federal agencies that are designed to roll back and eliminate our organizing rights."
In another Western Territory Organizing victory, DBR Ginger Watson of District 86 and GLR Paula Ross combined forces with Special Representative Rod Weigand to organize 15 helicopter pilots at Doss Aviation at Malstrom Air Force Base in Montana. The pilots voted 9-2 in favor of IAM representation.
---
Past iMail | Your Email |www.goiam.org | Print Version | iMail Sign-Up