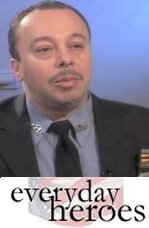 Uniformed EMT Israel Miranda remembers how "as far back as 34th street you had lines of people waitng for help."
My 18th, 19th Hours
---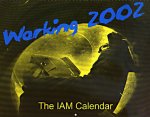 Order your 2002 IAM Calendar Now. The 2002 calendar features winners of this year's IAM Photography Contest.
Send a check for $5.00 to:
IAM Calendar
c/o IAM Communications
9000 Machinists Place
Upper Marlboro, MD
20772-2687
Local Lodges and Districts can download a bulk order form for large calendar requests.
---

LL720J IAM members reach out to save lives through bone marrow donations on behalf of Asians for Miracle Marrow Matches.
---


A close look at how
big business wants
to expand NAFTA.
Free Trade Area
of the Americas

---


A video interview with
Dr.Christian E. Weller,
from the Economic Policy Institute.

---
The IAM
Executive Council
International President
R. Thomas Buffenbarger

Secretary Treasurer
Donald E. Wharton

GVP Western
Territory
Lee Pearson
GVP Canada
GVP Canada
Dave Ritchie

GVP Midwest
Territory
Alex M. Bay

GVP Headquarters
Robert V. Thayer
GVP Southern
GVP Southern
Territory
George Hooper

GVP Eastern
Territory
Warren L. Mart

GVP Transportation
Robert Roach, Jr.
Tuesday, December 4, 2001
IAM Strikes P&W Aircraft
Angered by managements' failure to address pensions and job security, 5,200 members of Connecticut's IAM District 91 members rejected a final contract offer and struck Pratt & Whitney Aircraft's jet engine plants on Monday.
"This is a strike to protect America's defense industrial base. This is a strike to keep good paying jobs and decent retirements available for the people of Connecticut," said IP Buffenbarger.
"Pratt & Whitney, owned by UTC, has eliminated 25 percent of its union jobs in the past three years alone," explained IAM Aerospace Coordinator Gary Allen. "The company wants to continue eliminating much of the remaining work by sending it overseas or to non-union U.S. shops. Our members have drawn the line and made their stand."
The IAM has filed charges with the National Labor Relations Board over Pratt & Whitney's refusal to provide union negotiators with basic information on subcontracting and outsourcing, according to District 91 DBR James Parent.
"The average Pratt worker is 49 years old and has 23 years' seniority. We need to seriously address the issues of job security and improved pensions," Parent added.
---
Call Now: We Can Sidetrack Fast Track
That jobs-stealing Fast Track trade ploy may steam onto the House floor sometime this week. We can derail the obnoxious measure by making our voices heard. Call your House members, toll free, at 800-393-1082 and urge them to vote NO on this cynical attempt to pander even more to Corporate America.

The AFL-CIO unveiled new television ad campaign urging the House to reject the anti-worker Fast Track legislation. "We've already lost more than 2 million jobs to this recession and the economic setbacks of Sept. 11," said IP Tom Buffenbarger. "It makes absolutely no sense to export even more American jobs."

Let's stop Fast Track dead in its tracks, make those calls now. Make your voices heard. We can make a difference. Toll free, 800-393-1082. Call Now.
---
Let's Put 'Economic Stimulus' on the Right Track
More than 700,000 American workers lost their jobs or joined the layoff rolls just since Sept. 11, yet Congress has yet to provide any relief or any measures to get the nation's economy rolling and create jobs.

Instead, major elements of Congress callously focus their largesse on special interests, including the corporate sector and wealthy taxpayers. America's workers need an economic stimulus bill that provides real relief.

Workers need enhanced jobless benefits, federal subsidies to pay COBRA premiums and federal aid to states so they can continue to provide vital services.

You can contact your senators at www.goiam.org/politics.asp and urge them to vote FOR an economic stimulus measure that helps American workers.
---
Rail Retirement Bill Gains Senate Yardage
Sidestepping legislative roadblocks like a determined receiver shedding tacklers, the bill to improve retirement benefits for rail workers came closer to the goal line this week after Republican attempts to load the bill with unrelated amendments failed.

The bill, which passed the House earlier this year by a wide margin, enjoys broad support from rail companies, workers and transportation unions. By allowing partial investment of the federally administered railroad pension fund, the proposal would cut payroll taxes for railroads while boosting retiree's benefits.

The attempt by conservative Senate Republicans to hold the popular legislation hostage was thwarted when legislators voted overwhelmingly against amendments ranging from human cloning to oil drilling in the Alaska National Wildlife Refuge.

"This bill is not out of the woods yet," said Transportation GVP Robert Roach, Jr. "Every phone call, every fax and every e-mail is needed to get this bill to a floor vote without additional unrelated amendments." Members are encouraged to contact Senators immediately at www.goiam/politics.asp and urge support of a 'clean' railroad retirement bill.
---
United Mechanics Schedule Strike Vote
After two years of negotiations, fifteen thousand aircraft mechanic and related employees at United Airlines will get a chance to throw a wrench in the company's plans for additional delay when union officials take a system-wide strike vote on December 13.

The strike authorization vote will take place midway in the 30-day cooling off period that began when National Mediation Board officials released both sides from further negotiations on November 21. The board recommended a Presidential Emergency Board and White House officials indicated President Bush was prepared to take steps that would extend a strike deadline by an additional 60 days.

Related link:
IAM Transportation
District 141M

---
AeroMexico Negotiations Begin
After two elections, carrier interference and lengthy legal battles, negotiations began this week on a first agreement between reservation agents represented by IAM District 142 and AeroMexico.
The IAM initially lost a representation bid in 2000, but in response to an IAM complaint, the National Mediation Board ruled that AeroMexico was guilty of carrier interference. The Board ordered a second election, which AeroMexico promptly tried to have reversed in federal court. After a ruling that permitted the election to go forward, the IAM won the election and was certified in April 2001.

In a further effort to suppress the voices of its employees, AeroMexico sued the National Mediation Board, hoping the IAM certification would be revoked. Instead, a federal judge ruled that AeroMexico had to negotiate with the IAM as the collective bargaining agent for its 91 reservation employees based in the United States.

"The IAM spent two years helping AeroMexico workers attain justice," said GVP Robert Roach, Jr. "It makes no difference whether we represent 45,000 people at a carrier, or less than a hundred. Every IAM member is backed by local, district, and Grand Lodge staff that will use every resource available to protect them."

Related link:
IAM Transportation
---
The World's Leading Company?
Enron, a Texas based conglomerate, is expected to file for Chapter 11 bankruptcy this week.

The firm is said to owe as much as $17 billion to creditors.

According to company accounts, it has $62 billion of assets on its books, making this the largest bankruptcy in history. About 25 companies have stated they are owed more than $6 billion in secured and unsecured loans, which include $3 billion of secured loans to an organization that was financing an Enron power project.

Worker layoffs have begun but the actual number is yet unknown.
---
Comments, suggestions, or story items?
Contact IAMAW
Read previous imails
Print Friendly Version