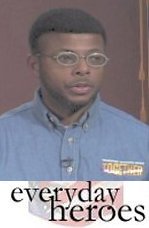 Charles Jenkins a member of the Transpotation
Workers Union.
A Great Feeling
---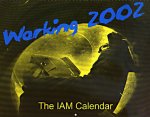 Order your 2002 IAM Calendar Now. The 2002 calendar features winners of this year's IAM Photography Contest.
Send a check for $5.00 to:
IAM Calendar
c/o IAM Communications
9000 Machinists Place
Upper Marlboro, MD
20772-2687
Local Lodges and Districts can download a bulk order form for large calendar requests.
---
The IAM
Executive Council
International President
R. Thomas Buffenbarger

Secretary Treasurer
Donald E. Wharton

GVP Western
Territory
Lee Pearson
GVP Canada
GVP Canada
Dave Ritchie

GVP Midwest
Territory
Alex M. Bay

GVP Headquarters
Robert V. Thayer
GVP Southern
GVP Southern
Territory
George Hooper

GVP Eastern
Territory
Warren L. Mart

GVP Transportation
Robert Roach, Jr.
Friday, December 7, 2001
Talks Resume Over Pratt & Whitney Strike
Negotiations will resume this weekend between Pratt &Whitney Aircraft and IAM District 91, whose 5,200 members struck Monday over job security, pensions and illegal bargaining by management.
While the two sides prepare to resume bargaining, picket lines outside the four Connecticut jet engine plants remain solid and lively. Meanwhile, all commercial and military work inside the shops is at a standstill.

"If management makes a good faith effort to address the issues, I am confidant we can bring this dispute to a fair resolution. Our members expect management to make an honest effort, and Pratt & Whitney's customers do, as well," said IAM Aerospace Coordinator Gary Allen.

Related Link:
District 91
---
Right to Strike at UAL Gets AFL-CIO Support
The U.S. labor movement is lining up behind Machinists at United Airlines in their fight to protect collective bargaining from presidential interference and to prevent congressionally imposed contract settlements. A resolution, passed overwhelmingly by delegates at the AFL-CIO Convention in Las Vegas (click here to read), called on its affiliated unions to recognize the threat to all unions posed by the airline's attempt to block a lawful strike by 15,000 mechanic and related members at United.

"The right to strike is hard won and highly prized by union workers across America," said Scotty Ford, IAM District 141-M president and lead negotiator. "The countdown and threat of a strike is meant to require both sides to bargain in earnest. United, however, has opted to withdraw all proposals and is lobbying for a Presidential Emergency Board."

Negotiations in the airline industry are governed by the Railway Labor Act, which has provided an orderly process to reach voluntary agreements for more than a half-century. "The attempt by United is part of an industry-wide strategy to reverse years of union-won progress for airline workers," said IP Tom Buffenbarger. "UAL is taking advantage of their current financial crisis to push for a revolutionary rewrite of the collective bargaining process - they must be stopped and they will be stopped."

Union members should immediately contact their elected representatives to demand support for the legal rights of United Airlines employees. An action message is available at www.goiam/politics.



---
Fast Track Squeaks Through House
Intense White House arm-twisting and pork barrel politics overcame fierce opposition from working families as the GOP-controlled House passed a jobs-stealing trade measure by a single vote. The measure gives the President enormous latitude in negotiating trade agreements without hindrance from Congress. The congressional role is limited to up-or-down votes, it cannot amend any such trade agreement in any fashion.

GOP House leaders bent the rules and delayed the vote until a GOP representative caved in and switched his vote. Working Americans and their unions insisted that trade pacts should include enforceable worker rights measures, as well as strong environmental protections. Without such provisions, more corrosive trade agreements similar to NAFTA will be coming down the pike, warned IP Tom Buffenbarger.

Despite White House lobbying efforts, 23 Republicans jumped ship and voted against Fast Track. Only 21 Democrats supported the bill, which passed 215-to-214. The measure now goes to the Senate, where it faces less opposition.

"We fought a good fight here," Buffenbarger said. "We made our voices heard and we will be heard from again. I promise you that."
---
Senate Approves Railroad Retirement Improvements
The IAM and other transportation unions won a three-year battle to get Congress to pass well-deserved improvements for members covered by the Railroad Retirement system. The Senate finally passed The Railroad Retirement Survivors Improvement Act by a 90 to 9 vote.

"We had many obstacles to overcome to make this legislation a reality," said IP Tom Buffenbarger. "With the help of our friends in Congress, the Railroad Retirement Coalition and the rail carriers, railroad employees will now enjoy the better retirement benefits they deserve."

The bill contains substantial increases in benefits under the railroad retirement system, including unreduced benefits at age sixty with thirty years of service; retiree health insurance at age 60 with lifetime minimum benefit increases based on the medical inflation rate; expansion of Surviving Spouse benefits; repeal of caps on benefits for long-term employees and a reduction from ten to five year's service for vesting. In addition, the railroad companies will insure the fund's future solvency by absorbing any necessary future tax increases.

"The way our railroad members mobilized behind this issue was remarkable," said Transportation GVP Robert Roach, Jr. "Their constant contact with their Senators and Representatives is directly responsible for the passage of this legislation."

Even though the House already passed its version by a 384-33 vote, the Senate bill contains some small technical differences which requires another vote by the House. Once the House votes again, the bill will go to the President to sign into law.
---
It Pays to Belong to the IAM
Seven members of an IAM organizing team got a first-hand lesson on the importance of solidarity during a heated organizing campaign at the Residence Inn in Troy, MI, reports BR Joe Flanders, District 4, who headed the campaign effort.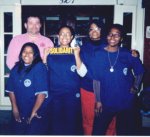 "The company fired 16 of the 22 workers who signed cards," he said. "We took the case to arbitration and won for those workers who wanted to keep working there." An impartial arbitrator ordered them returned to work with full back pay, a total of $33,129 Flanders noted. The campaign is in full swing and the election could be set soon. Flanders credited GLR David Porter and District 4 DBR Brian Bryant with playing key roles in the campaign.
---
IAM Demands 'Clear' Canadian Airline Policy
IAM leaders in Canada representing 15,000 airline employees joined with Canadian pilots and flight attendants' unions and demanded an emergency task force to develop a clear, coherent airline policy.

"We need a made-in-Canada airline policy that supports employment and gives the traveling public confidence that when they book a ticket, they'll get good, safe service at a fair price," said IAM District 140 General Chairman Don MacLean.

In a meeting with Canadian Transport Minister David Collenette, the union representatives called the government's handling of airline policy "disastrous" and demanded solutions from a government task force within 90 days. The unions presented recommendations to restore stability to the industry whose boom and bust cycles have left thousands of airline workers unemployed. "At this point, we don't have a policy - and the practice has been a disaster," said Canadian GVP Dave Ritchie.
---
Transportation Dept. Adds Members, Staff
Mechanic and Related employees at Iberia Airlines recently won IAM representation in an election conducted by the National Mediation Board. The Iberia members are assigned to District Lodge 142 and Local Lodge 368 in Miami, FL. District 142 is holding meetings with the new Iberia members to discuss proposals for their initial contract negotiations.

Rich Johnson, Jr., a United Airlines A&P mechanic and member of San Francisco Local Lodge 1781, is the IAM's newest field staff addition, joining the Transportation Department as a Special Representative, effective December 1, 2001. Rich initiated into the IAM in 1988 and served as District 141-M Trustee and VP-West before being elected to Assistant General Chairman in July 2000. Since December 1999, Rich has been a member of the District 141-M committee negotiating with United Airlines.
---
MNPL Flag Pins Show the Colors
A new MNPL flag pin proudly waves the Stars and Stripes and the IAM banner showing unity in the face of threats both foreign and domestic. The emblems are available for $5 each and can be ordered from the Legislative and Political Affairs Department. For more information, contact MNPL at 301-967-4575.
---
Comments, suggestions, or story items?
Contact IAMAW
Read previous imails
Print Friendly Version