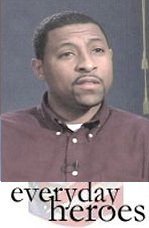 Vernon Thorpe, Transport Workers Union, reflects on what it meant to work at Ground Zero.
---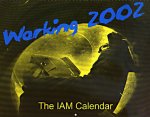 Order your 2002 IAM Calendar Now. The 2002 calendar features winners of this year's IAM Photography Contest.
Send a check for $5.00 to:
IAM Calendar
c/o IAM Communications
9000 Machinists Place
Upper Marlboro, MD
20772-2687
Local Lodges and Districts can download a bulk order form for large calendar requests.
---
The IAM
Executive Council
International President
R. Thomas Buffenbarger

Secretary Treasurer
Donald E. Wharton

GVP Western
Territory
Lee Pearson
GVP Canada
GVP Canada
Dave Ritchie

GVP Midwest
Territory
Alex M. Bay

GVP Headquarters
Robert V. Thayer
GVP Southern
GVP Southern
Territory
George Hooper

GVP Eastern
Territory
Warren L. Mart

GVP Transportation
Robert Roach, Jr.
Friday, December 14, 2001


Strikers Win at Pratt & Whitney


Unbending solidarity and worker commitment spelled victory for more than 5,000 striking IAM members at Pratt & Whitney facilities in Connecticut, reports Jim Parent, IAM District 91 business rep. The striking workers overwhelmingly voted to accept a much-improved contract and ended their 11-day strike.

The three-year agreement brings major gains in job security provisions, wage increases and a $1,000 ratification bonus, as well as an enhanced early retirement package and savings plan improvements. "Our members stood firm and stuck together," Parent said.

GVP Warren Mart praised the members for their strong stand and credited Parent, and GLR Kevin Pope and Aerospace Coordinator Gary Allen for their key roles in the winning effort.
---
IAM Mechanics at UAL Vote 99 % to Strike


Mechanic and Related employees at United Airlines voted overwhelmingly on Thursday to authorize a strike at the carrier if no new agreement is reached when the current 30-day cooling off period ends at 12:01 AM on December 21, 2001.

The 15,000-member IAM group voted 99 percent in favor of a strike after United's negotiators withdrew all contract proposals and abandoned the bargaining table. The National Mediation Board (NMB) declared an impasse on November 21, 2001, starting the 30-day countdown clock.

For months, the airline lobby and United Airlines have pushed aggressively for forced arbitration or presidential intervention to block any lawful job action. The December 21 deadline for strike or settlement could be extended by an additional 60 days if President Bush intervenes and appoints a Presidential Emergency Board (PEB). Bush administration officials indicated the president would act on the NMB recommendation to appoint such a panel.
---
IAM, Boeing Launch Apprentice Program


The IAM and Boeing agreed to establish an apprenticeship program through the IAM/Boeing joint training program, a program agreed to in the last contract negotiation, said GVP George Hooper.

"This is a win-win bargain for both the Machinists and Boeing," Hooper said. "Boeing gets top-quality employees, and we get good long-term jobs for the community."

The agreement opens the way for IAM District 70 and Boeing to launch the program in Wichita, KS, early next year. Apprenticeship training involves thousands of hours of study and training, both on-the-job and off-shift, for a specific, highly skilled trade. These apprenticeships can lead to careers that last an entire lifetime, Hooper noted.
---
Auto Mechanics Say 'Union, Yes'


Mechanics at Lehman Chrysler-Jeep-Lincoln- Mercury outlet voted to join the IAM after a hard-fought organizing campaign, noted Richard Weikle, IAM District 55 business rep, who led the successful effort at the Bloomington, IL dealership.

"These 15 skilled mechanics were solid even when faced with fierce opposition from the employer," Weikle said. "They were determined to fight for the wages, benefits and working conditions they deserve." DBR Ed Breen played a major role in the campaign, said GVP Alex Bay. District 55 also represents auto mechanics in the Springfield and Joliet areas.
---
Railroad Bill Awaits Bush Signature


Legislation that significantly improves benefits for rail retirees and their families highballed through the House by a 369-to-33 vote. The measure has made its way to the White House, where it awaits President Bush's signature. Even if he refuses to sign the bill, it has enough sponsors and co-sponsors to make it virtually veto-proof in both houses of Congress.

"This is a wonderful victory for all railroad employees and a tremendous benefit for surviving spouses. This truly was a tremendous grassroots effort," said Transportation GVP Robert Roach, Jr. "Without our member's commitment, this bill would not be a reality."

The bill expands benefits for both current and future surviving spouses, liberalizes early retirement features and reduces the vesting requirement from 10 to 5 years.
---
District 98 Wins Motorcycle Raffle


IAM District 98, York, PA, held the winning number when tickets were drawn for the 2002 Harley Davidson "Deuce", reported GVP Warren Mart. Proceeds from the raffle will be used defray the cost of the 2004 Grand Lodge Convention in Cincinnati, he added. The Eastern Territory and its members will host the convention and Mart offered "a very special thanks to all who bought tickets" for the Harley raffle.
---
FaxLink to End Dec 31, Signup for iMail


After December 31, FaxLink will complete its planned phase out and be replaced by iMail, an entirely web-based publication. Almost all IAM locals and districts have already made the switch to iMail. If your local and district has not, log on to www.goiam.org and click on the "I-Mail Signup" button in the lower left corner of the home page. Complete the online form and you will receive iMail automatically via e-mail.

FaxLink began publication early 1996 as a replacement for the printed Report From Headquarters. "FaxLink served us well and it represented the latest technology when it started," said IP Tom Buffenbarger. "In just five years we've moved to world of exclusive internet publishing with iMail, streaming video and GoIAM.org. We plan to stay at the leading edge of communications technology."
---
Comments, suggestions, or story items?
Contact IAMAW
Read previous imails
Print Friendly Version