---
Boeing CEO Resigns
In the latest management shakeup at scandal-plagued Boeing, CEO and Chairman Phil Condit announced his resignation, effective immediately. Within hours, the board of directors named former Boeing president Harry Stonecipher, 67, to take Condit's place.
The latest moves come a week after Boeing CFO Michael Sears was fired for what the company called "unethical conduct" in the hiring of a Pentagon employee to influence lucrative defense contracts. The former Pentagon official, Darleen Druyun, was fired also.
"Change at the top may or may not mean change for the better at Boeing," said IP Tom Buffenbarger. "What Boeing needs to do now is focus on the value of its products and the employees who build those products. We're ready to work with Harry Stonecipher, or the devil himself to get this company back on track as a reliable employer, a stable company and a good corporate citizen."
Congress Eyes Labor Law Reform Plan
Worker-friendly legislation with bi-partisan backing surfaced on Capitol Hill in the midst of bitter wrangling over Medicare bills and other contentious measures that have tied Congress in knots on the eve of adjournment.
Senator Ted Kennedy, D-MA, and Rep. George Miller, D-CA, introduced the Employee Free Choice Act, which is also backed by Rep. Peter King, R-NY. The bill makes improvements in U.S. labor laws, allowing employees to freely choose union representation by signing cards. It also provides mediation and arbitration for first-contract disputes and sets stronger penalties for violating worker rights when they seek to form a union.
"The freedom to form a union is a fundamental civil right," said Wade Henderson, executive director of the Leadership Conference on Civil Rights. "We must put an end to employer abuses as a matter of human and civil rights." To make your voices heard on this important issue, call your U.S. senators at 202-225-3121 and urge them to co-sponsor this important legislation. You can give that same message to your U.S. representatives by calling 202-225-3121.
For more information, visit www.aflcio.org/aboutunions/voiceatwork/efca.cfm.
Unions in Iraq?
Seeking to improve dismal working conditions, workers in Iraq are beginning to organize labor unions. The drive, however, has hit a major roadblock, and it's not Saddam Hussein.
The Coalition Provisional Authority (CPA) and its chief, L. Paul Bremer III, have decided to enforce a 1987 law that says workers in state-owned enterprises do not have the right to form unions or to bargain for contracts.
The discouragement of unions by the CPA can be directly linked to the effort to privatize the Iraq economy. A study of 18 high-profile U.S. corporations given contracts to operate in Iraq found that more than half are privately owned and have a record of hostility towards unions and the labor movement.
"The occupying powers have invited into Iraq private corporations with an established record of labor, environmental and human rights violations," said the report by U.S. Labor Against the War, a national network of unions opposed the war in Iraq. "These corporations were chosen by the Bush administration, which itself is considered by many as the most anti-worker, union-hostile administration in modern U.S. history. This does not bode well for respect of workers' rights in Iraq."
Rumsfeld Wins 'Foot in Mouth' Prize
The Plain English Campaign awarded Secretary of Defense Donald Rumsfeld its 2003 "Foot in Mouth" prize for a statement made last year regarding the search for weapons of mass destruction in Iraq.
"Reports that say something hasn't happened are always interesting to me, because as we know, there are known knowns; there are things we know," said Rumsfeld at a February 2002 news briefing. He went on to clinch the award by saying, "We also know there are known unknowns; that is to say we know there are some things we do not know. But there are also unknown unknowns – the ones we know we don't know."
The prize is awarded by the British-based organization as part of its campaign to have public information delivered in clear, straightforward English. "We think we know what he means," said Plain English spokesman John Lister, "But we don't know if we really know."
Labor to Launch
Rights Campaign on Dec.10
Thousands of labor activists across the country will kick off a campaign of public education and political pressure on Dec. 10 aimed at restoring the freedom of workers to form unions. Timed to coincide with International Human Rights Day, the campaign will highlight the harassment, intimidation and hostility routinely faced by workers seeking to exercise their legal right to form and join unions.
"Union membership provides better wages, safer workplaces and improves entire communities by strengthening the local tax base," said IP Tom Buffenbarger. "Despite these proven benefits, there is a well-financed opposition that views worker's legal rights as a burden to be suppressed at all costs."
A relentless recession and political opposition to unions in both the private and public sectors have reduced union membership dramatically over the past several years. Yet today, more than 42 million U.S. workers say they would join a union if they had the opportunity.
High Tech High Dive
The U.S. technology industry shed more than a half million jobs in 2002, according to "Cyberstates 2003," a report on employment in the high tech industry by the American Electronics Association (AEA)
The report also says an additional 234,000 tech jobs have disappeared so far in 2003 and only three states added tech jobs this year: the District of Columbia, Wyoming and Montana.
California led the retreat with 123,000 high tech jobs lost in 2002, dropping 11 percent to 995,000. New Hampshire saw the largest percentage drop in tech employment, losing 18 percent of its tech worker jobs. According to the AEA, high tech employment in the U.S. now stands at 6 million workers. For a copy of the report, go to http://www.aeanet.org.
---
Past iMail | Your Email | Visit www.goiam.org | Print Version | Sign-Up for iMail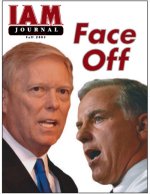 Two candidates came to Cincinnati to vie for the IAM's endorsement for President in 2004. Only one came away with the prize. Read all about it in the online version of The IAM Journal.
---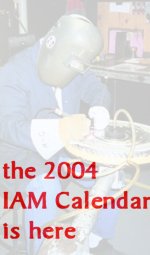 . . . and it's time to order your copy. This years calendar is filled with the winners of the annual IAM photograohy contest. Plus, for every calendar sold, the IAM will donate one dollar to the Guide Dogs of America. Last year, calendar sales earned $25, 000 for the GDA. Click here to download a calendar order form. Print it our on your home computer and mail it back to the IAM.
---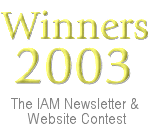 Once each year an independent panel of judges decide which locals and districts publish the best newsletters and best websites. Check out the winners.

---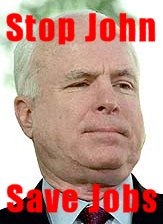 Senator John McCain (R-AZ) is back flying combat missions. This time, however, he seeks to shoot down the proposed lease of Boeing 767 tankers by the US Air Force. And he is using every weapon at his disposal to chalk up another kill. Help stop John McCain and save North American jobs.

---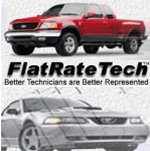 FlatRateTech is an organization "created for and by Ford and Lincoln Mercury service technicians solely to speak as one loud voice rather than 50,000 smaller voices," according to their website http://flatratetech.com. The fast-growing site offers forums for Ford customers, technicians and dealers to exchange information.

---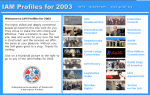 See who works for you, how the IAM is structured, and what services the IAM offers. Go to: IAM profiles for 2003.
---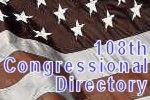 The 108th Congressional Directory . . . get your copy. Send $5 to the MNPL Education Fund, c/o IAMAW, 9000 Machinists Place, Upper Marlboro, MD, 20772.
---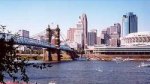 The official site for the 36th Grand Lodge Convention to be held in 2004 in Cincinnati, Ohio is now online. Check it our for convention news, sponsorship offers, and convention gear.