Thursday, December 4, 2003
---
GOP Trains Guns on Social Security
Heady with victory in their fight to weaken Medicare, Republican congressional leaders indicate Social Security may be next on their hit list. A recent Washington Post article says aides of President Bush outlined plans to resurrect his earlier scheme to privatize Social Security by diverting a portion of payroll taxes into the stock market.
Shortly after taking office, Bush appointed a commission to study the proposal. "The commission recommended three approaches that would each cost at least $2 trillion to make up for the money that would need to be paid in benefits but would no longer be coming from younger workers."
The Social Security Administration said it would hold town hall meetings on the issue next year. Co-sponsors of the event will be the National Association of Manufacturers and AARP; a self-styled senior advocacy group that endorsed the Bush plans to gut Medicare.
Social Security has been the nation's most successful retirement system since its inception in 1935, notes an official with the labor-endorsed Alliance for Retired Americans". We will fight any efforts by this president or this Congress aimed at privatizing, weakening, diminishing or otherwise dismantling the Social Security system," said Reuben Burks, secretary-treasurer of the Alliance.
"Each month, nearly 46 million Americans get Social Security benefits, 32 million retirees, their spouses and children, 7 million surviving widows, widowers and children, 6.7 million people with disabilities and their children," Burks added.

---
Make Your Voice Heard on Worker Rights
Every important issue working families won during the past 100 years came through the help of the unions they formed to win social justice for all. On paper, America's workers have the right to form unions, but the laws protecting those rights are so broken that employers routinely block workers from exercising their own free will to form and join unions.
New legislation that was recently introduced with bipartisan support (H.R. 3619 and S. 1925) seeks to restore worker freedoms to form unions by ensuring that when a majority of workers decide to form a union, they can, making union protections and benefits more widely available to more working families.
The trade union movement launches a campaign to win this legislation on December 10, International Human Rights Day.
Some 45 million U.S. workers would form a union today if they had the chance, according to independent polling. But employers routinely harass, coerce, intimidate -- and even fire-workers to keep them from exercising their freedom to form a union. According to Cornell University research, one-quarter of employers illegally fire at least one worker during private sector union organizing campaigns.
You can make your voice heard on this important issue. Visit: http://capwiz.com/iamaw/mail/oneclick_compose/?alertid=4392926 and urge your lawmaker to co-sponsor or support this legislation. We can make a difference.

---
DeLay Torpedoes GOP Luxury Liner
A firestorm of blistering criticism forced Rep. Tom DeLay, R-TX, to drop plans to entertain GOP honchos and free-spending corporate bigwigs aboard a luxurious cruise liner anchored in the Hudson River during next year's Republican National Convention in New York City.
DeLay scuttled the plan after weeks of bad publicity, including a very public spat between DeLay and New York City Mayor Michael Bloomberg over who would bear the expense of additional security for the cruise ship and its wealthy patrons.
The hullabaloo handed Democrats a potent political issue and they gleefully rushed to the barricades with it. "This has always been a titanically bad idea," crowed Rep. Carolyn Maloney, D-NY. "It is great news for NYC if they sink this plan. The New York Times published a scathing editorial, singling out DeLay's former chief of staff, who represents Norwegian Cruise Lines in Washington, DC. The firm supplied the cruise ship for DeLay's proposed shindig.

---
Vertex Workers Say: 'Union Yes'
Employees from Vertex Aerospace LLC - US Customs program at Naval Air Station North Island in San Diego, CA voted Union YES by an overwhelming 91% margin. These Service Contract Act employees maintain a variety of aircraft and ground equipment for U.S. Customs.
"This organizing victory was the result of the hard work and determination of the employee organizing committee," Senior Organizer Brian Miller said. "They remained strong after an unsuccessful NLRB election in 2002 that we lost by one vote. The committee held the bargaining unit together through the twelve month election bar and produced a victory on election day."
The bargaining unit is in high spirits following this victory. Todd Ward was elected to serve on the IAM negotiating committee, and first contract negotiations are set to commence in December 2003.

---
A Machinist's Tale
A long-time machinist and member of Operating Engineers Local 3 was recently inspired to write a short story after seeing a newspaper ad for a 'Master Machinist.' The story is a work of fiction based on facts that many of us are all too familiar with.
It is our pleasure to share the story with you and we would like to thank the author, Terry D. Coffman, for providing this poignant and thought provoking tale of one morning in the life of an American machinist.
---
Past iMail | Your Email | Visit www.goiam.org | Print Version | Sign-Up for iMail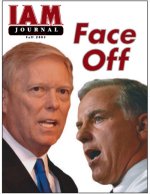 Two candidates came to Cincinnati to vie for the IAM's endorsement for President in 2004. Only one came away with the prize. Read all about it in the online version of The IAM Journal.
---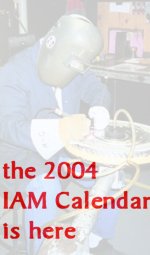 . . . and it's time to order your copy. This years calendar is filled with the winners of the annual IAM photograohy contest. Plus, for every calendar sold, the IAM will donate one dollar to the Guide Dogs of America. Last year, calendar sales earned $25, 000 for the GDA. Click here to download a calendar order form. Print it our on your home computer and mail it back to the IAM.
---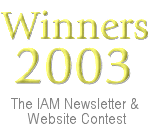 Once each year an independent panel of judges decide which locals and districts publish the best newsletters and best websites. Check out the winners.

---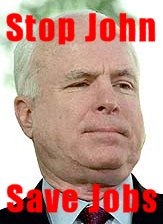 Senator John McCain (R-AZ) is back flying combat missions. This time, however, he seeks to shoot down the proposed lease of Boeing 767 tankers by the US Air Force. And he is using every weapon at his disposal to chalk up another kill. Help stop John McCain and save North American jobs.

---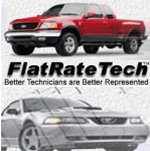 FlatRateTech is an organization "created for and by Ford and Lincoln Mercury service technicians solely to speak as one loud voice rather than 50,000 smaller voices," according to their website http://flatratetech.com. The fast-growing site offers forums for Ford customers, technicians and dealers to exchange information.

---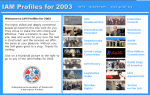 See who works for you, how the IAM is structured, and what services the IAM offers. Go to: IAM profiles for 2003.
---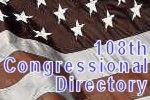 The 108th Congressional Directory . . . get your copy. Send $5 to the MNPL Education Fund, c/o IAMAW, 9000 Machinists Place, Upper Marlboro, MD, 20772.
---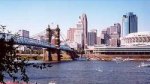 The official site for the 36th Grand Lodge Convention to be held in 2004 in Cincinnati, Ohio is now online. Check it our for convention news, sponsorship offers, and convention gear.