labor issues you care about . . . in streaming video
---
Job Loss Persists
Economic reports out over the last few weeks have been surprisingly strong, but the lack of job creation still has many economists worried.


Help Protect Overtime
A nationwide campaign to protect overtime pay is underway this week. IAM members are urged to join the fight to protect 8 million working families and thier right to receive overtime pay.


Boeing Transition
IAM Internatinal President Tom Buffenbarger said that the resignation of Boeing CEO, Phil Condit, represents a significant change in the Machinists Union's long relationship with the Boeing Company.


Medicare Bill Outrage
The Machinist Union and the Alliance for Retired Americans expressed outrage this week in response to the Medicare bill passed this week in Congress.


Economic Outlook
Christian Weller, a Senior Economist from the Center for American Progress, discusses the economic outlook.


---
International President
R. Thomas Buffenbarger

Secretary-Treasurer Warren L. Mart

GVP Western Territory
Lee Pearson
GVP Canada
Dave Ritchie

GVP Headquarters
Robert V. Thayer
GVP Transportation
Robert Roach, Jr.

GVP Eastern Territory
Lynn Tucker

GVP Southern Territory
Robert Martinez

GVP Midwest Territory
James Brown


Thursday, December 11, 2003
---
Protestors Demand 'Freedom to Organize'
Tens of thousands of union activists and their allies rallied at more than 60 sites across the nation to voice their grievances against the Bush administration and the corporate interests who call the tunes for this White House.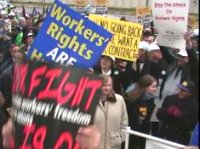 Yesterday's events marked International Human Rights Day, Dec. 10. The date marks the ratification of the Universal Declaration of Human Rights in 1948, which recognizes the rights of workers in every country to organize unions and to bargain contracts.
"More and more employers today are illegally threatening, intimidating and firing workers to prevent them from gaining a stronger voice on pay and conditions in the workplace," said Sen. Ted Kennedy, D-MA, at a rally in Washington, DC. "But the laws are so poorly enforced today that in one-quarter of all union organizing drives, employers fire workers illegally and with impunity."

Video: http://www.iamaw.org/wgateway.asp?cid=4972

---
Supreme Court OK's Campaign Finance Law
A closely divided Supreme Court upheld a new law designed to weaken the influence of money in politics and put political power back in the hands of the voters. "This ruling restores a much-needed measure of integrity to our political process," noted IP Tom Buffenbarger.
The Court's 5-4 ruling bans so-called "soft money" contributions, gifts that are not subject to federal caps, and upholds provisions of the Bipartisan Campaign Reform Act, sponsored by Senators John McCain, R-AZ, and Russ Feingold, D-WI.
Huge campaign contributions from wealthy individuals and the deep pockets of Corporate America fed the growing belief that government was for sale to the highest bidders and fueled a growing cynicism toward politicians from the voters. That cynicism left far too many citizens feeling that their votes didn't count, with fewer and fewer of them even bothering to cast ballots.
In its Summer 2002 issue, the IAM Journal published a comprehensive article on the rising tide of political money and its debasing impact on the political system. Titled "Honest Graft," the article noted that Big Business spent $2.2 billion on lobbying, political action committees (PACs) and soft money campaign contributions in the months leading up to the 2002 midyear elections.
The labor movement spent $107 million during that same period.
"Working families, not the rich, make up the majority of people in this country. If we register to vote, register our friends and our families, and show up at the polls, we win. It's as simple as that," Buffenbarger said.

---
Federal Workers Bushwacked by Rule Changes
Bush administration officials and GOP leaders in the House of Representatives have successfully gutted a bill designed to protect federal workers' pay, job security and collective bargaining rights.
"We are being force-fed a bad piece of legislation dictated to the Congress by the Bush administration," said Appropriations Committee Ranking Member Robert Byrd (D-WV). "The administration's policies encourage unfair treatment of dedicated public servants, many of whom are being forced into early retirement or the prospect of reduced benefits and lower pay."
Language originally agreed upon by the 2004 Transportation-Treasury Appropriations conference committee gave federal employees new rights in the complicated A-76 process that allows outside contractors to bid on work performed by government workers. The agreement also stated that an outside contractor's bid would need to cost 10 percent or $10 million less than the agency's proposal in order to win. Additionally, the conference report gave federal workers the right to appeal decisions to the General Accounting Office.
In new language dictated by the White House, the 10 percent or $10 million cost advantage is gone, the right for in-house entity to appeal is gone, and the right of in-house federal employees to make a bid only applies to Transportation and Treasury employees, not the whole federal government.
"We are sick and tired of this administration sticking it to federal employees," said Federal District 1 President and DBR Richard Brown. "Let this be a reminder that this administration is dangerous, especially to federal employees."

---
Lewis Named Chairman of Pullman Porter Museum
Ed Lewis, Jr., Education Representative for the IAM Midwest Territory, was recently named chairman of the A. Philip Randolph Pullman Porter Museum in Chicago, IL.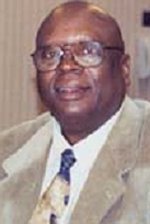 Lewis said he hopes to help the museum expand as a living memorial to A. Philip Randolph, the Pullman Porters and Chamber Maids. Randolph was the driving force behind the International Brotherhood of Sleeping Car Porters and helped negotiate their first collective bargaining agreement in1937.
"I look forward to working with the board and working to involve the larger community in the museum's programs and activities," said Lewis. "I want to work more with local labor organizations, schools, political and business leaders to forge a partnership that can benefit our whole community."
Ed has been an IAM member for over 35 years and has received numerous awards for civic and union achievements.

---
Members Make All the Right Moves
Fast action by Local 837A members and EMT Joe Miano probably made a life or death difference when fellow Machinist and sheet metal worker Duane Pacey suffered a heart attack recently at the Boeing assembly plant in St. Louis, MO.
The dramatic episode began when Pacey was found unconscious and without a pulse on the shop floor. A call for help brought nearby co-workers who immediately began mouth to mouth resuscitation while another employee, Chris Bauman, looked for a CPR certified employee.
Miano, a licensed Emergency Medical Technician, rushed to Duane's side and took over the chest compressions while the company nurse brought a defibrillator and oxygen equipment to the scene. Pacey's heart began to respond and Miano continued to assist the nurse and accompanied Pacey in the ambulance to the hospital. When the doctors took over Joe quietly slipped back to work.
"I'm happy that my EMT training and volunteer ambulance duty with the St. Louis Fire Department Emergency Medical Services prepared me for this situation," said Miano, a 16-year IAM member.
Proper care during the first few minutes of heart failure are critical to a patient's chances of survival. The rapid response by Miano, Bauman and fellow employees gave Pacey's oxygen starved brain and organs the chance they needed to recover without permanent and extensive damage.
A grateful Duane Pacey is currently undergoing therapy to strengthen his cardiovascular system and hopes to return to work after the holidays.

---
Past iMail | Your Email | Visit www.goiam.org | Print Version | Sign-Up for iMail

---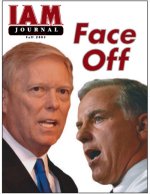 Two candidates came to Cincinnati to vie for the IAM's endorsement for President in 2004. Only one came away with the prize. Read all about it in the online version of The IAM Journal.
---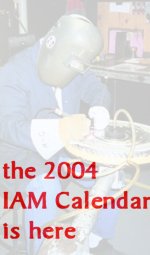 . . . and it's time to order your copy. This years calendar is filled with the winners of the annual IAM photograohy contest. Plus, for every calendar sold, the IAM will donate one dollar to the Guide Dogs of America. Last year, calendar sales earned $25, 000 for the GDA. Click here to download a calendar order form. Print it our on your home computer and mail it back to the IAM.