Great News for Boeing Workers
Machinists in the Puget Sound area are welcoming the news that Boeing will assemble its next generation aircraft, the twin-engine 7E7, in Everett, Washington. The move is expected to generate thousands of additional jobs for aerospace and non-aerospace workers throughout the state.
"This is the best news we have heard in a long time," said Mark Blondin, Machinists District 751 president. "It was the right decision for our members, for Boeing and for the state of Washington."
The decision by Boeing concludes a lengthy search process that saw competing bids from states offering billions in land, subsidies and other incentives. While final assembly of the 7E7 will be completed at Boeing's Everett facility, the company plans to outsource significant portions of the aircraft prior to final assembly.
Boeing is counting on orders for the new aircraft to restore its reputation and market share in the fiercely competitive commercial aviation sector.
"Ultimately, Boeing's recovery requires a strong commercial aircraft market here in the U.S. and around the world," said Tom Buffenbarger. "But unless North America's workers and consumers have steady jobs and the purchasing power that goes with them, we'll continue to have too many planes and not enough passengers."
For more information about the campaign to bring the 7E7 to Washington state, visit the District 751 website at www.iam751.org.

GOP Kills Unemployment Extension
Despite Bleak Jobs Forecast
In a stunning example of uncompassionate conservatism, GOP leaders in Congress refused to consider legislation to extend unemployment benefits set to expire this week. The move will end benefits for an estimated 2.1 million jobless Americans on Dec. 21 and another 80,000 to 90,000 people each week thereafter.
House Majority Leader Tom DeLay (R-TX) saw "no reason" to offer working families any help, citing an improving economy as the cure for unemployment. A White House spokesperson said President Bush is "working on the issue."
Federal Reserve forecasts, however, predict that the economic recovery "would not entirely eliminate large margins of unemployed labor … until perhaps the latter part of 2005 or even later," according to a Dow Jones report on smartmoney.com.
"Everyone but the GOP leaders in Congress know that this is a jobless recovery and working families need help now," said IP Tom Buffenbarger. "Tom DeLay couldn't find a single reason to help stranded Americans feed their families or stave off foreclosure just days before the Holiday season, but he could find plenty of reasons to push for extending corporate tax breaks set to expire December 31. Obviously, compassionate conservatism ends at the boardroom door."
DeLay's rosy jobs scenario is pure fantasy. According to a study by the Center for Budget and Policy Priorities, (http://www.cbpp.org/11-25-03ui.htm) the "labor market is weaker today than when the temporary federal unemployment benefits program was established" in March 2002 stimulus legislation and that more workers are exhausting their benefits today than when Congress ended extended benefits after the recession in the early 1990's.

Gephardt Wins Key Endorsement
IAM members attending a rally in Columbia, South Carolina for Rep. Dick Gephardt were pleased with the presidential candidate's comments on trade and health care.
"Gephardt talked about working family issues," said Southern Territory GVP Bob Martinez. "He spoke about trade and the horrendous job losses in manufacturing, and the need for real reform of our health care plan."
Gephardt also received a critical endorsement from one of South Carolina's most influential politicians, Rep. James Clyburn, boosting his efforts in what may prove to be a very important primary.
As South Carolina's only black congressman, Clyburn serves as Vice-Chairman of the House Democratic Caucus, making him the highest-ranking African-American in Congress. Clyburn pointed to Gephardt's efforts to thwart NAFTA and unfair trade agreements and to produce a sufficient health care plan as reasons he feels Gephardt is best suited for the Democratic nomination.

Cabinet Nominee Erupts at Union Meeting
What does a federal deputy secretary get for threatening "whuppings" on federal employees who file workplace grievances? In the Bush administration, it can lead to a cabinet level position.
On October 20, 2003, Alphonso Jackson, Deputy Secretary of the Housing and Urban Development Department (HUD) addressed 110 IAM members from NFFE Local 1450 at a HUD field office in Los Angeles, CA. Irate that union members filed grievances for unfair management practices, Jackson launched into a threatening tirade, vowing to harass the employees until grievances ceased. Jackson told the group, that as a child, it took his father "three whuppings to get his message through (to him), and that is what I am prepared to do to you!"
Late last week, President Bush nominated Jackson to be Secretary of HUD following the announcement that HUD Secretary Mel Martinez would resign to run for a Senate seat in Florida.
"It's an absolute outrage that this man is being nominated for a cabinet level position," said NFFE National President Richard N. Brown.

Shareholders Force CEO Pay Change at Raytheon
Fed up with policies that allowed senior executives at Raytheon to pad lavish salaries with extravagant severance packages, shareholders voted last year by a 65 percent margin to eliminate platinum parachutes for the company's exiting CEO and senior executives.
Raytheon's board of directors failed, however, to act on the non-binding resolution, and the company's shareholders, employees and investors made preparations for a repeat submission of the resolution along with a massive campaign to draw public attention to the board's inaction.
Faced with such a prospect, Raytheon recently announced it would implement the executive severance resolution and that the policy would apply to the company's CEO and senior executives.
"The decision by the board of directors to comply with the resolution is an important victory for Raytheon's employees, investors and union representatives who refused to yield in this fight," said IP Buffenbarger. "Shareholder resolutions are not always as effective or as expedient as we would like them to be, but they are a potent weapon in the battle to protect workers and impose a measure of common sense on corporate America."
The AFL-CIO now plans to introduce a new proposal at the next annual meeting of Raytheon shareholders, one that will require the expensing of executive stock options in the Company's annual income statement. Stock options are rapidly becoming the largest component of executive compensation at many companies and failure to properly list them distorts a company's earnings and conceals the true extent of executive compensation.
Dates Set for Annual Chi-Town Teardown
The fourth annual Local 701 Chi-Town Teardown Pit Crew Competition will take place Jan. 31- Feb.1 this year at the 42nd Car Quest World of Wheels Custom Car Show at McCormick Place in Chicago.
The competition pits student teams from ten area high schools and colleges against one another in an intense effort to be the first team to completely disassemble and reassemble an automobile engine. Starting times for the high school teams will be at 12 noon and 3 p.m. with awards presented at 6 p.m. The college teams will compete at 1 p.m. on Feb 1, with awards presented around 4 p.m.
Ford Motor Company will be a major sponsor this year, donating 30 brand new 5.4-liter engines to the schools. They will also be awarding a vehicle to the two winning schools. IAM Local 701 will be providing competition shirts, plaques, two traveling trophies and leather jackets for the winning teams.

East Peoria Materials Goes IAM
<![if !vml]>
<![endif]>Seeking a stable work environment and a good working relationship with the IAM, East Peoria Materials, LLC entered into a voluntary recognition agreement bringing 10 new members into IAM District 55 and Local 360. Our new members load and unload railroad cars.
Management at East Peoria Materials sought out the IAM and negotiations concluded resulting in our new members receiving a good union wage, the IAM National Pension Fund, and a good holiday and vacation schedule.
"I would like to congratulate our territory organizing leader GLR Darrin Nedrow on a job well done and we wish him continued success in the future," said Midwest Territory GVP James E. Brown.

IAM Mourns Former DBR Joe Kochakji
Joe Kochakji, former DBR of District Lodge 94 in Los Angeles, California recently passed away at the age of 88. Brother Kochakji was DBR of District Lodge 94 from 1982 until his retirement in 1987.
"Joe Kochakji was a tremendous Union Leader," said Western Territory GVP Lee Pearson. "He fought the good and noble fight for a lot of years, and set an example for many of us. He will be greatly missed, but the lessons he gave us will carry on. He was a true journeyman, and the IAM has truly lost a champion."
---
Past iMail | Your Email | Visit www.goiam.org | Print Version | Sign-Up for iMail

---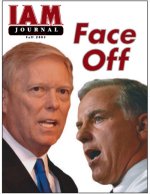 Two candidates came to Cincinnati to vie for the IAM's endorsement for President in 2004. Only one came away with the prize. Read all about it in the online version of The IAM Journal.
---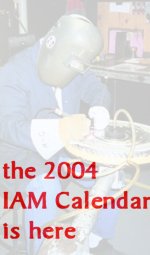 . . . and it's time to order your copy. This years calendar is filled with the winners of the annual IAM photograohy contest. Plus, for every calendar sold, the IAM will donate one dollar to the Guide Dogs of America. Last year, calendar sales earned $25, 000 for the GDA. Click here to download a calendar order form. Print it our on your home computer and mail it back to the IAM.