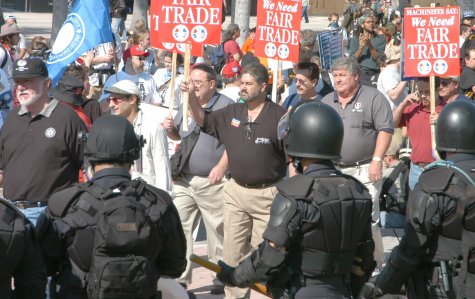 IAM leaders were among thousands marching during a Nov. 20 demonstration against the Free Trade Area of the Americas (FTAA).

Miami Police Scolded for FTAA Tactics
Union members, retirees and community activists packed a public hearing in Miami to recount police abuses during the Nov. 20 demonstration against the Free Trade Area of the Americas (FTAA).
Speakers at the 4-hour meeting, sponsored by the AFL-CIO, described how police intimidated peaceful demonstrators with a massive military-style presence that included armored personnel carriers, helicopters and more than 10,000 heavily armed police.
Union leaders also excoriated city officials and police management for their decision to turn away 13 of 25 buses filled with retirees who traveled from across Florida to join the protest against the FTAA. "I blame top police officials for failing to develop a clear plan for guaranteeing public safety while respecting our rights," said AFL-CIO Secretary-Treasurer Rich Trumka.
Individuals also described how thousands of police advanced on demonstrators at the close of the march, firing tear gas, rubber bullets and imposing a state of near-martial law on downtown Miami. Miami Mayor Manny Diaz has lauded police conduct during the FTAA as "a model for homeland security."
"The American labor movement is committed, and I am personally committed, to see that the brutality we saw never happens again anywhere again in this country," said Trumka.

Tell Congress to Extend Unemployment Benefits
Congress is leaving town after having played Santa Claus to a host of corporate cronies but Scrooge to America's unemployed. More than 2.1 million Americans will lose unemployment benefits on December 21 and 80,000 to 90,000 more people will lose benefits each week thereafter. Click here to send a message to Congress to stop this outrage.
The current federal funding for extended benefits was passed in March 2002 as part of a stimulus package to boost the economy. Corporations got special tax breaks and workers got extensions of unemployment benefits. On November 20, 2003, after just one hour of debate, the GOP-controlled House extended more than a dozen of the corporate tax breaks that were part of the original stimulus package. The Christmas gift will save corporations $19 billion in taxes in 2004.
When it came to unemployed workers, Republican House Majority Leader Tom DeLay saw "no reason" to fund an extension of unemployment benefits, even though the labor market is weaker now than in 2002 and the number of people out of work for 26 weeks or more is 50 percent higher.
"This Congress is a disaster for working families," said IP Tom Buffenbarger. "If they think the economy is so much better, why did they rush to extend the tax breaks to corporations? For just a fraction of what they are giving their corporate friends, they could help desperate families. How these lawmakers can kick millions of workers off unemployment days before Christmas and then scurry home and celebrate with their families is beyond belief. We must put them in the unemployment line next November."

Action Alert:
http://capwiz.com/iamaw/mail/oneclick_compose/?alertid=4527021

Act Now to Stop Bush's Overtime Takeaway Plan
Senate Democrats blocked a massive "Omnibus" spending bill to give working Americans one last chance to stop President Bush's plan to eliminate overtime pay protections for more than eight million workers. The giant spending bill originally had a provision to stop Bush's overtime rules from taking effect. President Bush pressured GOP lawmakers to strip out the protections, which they did in the final bill.
By blocking final passage, Senate Democrats hope to force GOP lawmakers to restore the overtime protections. Without the protections, the Labor Department is free to implement Bush's changes to the Fair Labor Standards Act. The new rules will allow employers to force millions of workers to work more than 40 hours per week without paying them overtime.
"We need a strong grassroots effort to force Congress to keep their promise to protect overtime pay for millions of Americans," said IP Tom Buffenbarger. "Republican leaders in Congress are celebrating Christmas the corporate way; by taking away overtime for families lucky enough to have a job and then kicking millions of workers off unemployment who are looking for one."
To join the effort to save overtime pay, click here to send a message to your representative and Senators in Congress and then click here to join the AFL-CIO's online petition campaign. More than 180,000 people have signed the petition so far. Finally, call your representatives directly at 202-224-3121.
Link for action alert:
http://capwiz.com/iamaw/mail/oneclick_compose/?alertid=4317886
Link for online petition:
http://www.saveovertimepay.org/index.cfm

Christmas Comes Early For A Man In Need
Anthony Krueger, from Local Lodge 837A, exemplified the holiday spirit when he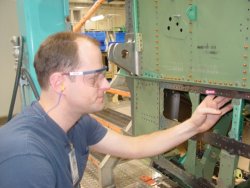 volunteered to donate his bone marrow to try to save the life of a man he never met. Krueger is a Sheet Metal & Riveter from the F-15 Eagle line in St. Louis, MO. Thanks to Tony's sacrifice, another person has a second chance to live.
For more than eight years, Tony has volunteered to be on the donor's list for bone marrow transplants. This is the first time that his type was a close enough match to make the donation. "I would do it again in a minute!" said Krueger, even though the procedure is very painful for the donor.

Apply Now for 2004 Scholarship Programs
The deadlines are fast approaching for two unique scholarship programs that provide union members and their dependants with awards of $500 to $4000 to help pay for college or a trade school education.
February 25, 2004 is the cutoff date for applications to the 2004 IAM Grand Lodge Scholarship Competition and January 31, 2004 is the cutoff date for the Union Plus Scholarship Program.
The IAM Grand Lodge Scholarship Competition is available exclusively to IAM members and their families in the United States and Canada. Awards to members are $2000 per academic year and can be applied toward a Bachelor's degree or a two-year vocational/technical certification. Separate awards of $1000 per academic year are available for children of IAM members. Similar awards are available for students wishing to attend vocational or technical schools.
The Union Plus Scholarship program awards one-time scholarships of $500 to $4000 to applicants from any AFL-CIO affiliated union. Last year, three IAM family members won scholarship awards in the Union Plus Scholarship Program. Christopher Hainsey, Nathan Wesley and Casey Briggs were among 105 students from 42 AFL-CIO unions that were awarded $150,000 in scholarships.
Applications for both scholarship programs and full details regarding eligibility are available online. For information on the union plus scholarship click here: http://www.unionplus.org/benefits/education/scholarships/Scholarship2004.pdf
To download an IAM Scholarship Application packet, click here: http://www.goiam.org/visit.asp?c=1943


IAM Mourns Sen. Paul Simon
Working families lost a stout champion in the unceasing battle for social justice and economic dignity. Former U.S. Senator Paul Simon died last week in Springfield, Il. He was 75.
The plainspoken man with the trademark bow tie brought a grace note of civility to a Congress that far too often is sadly lacking in that precious commodity. Through two terms in the Senate and five in the House, as well as 14 years in the Illinois state legislature, Simon never lost touch with his constituents and remained an approachable man of conscience.
He won the IAM's endorsement in his unsuccessful bid for the Democratic Party's presidential nomination in 1988. Simon championed federal spending for jobs programs and was a staunch supporter of health care for all Americans.
Simon was the founder and director of the Public Policy Institute at Southern Illinois University and he remained active in current affairs ranging from campaign finance issues to capital punishment.
"Paul Simon served with passion and with dignity," said IP Tom Buffenbarger. He paid little attention to partisan politics, but he fought for his agenda with bulldog tenacity. He was a true friend of working people. He will be missed."


Rodehorst Named Southern Territory Special Rep
IP Tom Buffenbarger named James "Rody" Rodehorst of Wichita, KS to join the Southern Territory staff as a Special Representative, effective Jan. 1, 2004.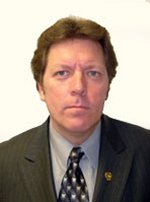 "Brother Rodehorst has demonstrated his ability as an organizer," said Southern Territory General Vice President Bob Martinez. "I am confident Brother Rodehorst will be a vital part of our organizing efforts here in the South. I hope everyone will give him a warm welcome to the staff."
Rodehorst began his IAM service in 1989 as a Shop Steward in Local Lodge 733 while working as an electrical technician. He later served in numerous leadership posts, including In Plant Representative and President of Local Lodge 733. He was an Apprentice Organizer from September 2000 until September 20002. Most recently, he served as Coordinator for the Grow Kansas program at District 70.
---
Past iMail | Your Email | Visit www.goiam.org | Print Version | Sign-Up for iMail