---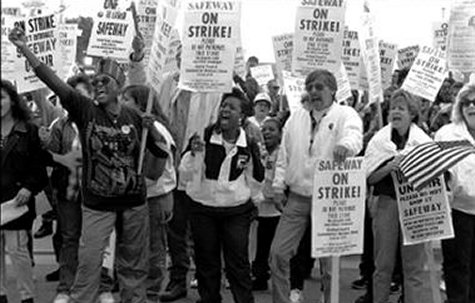 California Grocery Workers Need Your Help
Nearly 70,000 striking and locked-out United Food and Commercial Workers (UFCW) members in California are holding the line for health care after nine weeks on the picket line. Workers across the U.S. are being urged to support the grocery workers by avoiding Safeway stores for the duration of the dispute and making contributions to a strike support fund.
Donations to striking families may be made online through the AFL-CIO or sent to the UFCW Strike Hardship Fund; Attention: Secretary-Treasurer Joe Hansen; 1775 K St., N.W.; Washington, D.C. 20006.
The grocers are demanding what amounts to a 75 percent cut in health coverage for new workers and a 50 percent cut for current ones. UFCW leaders say workers could lose key benefits, including dental, vision, well-baby care and preventive office visits.
Profits at the grocery stores are 91 percent higher than four years ago and health care contributions are far below the national average, yet company executives claim they must slash health care to compete with nonunion, low-wage Wal-Mart, which plans to open 40 super-centers over the next four years in California.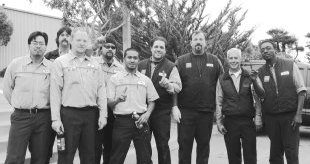 Unity Wins Serramonte Strike After 97 days
"We have more power than we think—as a group," said Jeff Volti, one of 13 automotive mechanics at Serramonte Dodge in Colma, CA, after emerging from a 97-day strike over health care and wages. "We got most of what we wanted, but most important, it brought the people in the shop together."
The members of IAM Local 1414 went on strike just as technicians from 10 independent dealerships across the bay in Contra Costa County were settling a 3-week strike. "They were fighting about the same issues—health care, implementation of flat rate and keeping the pension plan," says District 190 Business Rep. Manny Francis.
Francis reports the technicians were able to preserve their Automotive Industries Health and Welfare plan with a monthly co-pay. "Far better than the plan the company offered," said Francis, who called the mechanics one of the strongest groups he's ever worked with.
"This four-year contract also calls for significant wage increases every six months, and good language for working in a flat rate environment." Mechanic William Reid says the experience brought out the best in his fellow strikers. "We became the Serramonte 13," said Reid. "We stayed together through thick and thin, even when some of us were facing family and money problems."
"The key story here is the unity of this group, standing together and valiant for 14 weeks," said District 190 Area Director Charles Netherby. "Their solidarity inspired the staff and officers of District 190, the members of Local 1414 and the entire community. It took federal mediation and involvement from the entire union leadership, but finally, these techs got a contract they feel good about."


Seniors Alerted to GOP Medicare Campaign
The Alliance for Retired Americans is preparing older Americans for a blizzard of lies, half-truths and industry sanctioned statistics as the Bush administration readies a massive public relations campaign to promote the newly enacted Medicare bill.
"Don't be deceived," warns Alliance President George J. Kourpias. "The only winners in this bill are the private insurance companies and the pharmaceutical manufacturers. There are a lot of interesting items tucked away in the bill that seniors are not being told about."
According to Kourpias, HMO's will profit from the GOP-sponsored legislation long before any prescription drug benefits kick in for Medicare beneficiaries. The Congressional Budget Office predicts HMO's will receive $1.3 billion from the federal government in 2004 and 2005 to encourage them to participate in Medicare. Additionally, Kourpias said seniors will not be told that many of the six million beneficiaries eligible for both Medicare and Medicaid are likely to fall through the cracks when their prescription drug coverage shifts from Medicaid to Medicare on January 1, 2006.
"The Alliance remains adamant in its opposition to the new Medicare law," said Kourpias, "because it leaves millions of older Americans – faced with outrageous prescription drug bills – worse off then they were before."


District 97 Organizes Jackson Ford
In the latest organizing win for the fast growing IAM automotive sector, District Lodge 97 welcomed 13 new members from the Jackson Ford dealership in Jackson, Michigan.
"On behalf of the Eastern Territory Office and its members, I extend our congratulations and appreciation to District Lodge 97 Organizer Beau Jencks, DBR Pete Jazdzyk, and all of the team for a job well done," said Eastern Territory GVP Lynn Tucker.


Largest U.S. Pension Fund Sues NYSE
The California Public Employees' Retirement System (CalPERS) filed a class action suit against the New York Stock Exchange (NYSE) and seven of its top trading firms, charging the exchange looked the other way as investors were cheated out of millions of dollars.
The NYSE "not only knew about these problems, but it perpetuated them and profited from them," said CalPERS board president Sean Harrigan. "We believe it is time to hold the exchange responsible."
The suit by the nations' largest pension fund alleges that trading firms, known as specialists, profited from insider information and by manipulating supply and demand. An earlier investigation by the Securities and Exchange Commission found "serious deficiencies in the NYSE's surveillance and investigative procedures, including a habit of ignoring repeat violations by specialist firms." The lawsuit seeks damages of at least $150 million on behalf of investors who traded NYSE stocks between Oct. 17, 1998, and Oct. 15, 2003.
The legal action is the latest effort by CalPERS to bring reform to the prestigious but self-regulating NYSE. "We will not rest until there is full reform at the New York Stock Exchange," said California State Treasurer Phil Angelides, who sits on the CalPERS board.


Grand Lodge Sets Holiday Closing
IAM headquarters will be closed for the holidays from December 23, 2003 at 4:00 pm until 8:00 am January 5, 2004.
---
Past iMail | Your Email | Visit www.goiam.org | Print Version | Sign-Up for iMail

---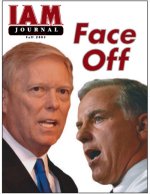 Two candidates came to Cincinnati to vie for the IAM's endorsement for President in 2004. Only one came away with the prize. Read all about it in the online version of The IAM Journal.
---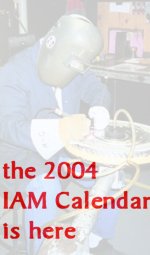 . . . and it's time to order your copy. This years calendar is filled with the winners of the annual IAM photograohy contest. Plus, for every calendar sold, the IAM will donate one dollar to the Guide Dogs of America. Last year, calendar sales earned $25, 000 for the GDA. Click here to download a calendar order form. Print it our on your home computer and mail it back to the IAM.