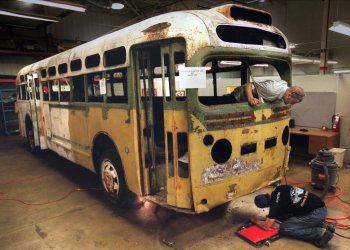 Local PM2848 members Chad Sample, top, and Bruce Danks
get started on the restoration.

The craftsmen of MSX International in Auburn Hills, MI usually spend their days building, painting and polishing futuristic concept cars for a clientele that includes Chrysler and General Motors. But in September 2002, the IAM Local PM2848 members faced a job unlike anything they had seen before.

Parked in their back lot was the bus made famous nearly 50 years ago when 42 year-old Rosa Parks refused to surrender her seat in the fourth row to a white rider. Her heroic act of defiance in a segregated South triggered a city-wide boycott and set Montgomery, Alabama, and the nation on a collision course with civil rights history.

Filled with cobwebs, bee's nests and bullet holes, the unlikely birthplace of an epic civil rights boycott was now a rusted hulk, all but lost to history's scrap yard.

The legendary bus was discovered sinking into an Alabama field and purchased at auction by the Henry Ford Museum in Dearborn, MI.

After a brief period on public display, No. 2867 was delivered to the MSX facility for a full restoration.

"It resembled a chicken coop when it got here," said Dave Ferris, IAM shop steward at MSX, one of 30 precision metalworkers, fabricators and painters who took on the unusual assignment.

As a restoration job, it was challenging. The aluminum skin of the 36-seat GMC was a battleground of dents, scratches and loose rivets. "We took it down to bare metal, inside and out. Every bump was sanded smooth, every window replaced and the interior was recreated down to the last detail," said Ferris. "Oddly enough, we found the original tires still being made by Goodyear less than two miles from here."

"We worked on the body almost every day for nearly three months," said Ferris. Using paint chip fragments, vintage photographs, eyewitness accounts and old service manuals, the bus was recreated, right down to the Alabama dust that was sprinkled in the wheel wells when it was completed.

Immortalizing a nearly lost piece of American civil rights history affected everyone who took part. "I looked forward to work every morning," said MSX machinist Doug Ellis.

The project took place not far from the General Motors truck plant in Pontiac, Michigan, where union members of the United Auto Workers built the bus in 1948. "They did a good job," said Ferris. "The quality of the workmanship back then still shows."

The choice of our members at MSX to rebuild the historic icon was no accident. "The craftsmen in that shop can do just about anything," said Directing Business Representative Jon Winterhalter.

Among future projects for MSX workers is the tip-to-tail restoration of a vintage Douglas DC-3 airplane.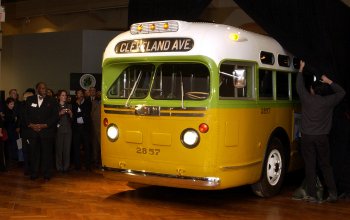 The completed bus is unveiled for display at the Henry Ford
Museum in Dearborn, Michigan and will become the featured
centerpiece of a permanent civil rights exhibit.