AFL-CIO
The federation of unions through which TCU and the IAM work; both TCU International President Scardelletti and IAM International President Buffenbarger are members of the AFL-CIO Executive Council.  The mission of the AFL-CIO is to improve the lives of working families—to bring economic justice to the workplace and social justice to our nation.

The AFL-CIO's  Transportation Trades Department represents the interests of several million aviation, rail, transit, trucking, highway and longshore workers before Congress, the Executive Branch and independent government agencies.  Through the TTD, the working men and women who are represented by the department's 31 member unions (including the IAM and TCU) have a strong, united voice in Washington, D.C.


Alliance for Retired Americans
The mission of the Alliance for Retired Americans is to ensure social and economic justice and full civil rights for all citizens so that they may enjoy lives of dignity, personal and family fulfillment and security.
A. Philip Randolph Institute
APRI is the senior constituency group of the AFL-CIO, named for the great labor leader who founded and led the pivotal Brotherhood of Sleeping Car Porters.
Coalition of Black Trade Unionists
The CBTU is the independent voice of black workers within the trade union movement, challenging organized labor to be more relevant to the needs and aspirations of Black and poor workers.
Coalition of Labor Union Women (CLUW)
The Coalition of Labor Union Women—CLUW—is the national women's organization within the labor movement. Members are on the frontline, empowering working women to become leaders in their unions and encouraging them to make a difference on the job and, most importantly, in their own lives. CLUW values are simple: Solidarity, involvement, dignity and justice. The coalition has chapters nationwide and many strong programs to particpate in.  One example is CLUW's program to educate unions and union women about HPV and how to prevent cervical cancer: click here to learn more about this program.  Click above to go to CLUW's website.
International Transport Workers' Federation (ITF)
The ITF represents transport workers around the world and promotes their interests through global campaigning and solidarity.  President Scardelletti serves on the ITF Board.
Labor Coalition for Latin American Advancement (LCLAA)
LCLAA is the official Latino constituency group of the AFL-CIO. LCLAA is the first national organization to represent the views of not only Latino trade unionists but all Latino workers seeking justice at the workplace.
National Association of Retired & Veteran Railway Employees (NARVRE)
Retired, veteran and current railroad employees are invited to join NARVRE in its work monitoring and fighting for legislative programs  protecting railroad retirees.

Theodore Roosevelt Conservation Partnership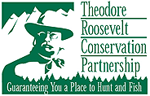 The TRCP is a non-profit organization driven by a Board of Directors and a Policy Council made up of leaders from many of the country's top hunting, fishing and conservation groups.