Steve Watson
It is with great sadness that the family of Stephen Watson announces his passing after a yearlong battle with pancreatic cancer, on Wednesday, April 4th, 2018, at the age of 67. Steve will be lovingly remembered by Kate, his wife of 32 years, Jake his son, Sophie his daughter-in-law and Obi his beloved dog. A native of Kansas City, KS Steve was raised by his parents, Forrest and Margaret who predeceased him – as did his brother Thomas Watson. Steve began working for Santa Fe Railroad at age 16 loading materials onto boxcars and worked his way up to becoming an International Representative for Transportations Communications Union retiring from there at age 60. Steve was known for his dry wit and loving heart. Steve enjoyed playing pool and reading books with his son, Jake. They were best friends. Sophie, Jake's wife, was the daughter Steve never had. Steve spent his retirement with his wife house-boating on Lake Ouachita in Arkansas. A celebration of Steve's life will be held at 2pm, On Saturday, April 14th, at Penwell-Gabel Funeral Home, at 1321 SW 10th Ave, Topeka, KS 66604, with Steve's Cousin, Pastor Kent Hackathorn, officiating. To leave a message for the family online please visit www.PenwellGabelTopeka.com.
Leonard "Lennie" Bauman
Leonard Charles "Lennie" Bauman, 71, of North Little Rock passed away February 26, 2017. He was born July 15, 1945 to Leonard Louis and Wanda June Bauman in North Little Rock, AR. He was preceded in death by his parents; son, Scott Bauman; and daughter, Tammy Belcher.

Leonard Bauman started his railroad career as a Carman Apprentice on the Missouri Pacific Railroad in North Little Rock, Arkansas in May, 1964.

Brother Bauman was first elected Recording Secretary and Secretary of the Local Protective Board for Harmony Lodge 6114 , in 1975. In 1978 he was elected to the office of Local Chairman of Harmony Lodge 6114 and held that office until assuming the duties of General Chairman of his Board in November, 1989 .

He was first appointed to the Executive Committee of his Board in 1980. In 1984 he was appointed Second Vice General Chairman and served in that position until 1988 whereupon he was appointed First Vice General Chairman.

At the Board's August, 1989 Quadrennial Convention, Brother Bauman was elected to the office of General Chairman and assumed these duties in November, 1989 upon the retirement of General Chairman C. J . Clear.

Brother Bauman was appointed as a Member of the Carmen's Division General Executive Board by Carmen Division President R.P. Wojtowicz in 1992 and became Chairman of the Carmen Executive Board in 1992.

In 2002 Lenny was appointed International Representative of TCU Unit 320 and in September, 2007 became Carmen member of the TCU Board of Trustees.

The positions of Chairman of the Carmen Executive Board, International Representative and TCU Board of Trustee member he held until his retirement.

Lenny is survived by his wife of 53 years, Dorothy Thornton Bauman; son, Mike Bauman of North Little Rock; sister, Yvonne Harris (Billy Ray) of North Little Rock; four grandchildren: Anthony Branham, Kellye Bauman, Brady Bauman, Luke Belcher; great-grandson, Boston Gardner; and mother-in-law, Martha Thornton.
Charlene Payne
Manager, Member Relations UnitedHealthcare, Railroad Accounts
Charlene Payne, a long-time UnitedHealthcare representative for the Railroad Accounts, passed away unexpectedly on Saturday, December 17, 2016.  Charlene was a dear friend to many of us, and her passion and dedication to serving all Railroad members was remarkable.

Charlene joined one of UnitedHealthcare's legacy companies, The Travelers Insurance Company, in 1987 as a member services consultant for Railroad Accounts.  Since that time she had continuously served our Railroad members in various roles, most recently as the Manager of Member Relations.  In this capacity, her primary responsibility was to work closely with Railroad members by attending union meetings and benefit fairs.  

Charlene traveled extensively throughout the country meeting with union leaders, employees and their dependents.  She constantly shared her expertise by explaining Railroad health benefits and eligibility provisions for both actively working employees and retirees.  Over the years Charlene developed close relationships with many Railroad members by answering their questions and resolving their problems with care and compassion.  Her dedication to the individuals she served was both professional and personal, as Charlene truly cared about their well-being.

Everyone who knew Charlene will miss her knowledge and assistance, her friendliness and smile, and her unselfish desire to help.

Lawrence J. JONES
JONES – Lawrence J. Of Delaware, formerly of Lancaster, NY, August 17, 2016, beloved husband of Jocelyn Skobjak Jones; loving father of Hannah Marie and Savannah Jones; dear son of Lawrence D. and Donna M. Angrisano Jones; dear son-in-law of Donna Skobjak and Joseph (Pam) Skobjak; brother of Dana Lynn (Daniel) Lisowski; brother-in-law of Todd (Kristen) Skobjak; uncle of Andrew and Andrea Lisowski, Marissa, Braden and Kierson Skobjak; also survived by cousins, aunts and uncles.

Larry was a lifetime railroader and a pillar of strong representation at TCU/IAM. He began his career at Amtrak in 1992 and was elected as a Member of the Board of Trustees of TCU Lodge 491 in 1997. From 1997 until 2007, he served Local 491 as District Chairman, Vice President and Local Chairman. In 2007 Larry was appointed as Assistant National Representative over Unit 86 and later that year he was made the National Representative for Unit 86 a post he held at the time of his death.

"Larry was a dedicated and caring union representative, constantly striving to make the lives of the members he represented better," said TCU President Bob Scardelletti. "He never wavered in his tasks and he will be greatly missed by everyone at TCU. I want to extend thoughts and prayers from everyone here at TCU to his wife Jocelyn, daughters Hannah and Savannah and his entire family.

Anthony"Tony-Sandy-Stubby" Peter Santoro Jr.
June 12, 1943 – April 8, 2016

On April 8, 2016, Anthony "Tony-Sandy-Stubby" Peter Santoro, Jr.; a member of Brotherhood of Railway & Airline Clerks (BRAC), Transportation/Communications Union, International Board of Trustees and General Chairman for System Board # 86. Tony won 5 consecutive MVP awards for the Maryland State Men's Fast Pitch Softball. Beloved husband of Carolyn "Lyn" Santoro (nee Vanderhoof); cherished son of Anthony and June Santoro, Sr.; devoted father of Anthony P. "Guy" Santoro, III, and wife Holly; loving grandfather of Alyssa and Carmen Santoro; dear brother of Joseph, Theresa and Nicholas Santoro and wife Graziella and the late Barbara Lancelotta and husband Raymond; brother-in-law of Kit Azzaro and husband Mark and family. Also survived by 14 nieces and nephews and 4 great-nephews

In lieu of flowers, contributions may be made to American Diabetes Association , Memorial & Honors Program, P.O. Box 11454, Alexandria VA 22312.

Peter Adamovich – TCU ARASA Lodge 5092 Killed in Train Accident
On April 3, 2016, Amtrak Train #89 collided with a backhoe performing track maintenance work in the Northeast Corridor near Chester, PA. The accident took the lives of two Amtrak track workers and injured approximately three dozen passengers aboard the train. TCU ARASA Lodge 5092 member Peter Adamovich was the supervisor who tragically lost his life while attempting to save the backhoe operator during the collision. He was a member of TCU for over 34 years.

"Everyone at TCU mourns the tragic accident that took the life of Brother Adamovich. Our thoughts and prayers are with the families at this difficult time," said TCU National Representative Mike Miller.

Thomas F. Tarchak Jr. – TCU Local 5092 Member has Fatal Injury On-the-JobBrother Tarchak of Simpson, PA., died Monday morning, August 26, 2013 from injuries sustained in a work related accident in Harpursville, NY. His fiance' is Anne Peterka. They were to be married August 2014.

Born May 6, 1974 in Carbondale, PA., he was the son of Thomas F., Sr. and Judy Williamson Tarchak of Simpson, PA.

He was a 1992 graduate of the Carbondale Area High School and also graduated from Johnson College in Scranton. He had been employed as a bridge inspector for the Canadian Pacific Railroad in Binghamton, NY.

He was a member of the First Presbyterian Church of Carbondale and was an avid outdoorsman having a passion for hunting and fishing. He was an active member of the Scrub Oak Hunting Club in Wayne County.

He is survived by his twin brother: Matthew Tarchak
Brother Keeley served as Local Chairman of the Brotherhood Railway Carmen Lodge 760 (now 6760) from 1963 to 1969 and was the President of the lodge from 1972 to 1984. He was one of two officers who were instrumental in saving the lodge during a time of financial hardship in the early 1970s. Without the efforts made by Richard Keeley over 40 years ago, Lodge 670 would not exist today.
His obituary from July 1, 2012 is copied below.
RICHARD J. KEELEY, 92, of Fort Wayne, died on Thursday, June 28, 2012, 5:25 AM., at Coventry Meadows. Born April 7, 1920, in Fort Wayne, he was the son of the late Raymond J. Keeley and Marie Esther (Haas). He served in the Army and was a railroad carman with Norfolk Southern for 40 years. He was a member of Most Precious Blood Catholic Church, CCC's. Surviving are his daughters, Paula Mattingly and Coleen C. Silk; son, Bruce Keeley; brothers, Donald Keeley and William Keeley; six grandchildren; and nine great-grandchildren. He was preceded in death by his wife, Helen (Reprogle) Keeley; a brother; and a grandchild.
William Raia

William A. Raia, Age 67. Beloved husband of Darlene Nee Ziemann. Loving father of Mike (Heidi) Raia and Tony (Shannon) Raia. Loving papa of Jordan, Alexis, Karis and Stephanie. Dear brother of Bud (Cindy) Newman and the late Lee Newman. Caring uncle of Nikki and Amanda. Loving companion to Max. He was preceded in death by his parents, Andrew and Mary. A 44 yr employee for Soo Line Railroad, 20 yr L.C. of Lodge #6266, Retired T.C.U. Assistant International Representative and noted railroad photographer and author. Funeral Service Friday 10:30 a.m. at Cumberland Chapels, 8300 W. Lawrence Ave., Norridge. Committal Service Acacia Park Cemetery. Visitation Thursday 3 to 9:00 p.m. Funeral info: 708-456-8300 or www.cumberlandchapels.com

Carmen Division President Rich Johnson said, "Bill was an outstanding leader with constant dedication to his job and his members that he served. He was knowledgeable about every facet of the Railroad industry and made friends everywhere he went. Even after he retired he was a great asset to our Union. He will be sorely missed by his Union Brothers in and around the Chicago Area."

James T. Molloy
Longtime Doorkeeper of the House and TCU Friend Passed Away on July 19, 2011.

The historic contributions that James T. Molloy made to Congress over two decades as Doorkeeper of the House and the kindness and hospitality he showed to TCU lobbyists will never be forgotten.

Former TCU International Vice-President and National Legislative Director Jack Otero said, "We have lost a great friend and colleague. May God Bless Jim Molloy…We shall miss Jim, but will be eternally grateful for his favors, his friendship and for his invaluable assistance in helping us to protect BRAC/TCU and thethousands of our union's members, active and retired, who benefited from his kindness and hospitality."

Click here to read the Washington Post Obituary.

Joseph P. Trainor III
Former local 514 Officer and TCU Legislative Representative Joseph P. Trainor III passed away on October 21, 2010. Joe was an active member of TCU for 57 years and continued his support throughout retirement for a total of 68 years on the rolls of TCU.

His obituary from the Baltimore Sun read: Joseph P. Trainor, III, of Parkville, beloved husband of Helen E. Trainor; devoted father of Joseph P. Trainor IV and his wife Josie, Wayne J. Trainor and his wife Antoinette, Donald M. Trainor and his wife Tina; dear brother Robert E. Trainor; loving grandfather of Joseph P. Trainor V., Michael Trainor, Stephen Trainor, Sara Trainor and Brian Trainor. Memory tributes may be sent to the family at www.evansfuneralchapel.com.

"Everyone will miss our good friend Joe and will always be thankful for the outstanding work he led for TCU in protecting the interests and benefits of rail workers in general. May God bless Joe!" said former TCU International Vice President and National Legislative Director Jack Otero.

"I worked side by side with Joe for many years as he fought for TCU members in Washington DC. His voice on the hill was strong and effective. Many of the freedoms and benefits TCU members have today can be directly attributed to Joe's efforts. His dedication to TCU will never be forgotten. I wish the family well and God Bless," said TCU President Bob Scardelletti.

Teunis Vet (Tunney) – Former General Chairman of the Erie Lakawanna Railroad and former Vice General Chairman of Conrail System Board of Adjustment 86 Teunis Vet, passed away on August 15, 2009. Vet started his career with TCU in March of 1951, serving for 37 years until his retirement in 1988.

International President Bob Scardelletti said, "I worked closely with Teunis throughout his career and he will be missed. I extend deepest condolences and thoughts to his family from everyone at TCU."

His obituary read:
"Teunis Vet, 81 , of Bonita Springs, FL went to be with the Lord on August 15, 2009. He was born January 28, 1928, in Paterson, NJ. Tunney married Vivian Wyant, of Hornell, NY, on March 24, 1950, in Arkport, NY. Tunney and Vivian retired to Bonita Springs, FL in 1988 from Fairview Park, OH.

Teunis is survived by his wife, Vivian; his five children and their spouses; 14 grandchildren and two great-grandchildren. A memorial service was held on Wednesday, August 19, at McGregor Baptist Church in Fort Myers to honor Teunis. A memorial fund has been established in his name at, ABWE: 522 Lewisberry Road New Cumberland, PA 17070."
Leslie Earl Bosher

, his obituary read: "Leslie Earl Bosher 70, went to be with the Lord on Tuesday, August 4, 2009. He died after a lengthy illness. Mr. Bosher was born on December 5, 1938, and grew up in Mechanicsville, Virginia. He graduated from Battlefield Park High School in 1956, then from The University of Richmond and Harvard University Graduate School of Business Administration. Mr. Bosher also spent two years in The National Guard. He began his career with Seaboard Coastline Railroad (now CSX Transportation) in 1958 and transferred to Jacksonville, Florida in 1967. In the early 70's, he became Vice General Chairman for The Brotherhood of Railway, Airline and Steamship Clerks Union, (now Transportation Communications International Union-International Association of Machinists). In 1975, he was elected to the position of General Chairman which he held until 1983 when he rose to the office of International Vice-President. In 1998, Mr. Bosher became International Secretary-Treasurer for TCU and served in that capacity until his retirement in 2003. Mr. Bosher enjoyed a distinguished 45-year career with the labor union. He is survived by his wife, Barbara Whitlock Bosher, of Jacksonville, Florida. His son, Jeff, and daughter, Pam Bosher also reside in Jacksonville. His daughter and son-in-law, Jhill and Tom Bosher-Perran reside in Mechanicsville, Virginia. Interment will be held grave side at Gethsemane Church of Christ (5146 Mechanicsville Turnpike/Mechanicsville, VA) on Saturday, August 22, 2009 at 2:00 p.m. The family has requested that in lieu of flowers, donations be made to Hospice."

Wesley Lushbough of Sturgis, South Dakota a 58 year member of Carmen Lodge 6460 passed away August 2. He was 96. Lushbough was very active in his support of the union and maintained current dues until the time of his death. He worked for the Chicago and North Western Railroad for 37 years and retired to Sturgis at the age of 67. His son Ralph, a longtime rail engineer, died on August 4.

Lushbough is survived by his wife of 71 years Evelyn; daughters Lavina Goddard of Prairie City, SD and Laverna Moum of Topeka, KS; five grandchildren and nine great-grandchildren.

Condolences can be sent to his family here.



Alice Roth a member of Lodge 1908 in Orlando, FL, passed away on November 14, 2008 from a brain hematoma suffered following an on-the-job accident. She was 71.

The accident occurred November 9 while working at the concierge desk at the Walt Disney Old Port Royale Caribbean Beach Resort when she tripped and fell, striking her head on a planter. "This was a tragic incident, said Gary Lamboy, Local Chairman of Lodge 1908. "All of us here at Lodge 1908 send our condolences to her family"

Roth a longtime resident of Barrington, IL is survived by her son Gene H. Benson and daughter Katherine Roth Double; sisters Judith Bankus Cooper, Valerie York and Denise Bunny McDermott; and her grandchildren Alexander and Meghan Double.

Click here to leave a message at legacy.com.

William E. Mai (known as Elmer), a longtime member of Lodge 837, passed away November 3, 2008 in Denver, Colorado at the age of 92. Brother Mai was a 60 year member of TCU, a veteran of WWII, a life time member of the Knights of Columbus and a member of the American Legion.

Mai was drafted into the Army in June 1942 and was stationed at Fort Warren in Cheyenne, Wyoming working in the medical corps where he oversaw doctors working on German POWs. Discharged from the Army in 1946, he became a member of TCU in 1948 when he hired on with the Denver and Salt Lake Railroad Company, which later became the Denver and Rio Grande Western Railroad.

His marriage to Edna Saindon lasted more than 50 years until her passing on February 14, 1995. Brother Mai is survived by his son Rodney and Rodney's wife Robbie of Fort Worth, Texas, both TCU members and retired Grand Lodge employees.  Also surviving are his daughter Sheila of Denver, Colorado; three granddaughters; two great-grandchildren; and sister Martha and brother Fred, both of Kansas.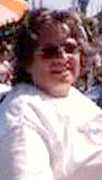 Donna Lynn Remata, a 21 year member of TCU Local 1315 employed by the Los Angeles MTA, was among the passengers killed in the collision of a commuter Metrolink train and a Unio n Pacific freight train on the afternoon of Friday, September 12, 2008.  She was returning from her job to her home in Simi Valley.  In just a month, on October 13, Sister Remata would have celebrated her 50th birthday.
According to the LAMTA's online news for employees, friends including Local 1315 President Maggie Cook and other TCU members knew her daily routine and started looking for her as soon as they heard about the crash.  Cook is quoted in the online publication saying that she "finds tha t Remata's death illustrates the ties binding Metro employees.  This is our Metro family…I explain that to the union members and the people I meet."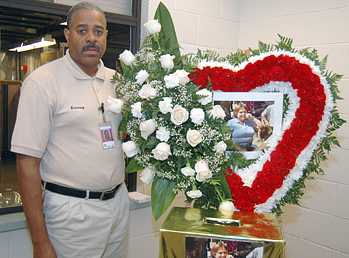 Kenneth Allen, stock clerk and TCU member, worked with Donna Remata. Here he stands beside a memorial arrangement and the box in which co-workers are l
eaving cards and notes for the family.
Says Darryl Henderson, "She was a TCU member I trained eight years ago for the storekeeper position that she held" in the Gateway Tower's Stationery office.  "She was a pleasure to work with and my condolences go out to her family." A decorative box has been put out near Remata's desk where other employees can put notes and cards with their memories of their co-worker and condolences for her family.
Remata leaves behind her husband, Larry, and two children, 17-year-old Tiffany and 18-year-old Larry II; parents Evelyn and Tony Nieves of Henderson, NV; and three sisters, Debra, Terri and Jo Ann Nieves.
To read more about Sister Remata's death:
Los Angeles Times article
Los Angeles Times memories section
AP story (scroll down)
Click to leave a message of condolence at legacy.com.
Clarence A. Commee, former Vice General Chairman of System Board 86 for many years, died at home in Lakeview, Michigan on Sunday, June 15, 2008. He was 74.

Brother Commee became a member of the union in April 1957, first with District 690 and at the time of his death as a member of Elkhart Local 464.  He retired at the start of 1994.

He was a veteran, having served in the U.S. Army as a paratrooper.  He loved to fly and was a hobby pilot also serving as an instructor at local airports.  In addition to his years of union leadership, he was a member of the Moose Lodge and American Legion Post 101.

Survivors include his wife Loretta and their four sons, Timothy, Jeffrey, Thomas and James, and their families including five grandsons.  Also surviving are numerous brothers and sisters and many nieces and nephews.  Messages of condolence to the family may be sent via www.hurstfuneralhome.com.

David Pierce, Jr., financial secretary-treasurer of Local 6091, was killed on the job when he was struck by a rail car Friday, May 30.  The accident occurred at the Waterloo, Iowa, facility of GE Rail Services during the movement of cars within the shop area.

Pierce, 48, started work at GE Rail Services after graduating from high school in 1978.  He had been a carman for over 22 years; his involvement in the union included serving as Chairman of the local Board of Trustees and then, for the past 10 years, as FST.  In addition to his work with the union, he was an umpire with the IBL, the Iowa Baseball League.  "Dave was a dedicated union rep who will be missed terribly by all of his friends and co-workers," says Carmen Division General Vice President Carl Tingle.  "We express deepest sympathy to his family."

He is survived by his wife of 24 years, Kimberly, two sons, Benjamin and Christopher, and a daughter, Elizabeth, all of Cedar Falls, Iowa.  Also surviving are his father, David Sr., his maternal grandparents, a brother and a sister.  A memorial fund is being established.  Condolences can be left at www.DahlFuneralHome.com.

Steven C. Wojcik, 89, died April 13, 2008.  A resident of Chicago, he was known as "Pee Wee." With an initiation date of November 1, 1939 at Pioneer Lodge 1505, he had been a TCU member for over 68 years.

Brother Wojcik hired out on the Belt Railway in Chicago in 1936 at the age of 16.  He was a veteran of the U.S. Army during World War II, returning to the railroad after his service.  He worked at the Clearing Yard at 69th and Central Avenue there for most of his 45 years of employment, most of them spent as Chief Clerk in the Car Operations Department.

Wojcik was active in the union and served as Financial Secretary-Treasurer of Lodge 1505.  Recalls his daughter, Liz, who herself is currently 1505's FST, "He was a strong believer in the union and all it stood for." Working for the railroad has been a family affair, she says: "Many uncles, cousins and a brother and sister worked for the Belt Railway through the years, but I followed in my father's footsteps and remained for what is now 28 years."  And, she says, "He could recall many aspects of his jobs because he truly loved being a railroader."

Survivors include his wife, Elizabeth, of 63 years, and six children: Sharon (Roger) Styczynsky, Steve (Gayle), Tom (Janet), Mary Ann (John) Szot, Elizabeth, and Michael (Dwayne Adams).  He also leaves eight grandchildren and two great-grandchildren, as well as numerous nieces and nephews.  Click here to view the guest book of the Chicago Sun-Times.

Jack Leonard Kreis, 77, of Ringgold, Georgia, died May 5, 2008.  He was a retired General Chairman of Carmen Division Joint Protective Board 200.  He served in that post for seven years; he also served the Union as Chairman of the BRC Southern Railway GC Association.   He was employed by the Southern for some 42 years.

"He and I worked together…in our respective crafts…in Chattanooga as Local Chairmen," remembers International Vice President David Steele.  "He was a real gentleman."

His wife, Dranda Ruth Kreis, preceded him in death.  Survivors include a son, Jack, daughters Jan, Susan, and Joy, and their families, as well as others including nine grandchildren and seven great-grandchildren.  Condolences may be made at www. heritagefh.com.

James R. Dwyer, former District Chairman of ASD Lodge 3025, the Guild of Taxi Drivers, died March 1, 2008.  A resident of Mora, Minnesota, he was 76 years old.

Among survivors are his wife, Eleanor, children Kathie Jorgensen, Daniel, Curt, Mike and Nina Dwyer, and six grandchildren.  Also surviving is his brother Tom, a retired member of Lodge 593 who works as a TCU legislative representative and is an officer in the National Association of Retired and Veteran Railway Employees.

John C. Ilg, known as J.C., passed away January 29, 2008 at the age of 73. Long a resident of Gaithersburg, Maryland, he resided in Silver Spring, Maryland at the time of his death.

He was a member of TCU for 55 and a half years, first in Lodge 562, later in Lodge 24. He spent over 40 of those years in active employment on the union staff, starting his career at Grand Lodge headquarters, then located in Cincinnati, Ohio.  Leading up to his retirement on June 30, 1994, J.C. held the post of Executive Director of the Data Processing Department.

J.C.'s wife, Norma, preceeded him in death.  Survivors include sons Jay (Kimberly) and Douglas and daughter Diane Ginnity (Ted) and grandchildren Ashley, Daniel and Michael.  Memorial donations may be made to United Church of Christ of Seneca Valley Emergency Assistance Fund, 13421 Clopper Road, Germantown, MD 20874, or to the Alzheimer's Association, 1738 Elton Rd., Suite 302, Silver Spring, MD 20903.

Herbert A. Tekworth, a longtime union activist and retired Vice General Chairman of System Board 86, died December 10, 2007, at the age of 91.  He had been a member of our union for over 71 years; with an initiation date of October 28, 1936, he was a member of Lodge 718 at the time of his death.  Brother Tekworth's wife, June, preceded him in death in 1992, as did one son, Paul.  Survivors include his son Peter and daughter Lynn Lindenbaum, granddaughter Jennifer Griffiths and great-grandchild Taylor Griffiths.  He resided in Mount Sinai, New York.  Those wishing to send condolences to the family can click here to go to the memorial page on the O.B. Davis Funeral Home site (Port Jefferson Station, NY) where there is an array of photos of Brother Tekworth and a guest book.

Willard L. LeBeouf, Jr., retired general chairman of the former Western Pacific System Board, passed away November 19, 2007, in Stockton, California, at the age of 79.

Born in Muskegon, Michigan, and raised in Stockton, he started his rail career as a desk clerk for the Western Pacific and rose through the ranks of the union to serve as general chairman until retiring in 1989.

LeBeouf was an Army veteran who served in Panama as a military police officer.  In retirement he and his wife, Anne, who preceded him in death, enjoyed traveling and he was active in motor home activities.  He was also a member of the Kiwanis Club and the Elks Lodge.

Among survivors are a daughter, Diane Harrington, two sons, Jeffery and David, and their families which include nine grandchildren.

In lieu of flowers, donations may be made to St. Mary's Community Services, 545 W. Sonora, Stockton, CA 95203.

Charles E. Wheeler, retired general president of the Brotherhood Railway Carmen who engineered the merger of his union with what was then the Brotherhood of Railway and Airline Clerks, passed away September 10, 2007.  Residing in Jackson, Tennessee, he was 82 years old.

Known as Ed, Brother Wheeler was born and raised in Lexington, Tennessee.  He launched his rail career as a carman apprentice in 1942 with the Gulf, Mobile and Ohio.

After serving as a airplane turret gunner in the Navy during World War II, he returned to the railroad and was elected a BRC local chairman in 1952.  He went on to be elected a GM&O vice general chairman and then, in 1956, general chairman.  He was appointed to a Grand Lodge post in 1972, then named a vice president in 1976, serving as the BRC's representative on the National Railroad Adjustment Board and on various Public Law Boards.  He was elected president of the BRC at the union's 1983 convention.

Following the August 1986 merger, Wheeler continued to serve as General President of the Carmen Division and as an International Vice President of BRAC, later renamed TCU.  Of the merger, he told members at the time that  "We will be stronger as one union and thus able to deal more effectively with management in protecting the interests of our members."  He retired in 1989.

Among survivors are his wife of 62 years, Edith, of Jackson and two sons, Danny and Charles Jr., a daughter, Lisa Ann Clark, seven grandchildren and five great grandchildren.
Memorials may be sent in his name to the American Cancer Society's Relay for Life.

James Lawton Bailey of Panama City Beach, Florida, a retired general vice president of the Brotherhood Railway Carmen, died August 2, 2007 at the age of 85.

Known as "Sport," Brother Bailey started his rail career with the L&N Railroad in November 1942 and joined Lodge 938.  He was elected local chairman in 1947 and served in that post until voted general chairman in 1959.  After 17 years as GC, he served as grand lodge deputy from 1976 until 1978 when he was elected a general vice president.  He served in that position until retiring September 1, 1987.

Among other memberships, he was a master Mason and belonged to the Scottish Rite and the Eastern Star.  He attended St. Andrews Baptist Church.

His wife, Betty, predeceased him in 2001.  Survivors include his daughter, Scarlotte Holmes, and son-in-law, John, of Panama City Beach, three grandchildren, nine great-grandchildren and four great-great grandchildren.

Rita Marie (Bruhnke) Samuiloff, retired Vice General Chairman of Amtrak System Division 250, died September 4, 2007, at the age of 78.

Samuiloff, a resident of Sycamore, Illinois, grew up in Chicago.  She started her rail career as a clerk with the Santa Fe Railroad, moving later to Amtrak at the Kankakee ticket office and the 1400 Lumber Street Yards.  She was elected Chair of District 2500 and served several terms in that post, representing members in the states of Michigan, Northern Illnois, Wisconsin, Minnesota and North Dakota.  In 1996 she was elected a Vice General Chairman.  In addition, she had a leadership role in TCU's Women's Committee during those years.  Samuiloff retired in April 1997; at the time of her death she had more than 40 years of membership.  "Rita was a respected union representative who fought hard for her members," says International Representative Ron Kloos.  "She cared about the membership and she took her job seriously and did it well."

Among those surviving her are her husband, Peter; daughters Lorrie Christopher, Leanne Pouremad and Lisa Chandler; a son, Nicholas, who is himself a TCU member; five grandchildren and two great-grandchildren.

Bobby Leo Lambert, 70, a retired former Vice General Chairman of Carmen Division Joint Protective Board 50, passed away at his home in Laurel, Montana, on April 17, 2007.

Known throughout his life as Bob, Brother Lambert started his rail career in 1955 with the Northern Pacific in the Laurel car shop. He was called to active duty in the Navy as a physician's assistant from 1958-60, then returned to the railroad as a carman in the car shop. He was a member of what became Lodge 6476 and served many years a Local Chairman.  He was elected a VGC in 1996, serving in that post at the time of his retirement in August 1998.

Lambert was known for his love of the outdoors and was fond of camping, four-wheelers and snowmobiles.

Survivors include his wife, Ann, of 46 years, and two daughters, Jeanette (Scott) Wilm and Darolyn Schoonover.  He also leaves six grandchildren, four great-grandchildren and numerous other family members.  To access the guestbook at the Smith Funeral Chapel, click here.

George W. Falltrick, 85, died Tuesday, April 10, in Sacramento, California near his home in Roseville, the community where he had spent his entire life.  He had served as TCU's Western Regional Legislative Director for a decade before he retired in 1989.
Brother Falltrick started out with the Southern Pacific in 1942, joining Lodge 198.  Interrupting his rail career, he served with the Army Engineers in World War II and received the Purple Heart for injuries sustained on Leyte in the Pacific Theatre.  Back in California, he was active in the union and held numerous posts, including that of Division Chairman from 1969-75.  He then was elected California State Legislative Director, later became Assistant Regional Legislative Director and, in 1979, Regional Legislative Director.  He was a member of the California Democratic Central Committee and a delegate to several Democratic national conventions.  He was also active in Kiwanis, the Elks and he coached Little League baseball.

He is survived by two sons, Dale and Dean, two grandchildren and his sister, Mary Rose Rudolf.  Preceding him in death was his wife of 53 years, Beatrice.  Memorial contributions are suggested either to the Roseville Elks Lodge or the charity of the donor's choice.
Charles Craig Murr, 84, a retired assistant to the general chairman of System Board 96, died February 20, 2007, in Burlington, North Carolina.

Known as Charlie, Brother Murr was employed for many years by the Southern Railway and since November 19, 1941 he was a BRAC/TCU member of Lookout Lodge 24 in Greensboro, North Carolina, where he served as local chairman. He also was a veteran of World War II who served in the Army/Air Corps. He was a Mason in Asheville and held several official positions there and he was an active member in his church.

"His life centered on his family, his faith and his many friends," the Asheville Citizen-Times obituary reads. "He was an avid reader and was known for his wit and sense of humor. He will be forever missed by all who knew him."

Among survivors are his wife of 64 years, Rosamund, a son, Dennis, a daughter, Brenda Sadler, and their families including three grandsons and two great grandsons.  Also surviving is his sister, Iris McKelvey.

In lieu of flowers, the family requests that memorial contributions be directed to the First Christian Church at 1900 West Market Street, Greensboro, North Carolina 27403.

Richard Ignatius Kilroy, Sr., international president of TCU from 1981 to 1991, died of conge stive heart failure at home with his family on Saturday, February 10, 2007.  He was 79 years old.

Dick Kilroy was born in Texas, Maryland. He served in the U.S. Army from 1945-48, then in 1951 he was hired as a block operator for the Pennsylvania Railroad in Baltimore. There, as a member of the Order of Telegraphers, his commitment to the labor movement and to championing the causes of working Americans took root. He became local chairman of his lodge in 1956 and was elected to progressively more responsible offices including, in 1967, general chairman of ORT Pennsylvania System Division 17.
Local activism led to international office: he was elected in 1964 as a member of the union's Board of Directors and in 1968 he became a vice president of the union (which had changed its name to the Transportation-Communication Employees Union).  When the TCEU merged the following year with the Brotherhood of Railway and Airline Clerks, Kilroy became a division vice president until being elected a BRAC international vice president in 1973.  He was reelected an IVP at successive conventions.  As an IVP his assignment included administration of the headquarters operation.

Following the death of International President Fred J. Kroll in 1981, Kilroy was elected the union's 11th International President by the unanimous vote of BRAC's executive council. He served in the union's top leadership post for a decade.  In this role he also served as a vice president of the AFL-CIO (Click here for a remembrance from federation president John J. Sweeney), and was among the founders of the AFL-CIO's Transportation Trades Department.  It was also while he led the union that convention delegates in 1987 changed our name from BRAC to TCU.

Dick Kilroy was the husband of Elvira Upson Kilroy at the time of his death; predeceasing him was his first wife, Betty Willis Kilroy.  He leaves six children—Earl, Margaret, Cassie, Richard Jr., Annie, and Patty—and their families, including 11 grandchildren and two great-grandchildren, as well as two step-daughters and their families.  Also surviving among numerous other relatives are two sisters, Ann and Betty.

The officers and members of TCU, the union Dick's years of leadership helped build, remember his commitment to members' welfare and offer sincere condolences to his family.  Those who would like to express their sympathy on his loss are asked to make a donation to the Hospice of Baltimore (Gilchrist Center for Hospice, 555 West Towsontown Blvd., Towson, MD 21204 – phone: 443-849-8200).
Michael R. Cogliano, Sr., a former District Chairman of Fred Kroll District 587, Michael R. Cogliano, Sr. died of leukemia at the age of 72 on November 8, 2006.  Known as "Cog," he lived in Havertown, Pennsylvania.
Brother Cogliano started what would become a 44-year rail career in 1955 in the accounting department of the Pennsylvania Railroad, later Penn Central and Conrail.  In addition to union leadership posts, he was active with Operation Lifesaver in Philadelphia because of his concern about the safety of children around tracks and crossings, said his wife Jeannine.  After retiring in 1999, he worked for a security firm at sports events.

He and his wife had been married almost 50 years.  Also surviving are his son, Michael Jr.; three daughters—Michelle Santangelo, Donna Raspa and Laurine Cook; a sister; and eight grandchildren.

Memorial contributions may be made to Trinity Missions, P.O. Box 7130, Silver Spring, MD 20907.

Roger C. Yanssens, retired general secretary-treasurer of System Board 86, died at his home in New Alexandria, Ohio, on October 7, 2006, after a long illness.  He was 70 years old.

Yanssens was born August 10, 1936 in Maynard, Ohio.  He started his rail career in October 1966 as a clerk for the Penn Central, later Conrail.  He was an active member of Pan Handle Lodge 735 who served in numerous offices there until becoming GST of the system board.  He retired in 1997 and was a member of District 821 at the time of his death.

He also served from 1954-1986 in the U.S. Coast Guard Reserves, retiring as a Chief Petty Officer.

Among survivors are his wife of 46 years, Jeannette; two sons, Brian (Gretchen) and Roger (Sonya); a daughter, Tammy; and three grandchildren, Allison, Abigail and Adrienne.  Memorial contributions to the granddaughters' scholarship fund are requested in lieu of flowers.

For more about Brother Yanssens' life and to leave condolences for the family, click here.

William Robert Godwin, known throughout his 89 years as Bob, died on March 9, 2006 at his home in Ogden, Utah.  He was a member of the union at the time of his death, with 65 years of membership since signing on in 1941.

Underscoring his years of support for the union, his wife, Jack, sent a contribution in his memory to MNPL.

Born October 11, 1916, Bob Godwin grew up in Indiana where he graduated from Princeton High School in 1935.  Three years later he married his wife, Jack O'Neil, and in 1941 the couple moved to Nevada where he started his rail career as a telegrapher for the Southern Pacific Railroad.  In 1960 he became third trick wirechief for SP in Ogden.  After more than 40 years of railroading, Godwin retired in 1982.

He is survived by his wife; two daughters, Nevada Rae Karadeema and Toni Lee Ricketts; one son, W. Robert Godwin; nine grandchildren and 11 great-grandchildren.