High Stakes in Safeway Strike
For more than 3 months, 70,000 grocery workers in Southern California have walked picket lines to preserve basic health care benefits in one of the largest and most important labor showdowns in decades.
The dispute against Safeway-owned Vons, Kroger-owned Ralphs and Albertsons is at the center of a frenzied effort by employers nationwide to find ways to pass double digit increases in health care costs on to employees or to eliminate the critical benefits entirely.
The striking grocery workers in California are asking union members across the country to join the struggle and help them win this important fight by not shopping at Safeway Supermarkets during the strike.
It's time to do everything possible to make sure the outcome of this fight is a win for workers and a warning to greedy corporations that working families will not allow health benefits to disappear from the American workplace.
To send a fax to Safeway CEO Steve Burd or make a donation to support striking workers, go to http://www.aflcio.org/yourjobeconomy/jobs/groceryworkers.cfm.

Bush Threatens to Veto Pension Bill
President Bush is threatening to veto the pension accord reached in the Senate last week, despite agreement among labor and business groups that relief is desperately needed for the nations under funded defined benefit pension plans.
Under terms of the bipartisan deal, struggling airline and steel companies would be allowed to fully fund their employees' pension plans using a modified payment schedule that takes into account the bankruptcies and slow recovery in those industries.
The Bush administration said it would "strongly oppose" the relief proposal, designed to address the ballooning deficit at the Pension Benefit Guaranty Corp. (PBGC), the federal agency that insures pensions for 44 million Americans. Without help, as many as 20 percent of defined benefit pension plans are at risk of being frozen or terminated, according to Sen. Ted Kennedy, a sponsor of the bill.

Apollo Project Aims for Job Growth
More than forty years ago President John Kennedy galvanized the nation with a pledge to put a man on the moon in ten years. NASA's investments in new technology are still paying off today. Now a group of labor, environmental, business, urban and faith groups are launching a similar national effort to make the United States free from foreign oil dependence in ten years.
By reinvesting in American industry and infrastructure to build a new, energy efficient economy, the Apollo Project could generate more than three million jobs in construction, manufacturing and industrial machinery.
The IAM and a coalition of sixteen other labor unions has endorsed the plan. "Wasting money on tax cuts for the wealthy won't help average American families find good jobs," said IP Tom Buffenbarger. "We've said all along that investing in North America's infrastructure is the fastest and the best way to create good jobs and get the economy back on track. The Apollo Project is a good start."
For more information on the Apollo Project, go to www.apolloalliance.org

Vote for 2003 'Labor Website of the Year'
The IAM's website, www.goiam.org, is among 34 finalists for the top spot in the 7th annual Labor Website of the Year competition, sponsored by LaborStart, an organization providing links to labor-related websites from around the world.
Anyone can vote. Simply click http://www.laborstart.org/lwsoty/ballot.shtml to bring up an official ballot and then scroll down to the IAM's site to register your choice for the only website completely dedicated to the needs of more than 700,000 active and retired IAM members and their families. Voting will end on Saturday, January 31, 2004, at midnight GMT. Results will be announced on Sunday, February 1, 2004.

UTC Bows to Pressure on Executive Compensation
A union-led campaign to force United Technologies Corporation (UTC) to limit exorbitant severance packages for senior executives achieved an important victory recently when the company agreed to conform to the terms of an AFL-CIO proxy resolution limiting golden parachutes.
Under the previous UTC Senior Executive Severance Plan, top executives at the company were eligible for cash payments equal to three times salary and bonus; accelerated vesting of stock options; special retirement benefits and continuation of other fringe benefits. Critics charge the UTC package rewarded executives regardless of their performance and threatened to penalize shareholders and employees with the cost of the plans. The newly adopted plan sets more stringent limits on benefits payable to executives.

IAM Servicing Accord Reached for Canadian Unit
Thirty-one highly skilled office and technical employees of G.E. Canada Inc., voted in favor of a service agreement with IAM District 11 in Montréal. The employees are former members of the independent G.E. Technical Association.
The IAM servicing agreement, which calls for negotiation of the workers' next collective bargaining agreement, will be in effect until the IAMAW files for certification with the Québec Labour Board. IAM Business Representative Yves Raymond will represent the new members.
The vote for the servicing agreement comes after Normand Neas, president of IAM Local 1660 in Lachine, Québec, contacted Gérald Tremblay, District 11 Organizer to set up a meeting with the leaders of the independent union and the IAMAW. For more information, click http://iamaw.ca/releases/2004/04_01_23_GE_techs_e.html.
---
Past iMail|Your Email|Visit www.goiam.org|Print Version|Sign-Up for iMail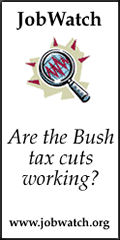 President Bush's promise of new jobs is falling far short. Find out how much at www.jobwatch.org