Tuesday, January 28, 2003


'State of the Union' To Set Bush Agenda

Recent polls show that the more Americans see of President Bush's policies, the less they like them. Polls show that 53 percent of Americans disapprove of the way Bush is handling the economy and 61 percent think the president's latest tax scheme is just another giveaway to the wealthy.
"Job creation, education, health care and Social Security, these are the issues of concern to working families," noted IP Tom Buffenbarger. "Pay close attention to the Bush agenda. See if it addresses these concerns in any meaningful way."
White House sources say Bush will outline his policy toward Iraq and his all-but-forgotten war against terrorism and then lay out a comprehensive domestic agenda. Early clues point to a privatization of Medicare and a prescription drug plan largely crafted by the pharmaceutical industry. President Bush's budget calls for further cuts in health care, education, environmental protections and other vital services.
"He's already squandered the budget surplus and the balanced budget he inherited from Bill Clinton and is well on his way to breaking the deficit record set by his father," Buffenbarger said. "There's not much there for working Americans".
---
Senate Overrules Labor on Layoff Data

The Senate rapped Labor Department knuckles and ordered Secretary Elaine Chao to reverse her month-old decision to stop the mass layoff-reporting program. Her decisions had drawn blistering fire from lawmakers and the union movement. "At a time when thousands of men and women are losing their jobs, policymakers and the public need to know where mass layoffs are occurring and who is being affected by them," said Rep. George Miller, D-CA.
You can urge Secretary Chao to continue these vital reports by visiting www.unionvoice.org/campaign/chaomls. Make your voice heard.
---
The Next North American Expansion

The IAM will hold an important two-day conference January 29-30 at its headquarters building to explore public policy options for job creation in the U.S. and Canada.
More than two dozen nationally recognized economists, lawmakers, business and labor leaders will address the jobs crisis in North America and present detailed suggestions to create an employment and economic turnaround.
The conference, called 'The Next North American Expansion' is open to invited guests and members of the press. IAM members will be provided with full coverage of the conference and interviews with the participants via Imail and IAM video news on www.goiam.org. A list of participants and the full agenda of the conference is available by clicking http://www.iamaw.org/publications/nnae/.
---
Performance Pay Proposed for Fed Workers

The Bush administration gave federal workers another taste of partisan politics with a sweeping proposal to give managers greater control over which employees get a pay raise.
The proposal drew immediate fire from federal workers and legislators who accused the president of making political loyalty a condition of job security or advancement.
"This appears on its face to be another attempt by the ideological zealots at the White House to reward only those workers that adhere to their partisan political agenda," said David Sirota, spokesperson for Democrats on the House Appropriations Committee.
Bush came under criticism earlier this year when he scaled back pay for federal workers and said wage hikes jeopardized U.S. efforts in the war on terrorism.
"Pay raises and promotions based on favoritism is the quickest way to destroy the morale of any workforce," said IP Tom Buffenbarger. "Federal workers deserve to be recognized for the valuable service they provide to this country, rather than become the latest target of an increasingly anti-worker administration."
---
DCA
Employees Eligible for Assistance

Airline employees affected by the 9/11 closing of Washington's National Airport may be eligible for financial assistance from a little known fund set up to assist workers and their families.

The September 11th Fund, in conjunction with the AFL-CIO's Working for America Institute, is providing assistance to employees at Washington's National Airport through a program called "Project Recovery."

An airport office has been set up to provide employees with additional information. The September 11 Office is open Monday through Friday, from 8:30 a.m. to 4:00 p.m. The office is located in Room 286, Terminal A. The phone number is 703 417-0120.
---
Labor Loosens Lumber Logjam

The IAM joined with three unions and two labor federations to bring a resolution to the long-standing and costly softwood lumber dispute between the U.S. and Canada.
Thousands of timber mill and forestry jobs have been lost on both sides of the border since the U.S. first imposed anti-dumping duties last spring on the $10 billion worth of wood products Canada exports annually in to the U.S.
Lumber companies in the U.S. have long complained that Provincial land leases for Canadian timber firms amount to government subsidies that present an unfair and insurmountable competitive advantage.
The effort to broker a solution hinges on both countries accepting a plan for graduated export taxes, collected by Canada, in lieu of current subsidy and anti-dumping duties assessed by the United States.
"Neither country took the steps necessary to resolve this crisis," said Rod Kelty, director of the IAM Woodworkers Dept. "The Unions believe our proposal offers the best way to restore stability to lumber prices while allowing each country to expand their markets in North America and overseas."
---
Maytag Move Triggers Statewide Shockwave

When Maytag shifts its double-door refrigerator production from Galesburg, IL to Reynosa, Mexico, the fallout will spread far beyond 1,600 workers at the plant who will lose their jobs.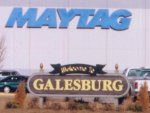 According to a report just released by the independent Rural Economic Technical Assistance Center (RETAC), the Maytag move will cause a net loss of 3,600 to 5,600 jobs throughout Knox County.
The report projected hundreds of local job losses in trucking, banking, health care, retail, restraunts and grocery stores. Hardest hit would be the category of wholesale trade, with 575 jobs lost when Maytag stops buying local goods and services.

"When a company like Maytag abandons a community like Galesburg and moves to Mexico, the collateral damage is far greater than many people realize," said Midwest Territory GVP Alex Bay. "The big lie of NAFTA is right here for anyone to see."
---
Machinist Named to Lead Colorado AFL-CIO

"Our message to the Legislature is simple," said Steve Adams, new president of the Colorado AFL-CIO. "Anything that helps Colorado working families is good for the economy, anything that hurts Colorado working families hurts the economy."

Adams, an aircraft technician for United Airlines, currently serves as Secretary-Treasurer of Rocky Mountain Aircraft Lodge 1886.
---
IAM Sets "Open-Source" Union Project
The IAM is attracting an unusual level of interest from the "cyber workforce," the working men and women who are the backbone of the high-tech world, with a website dedicated to their specific concerns: CyberLodge.
"Cyber workers suffer from employer abuse, they have little job security, and they receive little or no benefits," said IP Tom Buffenbarger. "They need the benefits of an effective organization."

The IAM realizes a traditional union is not the answer for a cyber workforce scattered across industries and the Internet. That's where CyberLodge comes in—an open source project to gather requirements for the ideal cyber worker organization. Open source software gets its strength from the combined efforts of many developers. CyberLodge.org will accomplish the same thing as cyber workers visit the site. CyberLodge can be found at: www.cyberlodge.org.
---