IMF Warns U.S. on Looming Deficits
The International Monetary Fund (IMF), usually the fiscal heavy for struggling third world economies, issued a stern warning about record U.S. budget deficits. New federal deficits and the collapse of state and local finances have pushed U.S. government debt levels to "among the highest in the industrialized world."
IMF economists say that after struggling to bring the US budget into surplus, "all the gains achieved during the earlier decade have disappeared." The "large U.S. fiscal deficits also pose significant risks for the rest of the world," the IMF warned. The high debt levels could force up interest rates in the US and the world economy and crowd out private domestic investment.
Also, a significant portion of the money to finance U.S. debt comes from overseas. If investors lose confidence in the U.S. economy, the IMF says it "could possibly lead to adverse consequences both domestically and abroad."
American working families also stand to lose. The "evaporation of fiscal surpluses has left the budget even less well prepared to cope with the retirement of the baby boom generation" and puts "massive pressure on the Social Security and Medicare systems. Without the cushion provided by earlier surpluses, there is less time to address these programs' underlying insolvency before government deficits and debt begin to increase unsustainably."
Click here to read the IMF report (http://www.imf.org/external/pubs/nft/op/227/index.htm)
Hat Trick Plus One for Local 701
<![if !vml]>
<![endif]>IAM Local 701 in Countryside, IL racked up an impressive series of organizing wins over the last several weeks, bringing 33 new members into Mechanics Local 701.
The organizing victories occurred at Patten Industries of Grays Lake, IL, Northwest Valley Dodge in Elgin, IL, Napleton Auto Werks of Loves Park, IL and Finish Line Dodge of Glenview, IL. The IAM Midwest Territory would like to congratulate Business Representatives Ken Malette, Tom Gregg, Bob Keppler and Dave Mullin on their wins.
| | |
| --- | --- |
| | (left) LL 2460 President Debbie McDonald, (front) GLR Lou Brogna, (rear) Committee Chair Mike Gafford,(right) Jimmy Gillman. |
Justice Prevails for Florida IAM Member
The importance of a good union contract was demonstrated recently in Pensacola, FL where an unfairly discharged IAM member won reinstatement and $59,000 in back pay.
The discharge occurred despite a lengthy investigation that failed to produce any evidence of wrongdoing by Danny Gillman, a member of Local 2460. "To top it off Brother Gillman took a lie detector test at his own expense and passed," said Grand Lodge Representative Lou Brogna, who was assigned to the case.
Following an 18-hour presentation, the arbitrator dismissed the company's charges and ordered reinstatement and $59,000 in back pay for Brother Gillman.
"Congratulations to Brother Gillman, who has seen justice served, and to Brother Brogna and the grievance committee for a job well done," said Southern Territory GVP Bob Martinez.
"I knew we had the facts and the truth on our side," said GLR Brogna,. "It's a good feeling when you prevail against an unjust prosecution."

Vote for 2003 'Labor Website of the Year'
The IAM's website, www.goiam.org, is among 34 finalists for the top spot in the 7th annual Labor Website of the Year competition, sponsored by LaborStart, an organization providing links to labor-related websites from around the world.
Anyone can vote. Simply click http://www.laborstart.org/lwsoty/ballot.shtml to bring up an official ballot and then scroll down to the IAM's site to register your choice for the only website completely dedicated to the needs of more than 700,000 active and retired IAM members and their families. Voting will end on Saturday, January 31, 2004, at midnight GMT. Results will be announced on Sunday, February 1, 2004.
Sierra Legal Defense Fund Votes IAM
Canadian employees at the Toronto branch of the Sierra Legal Defense Fund Society voted earlier this month for representation by the Machinists Union. The Society is a not-for-profit organization that provides services for the protection of the environment, wildlife and public health.
The main issue for these employees was not money but to have someone to advocate on their behalf, according to Scott Jackson, IAMAW Ontario Organizer. "The fact that these new members work to preserve the environment, doesn't mean they should be left out in the cold," said Jackson. "The Machinists are proud they chose us, and we are proud to represent them."
These new IAM members will be a good fit with the Canadian Environmental Network in Ottawa, a group represented by the IAM since 1998. For more information, click http://iamaw.ca/releases/2004/04_01_23_sierra_e.html
District 9 Organizers Win Two
IAM District 9 in Bridgeton, MO is on a roll with a pair of organizing victories for local auto and rail workers. A successful organizing campaign in the St. Louis metro area brought representation rights for auto technicians at Dave Sinclair Ford West in Warrenton, MO. IAM organizers credited former IAM members at the dealership for demonstrating the value of IAM membership to the employees at Sinclair Ford West.
Additionally, District 9 Business Representative Dave Weaver reports success with a hard fought first contract after months of negotiations at Pacific Rail Services in East St. Louis, IL. The 28 new IAM members there load, unload and repair rail cars.
The IAM Midwest Territory would like to thank BR Dave Weaver, Organizer Mark Conner, and Organizer Scott Stackle for their hard work and dedication. We wish them continued success in the future.
Connecticut Machinists Host Speakers, Workshops
Delegates attending the Connecticut State Council of Machinists meeting in Cromwell, CT took part in legislative and health care workshops and heard from a roster of speakers that included Connecticut's Attorney General, the Secretary of State, the State Comptroller and a U.S. Congressman.
The 55 delegates hailed from aerospace and manufacturing locals across the Nutmeg State and listened to presentations by GVPs Lynn D. Tucker, Jr. and Robert Thayer in addition to comments from 1st Congressional District U.S. Representative John Larson, Connecticut AFL-CIO President John Olson, Secretary-Treasurer Lori Pelletier, Secretary of State Susan Bysiewicz, State Attorney General Richard Blumenthal and State Comptroller Nancy Wyman.
The Connecticut delegation also raised $2,400.00 for MNPL at the conference. "With the diligent work of the Connecticut State Council, we will continue to support candidates who fight for working families," said Eastern Territory GVP Lynn D. Tucker, Jr., who expressed special thanks to long time Connecticut State Council President and District Lodge 26 Assistant Directing Business Representative James Parent.
---
Past iMail|Your Email|Visit www.goiam.org|Print Version|Sign-Up for iMail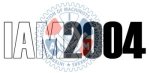 See who works for you, how the IAM is structured, and what services the IAM offers. Go to: IAM2004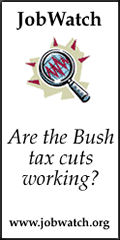 President Bush's promise of new jobs is falling far short. Find out how much at www.jobwatch.org