Thursday, January 30, 2003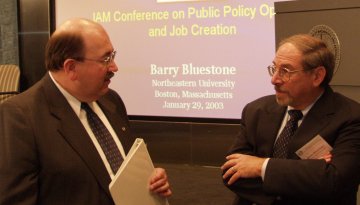 IP Tom Buffenbarger discusses strategies for job creation with Northeastern University professor Barry Bluestone.

Machinists Host Jobs Policy Conference
Following a State of the Union address where the president mentioned jobs only three times, the IAM held a unique conference at its headquarters building to explore public policy options for job creation in the U.S. and Canada.
"What will it take?" asked Buffenbarger in his opening statement. "What will it really take to start adding 50,000, 100,000 or 200,000 jobs each month? The challenge for this conference is to find answers to that question."
Attending the Jan 29-30 conference are more than two dozen nationally recognized economists, legislators and business leaders, including author William Greider, Rep. Robert Matsui (D-CA), Northeastern University Professor Barry Bluestone, Northrop Grumman Vice President George Picket, and others.
Additional information, will be available at www.goiam.org. Buffenbarger's opening statement can be found at: http://www.iamaw.org/publications/imail/imail_01_28_2003_buff.htm
---
Bush Budget: Check Record, NOT Rhetoric
President George Bush describes himself as a "compassionate conservative," but that "compassion" apparently doesn't extend to working families. That's how IP Tom Buffenbarger sees Bush at the mid-point of his White House term. "I heard lot's of high-flown rhetoric in his State of the Union address, but there was nothing there for working families," he said.
Buffenbarger said Bush's ballyhooed "economic stimulus" plan is "just a smokescreen to cut taxes on the rich, while doing absolutely nothing to create jobs, reduce our soaring trade deficit or anything else to pull the nation out of recession."
The ink had barely dried on Bush's speech when the Congressional Budget Office reported the federal budget deficit could reach $200 billion by year's end. The actual deficit could be even higher, because the CBO estimate did not include the costs of the dividend tax giveaway, a possible war with Iraq or any spending increases Bush proposes and Congress approves.
In barely two years, the Bush agenda turned a $5.6 trillion surplus into soaring deficits and effectively stalled any movement toward an effective health care program, Medicare improvements, jobs creation or a strengthened Social Security program.
---
NY Paper Supports Anti-Union Campaign
"The authors of a Wall Street Journal editorial, calling for radical changes to the Railway Labor Act, appear intent on gutting the law that brought collective bargaining rights to U.S. air and rail workers," said Transportation GVP Robert Roach Jr..
"When applied and administered properly, the law can be effective," countered Roach. "In 2000, the Machinists Union and Continental Airlines reached a tentative agreement 90 days after the contract's amendable date. Last December, the IAM and Southwest Airlines reached an accord only six weeks after the amendable date."
Since 1997, the National Mediation Board resolved more than 600 cases without strikes and service interruptions. During that time only three cases resulted in self-help strikes, work stoppages or lock-outs.
In 1993, after three years of hearings, the Dunlop Commission concluded that labor and management should be permitted to jointly seek their own solutions and that no changes to the law were necessary.
"Overturning a law that works the vast majority of the time is senseless," said Roach. "The Wall Street Journal's support of a political campaign to strip air and rail workers of their collective bargaining rights is why so many readers avoid the Journal's editorial pages altogether."
---
Agreement Ratified at Southwest Airlines
IAM members at Southwest Airlines voted to ratify a new six-year agreement, providing stability for employees and the carrier in the midst of the most turbulent period in aviation history, according to IAM District 142 President William O'Driscoll.
The accord covers 10,000 IAM-represented Reservation and Customer Service employees at Southwest and includes substantial wage hikes, an employee stock option plan, improved job scope language and premium pay for bilingual reservation agents.
"This agreement is the result of responsible management and dedicated employees working in partnership," said IAM General Vice President Robert Roach, Jr. "When other airlines talk about replicating the success of Southwest Airlines, they should start by emulating Southwest's approach to employee relations."
Additional details of the agreement are available on the District 142 web site at www.iamdl142.org/swa.
---
Fear Factor Rules at TSA
In a ruling that would make George Orwell blush, the Transportation Security Administration (TSA) announced an aircraft mechanics' FAA license could be revoked without warning if the new federal agency decides they represent a "security threat."
Under the rule, enacted last week without the customary period for public comment, the TSA gains extraordinary power over employees' livelihoods without being required to explain how or why a license holder poses a security risk.
"Last month, the head of the TSA denied 50,000 airport screeners the right to union representation," said IP Tom Buffenbarger. "Now, the department has given itself unprecedented power over anyone with an FAA license. This agency is systematically abusing the very rights and freedoms they were created to protect."
In a chilling quote, TSA spokesman Robert Johnson told a reporter, "If you're not a terrorist, you don't have anything to worry about. He said the rule was merely a "technical correction" to an existing policy.
---
'Boxgate' Blunder Badgers Bush
While making a sales pitch for his latest tax giveaway to the wealthy, President George Bush spoke from a St. Louis warehouse with a backdrop made to look like stacks of cardboard cartons prominently marked with Made in the USA labels. In the foreground were stacked boxes with white paper and tape in the lower left-hand corner. Curious reporters peeled away the tape and found labels reading Made in China. A White House spokesperson blamed an over-zealous staffer for the blunder, a blunder promptly dubbed "Boxgate" by snickering reporters.
Since taking office two years ago, Bush has overseen the loss of some 1.7 million jobs—most of them in the manufacturing sector—to low-wage nations like China.
---