---


www.tradealert.org is a new website run by the USBIC Educational Foundation, dedicated to protecting American interests against the damaging effects of international trade.
---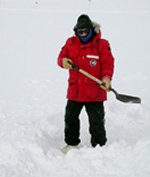 With more than 700 people dying of hypothermia yearly, the IAM Safety Department wants you to know how dangerous it is to work in cold environments.

---


Get Your Convention Gear Check out gear for the 2004 IAM Convention
---

The IAM
Executive Council
International President
R. Thomas Buffenbarger

Secretary Treasurer
Donald E. Wharton

GVP Western
Territory
Lee Pearson
GVP Canada
GVP Canada
Dave Ritchie

GVP Midwest
Territory
Alex M. Bay

GVP Headquarters
Robert V. Thayer
GVP Southern
GVP Southern
Territory
George Hooper

GVP Eastern
Territory
Warren L. Mart

GVP Transportation
Robert Roach, Jr.
Tuesday, March 5, 2002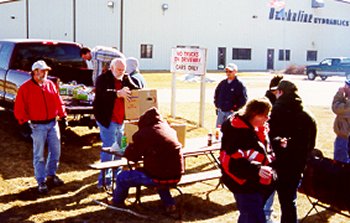 Omaha's Local Lodge 31 teamed up with the Omaha Federation of Labor and the American Income Life Company to collect 450 pounds of food for IAM members from Local Lodge 1426 on strike at Omaha Line Hydraulics in South Sioux City, South Dakota.
Machinists Authorize Walkout at Lockheed
Aircraft workers at Lockheed Martin's largest assembly plants in California and Georgia voted Sunday to reject the company's latest contract offer and are preparing to strike the company on March 11.
"The workers voted overwhelmingly – by 97 percent – to reject the company's last offer and to authorize strike action," said John Crowdis, IAM Aerospace coordinator. "The ball is in the company's court at this point. If they do not improve their offer, there will be a strike."
The IAM and Lockheed's workers are demanding job guarantees from the highly successful defense contractor and a limit on further subcontracting. "The decision to strike is one of survival," said Crowdis, adding, "We will make a stand here or we will surely watch this company ship our jobs out of state and overseas."
The IAM represents nearly 6000 Lockheed workers who build military aircraft, including F-22 Raptor fighters and C-130 transport planes at the company's plants in Marietta, GA, Palmdale, CA; Sunnydale, CA; Clarksburg, WV; Meridian, MS, Cape Canaveral, FL and Vandenberg Air Force Base, CA.

Related Links:
Local Lodge 166
Local Lodge 709
Local Lodge 2386
Local Lodge 2786
District 725
IAM Aerospace
---
Ratification Voting Begins for UAL Mechanics
The outcome of a March 5 vote by IAM members at United Airlines will determine the fate of the company's latest contract offer. Members of the mechanic and related group will also vote to authorize a strike that could begin at 12:01 AM on March 7 if the contract is rejected.
If approved, the accord would end a long battle by frustrated employees who watched the carrier soar financially and then plummet painfully into a morass of mismanagement and misfortune.
The tentative agreement, reached after 27 months of negotiations to replace 1994 wage rates, would raise pay by as much as 37 percent for a top rated aircraft technician.
Results of the all day vote should be known late March 5 or early March 6 and will be posted on www.goiam.org and on the District 141-M website at www.iam141m.org.
---
Florida Strikers Win Jobs Back
A decision by the Fourth Circuit Court of Appeals will return 46 IAM members to their jobs with full back pay and benefits after the workers spent three and a half years on the picket line outside a Florida strip mine.
The decision affirms an earlier ruling by the National Labor Relations Board and an administrative law judge that found RGC Mineral Sands violated the workers' rights when management made arbitrary shift assignments in retaliation for a union vote rejecting the company's shift change proposal.
The court ruled the strike that followed was an unfair labor practice (ULP) strike and that the company further violated federal law when it refused to accept the strikers offer to return to work. The normally conservative Circuit Court ordered immediate reinstatement and full back pay for all strikers who sought to return.
---
White House Yields on Trade Tariffs
President Bush got the message from thousands of steelworkers and their allies and agreed to impose tariffs on imported steel. The decision gives a measure of much-needed support to the domestic steel industry and the nation's industrial base.
Busloads of IAM members helped swell the crowd at a massive demonstration across from the White House and helped the Steelworkers Union deliver a powerful message demanding protection from low-wage producer nations dumping cheaply made steel on the nation's doorstep.
Bush yielded to those demands and agreed to impose tariffs of up to 30 percent on imported steel from those nations, including China, Japan and Russia who top that list of offenders. The White House action follows a recommendation from the U.S. International Commission last December calling for tariffs ranging from 20 to 40 percent.
Bush's compromise falls short of the 40 percent tariff sought by the Steelworkers and industry leaders, but is a step towards softening the impact of cheap imports on the industry. More than 46,000 Steelworkers have lost jobs as a direct result of 31 steel bankruptcies and 14 liquidations during the current crisis.
Much of the burden has fallen on such states as Indiana, Ohio, Pennsylvania, West Virginia and Maryland—states that will be crucial in the 2002 congressional elections, as well as any presidential re-election bid.
---
Social Security: Here We Go Again
The latest Social Security scam floated by the GOP is a doozy.
The Bush administration says it will mail a fancily embossed certificate to every retiree and future Social Security recipient that completely guarantees their rights to their pensions. What a deal!
"At a cost of just a few million of your tax dollars in postage and printing costs, the President guarantees that you will receive your Social Security benefits that are already guaranteed," explained IP Tom Buffenbarger. "This is nothing more than a PR gambit to sell his phony privatization scheme. Don't believe it for a minute.
"This is the same crowd that pushed for a $250 million retroactive tax cut for Enron, claiming it would stimulate the economy," Buffenbarger said.
He urged Congress to strengthen the Social Security system rather than peddle bogus promises that privatization won't destroy the most successful family protection program in our history. "Privatization may be good for Wall Street," Buffenbarger said. "It's a catastrophe in the making for Main Street."
---
Teardown in Chi-Town Set
Midwest Territory Local 701 and Route 66 Raceway are teaming up again this year for the 2nd Annual Chi-Town Teardown Pit Crew Competition held April 27th and 28th 2002. Chicagoland Area Schools battle in an engine teardown and reassembly contest. Each school selects their top four students to compete side by side for claim to be Chicago's BEST. Approximately 20 High Schools and 10 Technical Colleges will challenge for the Automobile Mechanics Union Traveling Trophy awarded in each division. Go to http://www.mech701.org/rt662.htm for more information.

---