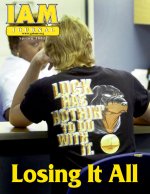 Unemployment soared and manufacturing jobs in North America were wiped out in record numbers, yet Congress did nothing to help workers in danger of losing everything they have. In the 2000 Spring IAM Journal, IAM members from across North America tell how it feels to be losing it all.
---


www.tradealert.org is a new website run by the USBIC Educational Foundation, dedicated to protecting American interests against the damaging effects of international trade.
---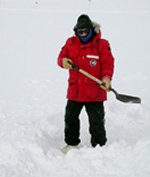 With more than 700 people dying of hypothermia yearly, the IAM Safety Department wants you to know how dangerous it is to work in cold environments.

---


Get Your Convention Gear Check out gear for the 2004 IAM Convention
---

The IAM
Executive Council
International President
R. Thomas Buffenbarger

Secretary Treasurer
Donald E. Wharton

GVP Western
Territory
Lee Pearson
GVP Canada
GVP Canada
Dave Ritchie

GVP Midwest
Territory
Alex M. Bay

GVP Headquarters
Robert V. Thayer
GVP Southern
GVP Southern
Territory
George Hooper

GVP Eastern
Territory
Warren L. Mart

GVP Transportation
Robert Roach, Jr.
Friday, March 15, 2002

Blue Ribbon Commission Sworn In
A third round of Blue Ribbon Commission meetings, where members can speak freely and publicly on matters of importance, begins in late March.

Forty meetings will be held across North America. All members are encouraged to attend a meeting in their area and express their hopes and aspirations for this great union.

"This is your chance to speak out on any topic you feel deserves attention." said IP Tom Buffenbarger."

Commission members will be sworn in this weekend during planning meetings at the William W. Winpisinger Education & Technology Center in Hollywood, Maryland. Details about the Blue Ribbon Commission meetings will be posted on www.goiam.org early next week.

UAL Talks Show Little Progress
Negotiations for 24,000 IAM members at United Airlines appear headed for a showdown. Union leaders declared they will have a settlement soon or they will call for a countdown that could lead to a strike at the nation's second largest airline.
According to Randy Canale, District 141 president and lead negotiator, his team in Chicago is determined to take whatever action is necessary to reach the industry-leading contracts they came to achieve.
"It's high time to conclude these negotiations," said Canale, "which began in the last century."
Contract talks for United's Ramp and Customer Service workers, the largest IAM group at the airline, began in December 1999. With four contracts covering dozens of job groups in hundreds of locations, the negotiations are complicated.
Nevertheless, the IAM is determined to reach simultaneous tentative agreements for all employees "We came into these negotiations together and we intend to come out of them together," said Canale.
IAM members can follow the negotiations at United by logging on to the District 141 website at www.iam141.org for daily negotiations updates.
---
District 141-M Signs UAL Contract
Now it's official. District 141-M representatives added their signature to the newly ratified contract with United Airlines. The five-year pact is retroactive to July 12, 2000 and makes the 13,000 mechanic and related employees at United the highest paid in the industry, points out Scotty Ford, District 141-M president.
---
Rail Negotiations Sidetracked
Two days of intense negotiations ground to a halt over management demands that railroad workers pay even higher premiums for health and welfare costs, reports Transportation GVP Robert Roach, Jr. The IAM and representatives from the Sheet Metal Workers and Boilermakers unions met with their counterparts from the carriers in Washington, DC, seeking agreement on a new contract.
Efforts to reach agreement ended when management insisted that workers pay 50 percent of all increases in health insurance premiums. "That could mean as much as $150 a month for most workers," Roach said.
The three unions represent 11,000 workers on the major railroads; most of those workers are IAM members.
On a related matter, the AFL-CIO and its affiliated transportation unions, including the IAM and rail unions, have been lobbying Congress for a long-term plan that gives Amtrak adequate funding and give the passenger service a "chance to excel."
Amtrak needs at least $1.2 billion for fiscal year 2003, Congress was told. The Bush administration proposes a meager $521 million. Additionally, reauthorization legislation should be enacted that places Amtrak on a steady and long-term course to financial stability.
"The first step in turning Amtrak around…is to eliminate the mandate for Amtrak to operate subsidy-free," says Ed Wytkind, who heads the federation's Transportation Trades Dept. "No other national passenger rail system in the world operates subsidy-free. The right answer, he said, is a long-term investment in Amtrak and its dedicated workers."

Related Link:
AFL-CIO Transportation Trades Dept.
---
Lockheed Strikers Win Public Support
Polling by the Atlanta Journal-Constitution shows overwhelming public support for IAM members and their crusade for job security. The poll shows that 67 percent of the public believes the strikers' demands for job security are "reasonable." Less than half that tally, 33 percent, see the demands as "unreasonable", despite an anti-union editorial stance by the newspaper.
Striking IAM members at Lockheed's facility in Marietta, GA, clearly did a magnificent job of telling their story. The workers took to the picket lines in a determined attempt to keep Lockheed from exporting their jobs to low-wage areas around the world.
"This strike is about our community and our families," declared Jim Carroll, IAM Local 709 president. "For many years, the employees working for Lockheed Martin have been identified as being the most loyal workers in America. We want the best for Lockheed Martin, as many of us have spent our lives building the company.
"We pray that our friends and neighbors continue to support us in our efforts," Caroll said. He urged interested IAM members, and others, to visit the newspaper website at http://www.accessatlanta.com/ajc/opinion/0302/0313equal.html
Don't forget to vote.
---
Bankruptcy Court Dumps Workers
An upstate New York Bankruptcy Court put profits before people and sent 115 IAM members to the unemployment lines. The members worked at a Shepherd Niles, Inc. facility in Montour Falls where they built overhead cranes that are used in industries ranging from aerospace to steel.
The court turned down a bid from a U.S.-based firm that wanted to keep the plant in operation and handed it to a higher bidder--a Finnish firm that promptly announced that operations would cease later this month. The plant is likely to close its doors within four to six months.
The new owners "absolutely refused to discuss any form of severance pay for the workers" noted Bill Rudis, the IAM rep who directed efforts to reach a positive conclusion for the workers, members of Local 1765. Shepherd Niles has been operating since 1878. The IAM "has had continuous contracts there since 1943," Rudis said. "It's a sad ending to this proud history."
---
IAM launches iNews
The IAM has launched an on-line news service to provide timely, interesting articles for local and district lodge web sites and newsletters.
The news service, called "i-News" appears on the IAM website at http://www.iamaw.org/publications/inews/index.htm.
Recent i-News stories include the terrible effects the recession is having on the world's billionaires (there are 83 fewer billionaires this year!); how signing up unregistered union voters could make the difference in upcoming elections, and how young Americans are joining the fight for worker and union rights here and overseas.