Web Highlights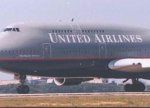 IAM Protests at UAL Stockholder Meeting
Read the media release that went out earlier this afternoon.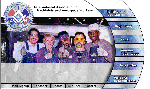 IAM Re-launches Site
The relaunch of the IAM website, goiam.org, took place Friday, May 11. Haven't checked it out yet? Point your browser to: http://www.goiam.org, or click the "go" button below-right.



Catch The Union Buzz

Up-to-the-minute reports from other labor unions affiliated with the AFL-CIO.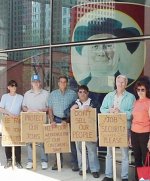 Local 831 Strikers Picket Quaker Oats
Strikers from LL 831 staged an informational picket at the annual stockholders' meeting in Chicago.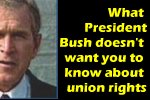 The Rest of the Story
President Bush recently issued an executive order for companies doing business with the government about employees' rights and union membership. Only, he forgot some other very important employee rights. Read the Rest of the Story.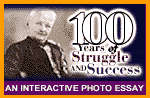 The AFL-CIO presents an interactive photo essay on the history of the labor movement. (A Flash Plug-in is required.)

The IAM's
Executive Council
Friday, May 18, 2001
---

Union Seeks Countdown At United Airlines
Dismissing company proposals as insulting and calling further negotiations pointless, the IAM negotiating committee for 30,000 United Airlines employees called for a release from mediated negotiations and began preparing members for a 30-day countdown and possible strike.

"It is senseless to meet with company representatives who deliberately play the system for every ounce of delay," said Randy Canale, IAM District 141 president and lead negotiator for Customer Service, Ramp, Reservations, Food Service, Security Guards and Stores employees. "United is treating its employees the same way it treats passengers – promoting high expectations and delivering nothing."

District 141 notified the National Mediation Board (NMB) that negotiations had reached an impasse on numerous issues. "Besides wages, United has an obligation to deliver on all the promises it made seven years ago when we took deep cuts to rebuild this airline. That includes industry leading pensions, job security and health benefits."

"We will not stand by silently while United makes large aircraft purchases, expands regional jet service and promotes multi-billion dollar acquisition proposals," said Canale. "We have done our part – we have built the most successful airline in the world and we expect a share of that success."

The 30,000 members of District 141 now join 15,000 mechanic and related employees at United who requested a release from the NMB on November 7, 2000. Both districts began negotiations with United Airlines management in December 1999.

"We hope the NMB will act quickly on our request," said Canale. "While airline negotiations are lengthy by nature, it would be in the best interest of United's passengers, shareholders and employees if this process moves forward. Whatever United gains by delay, is invariably undone by the damage to employee morale."

Related Links
IAM Transportation
District 141
District 141-M

---

Bush Tax Plan Takes Center Stage
The tax plan floated by the White House might well benefit from the president's much-touted welfare reform notions. With more than 45 percent of its benefits flowing to the richest one percent of taxpayers, the plan has been described as "welfare for the wealthy." The tax plan takes away from working families and funnels even more riches to the already well-to-do. At the same time, it undermines Social Security, Medicare and other worker-friendly programs to pay for the massive cuts. For more information, visit www.aflcio.org/taxcutaction.

---

Comments, suggestions, or story items for imail?
Contact IAMAW via email or at 301-967-4520

Read previous imails