Web Highlights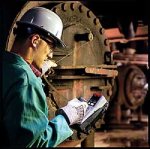 Safety & Health
On The Job
From the time President Bush killed the ergonomics standard, to the second you loaded this webpage, 300,428 workplace ergonomic injuries occurred. For an up-to-the-second count click here.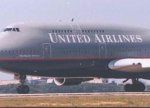 IAM Protests at UAL Stockholder Meeting
Read the media release that went out last week.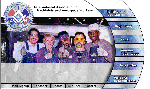 IAM Re-launches Site
The relaunch of the IAM website, goiam.org, took place Friday, May 11. Haven't checked it out yet? Point your browser to: http://www.goiam.org, or click the "go" button below-right.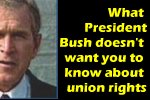 The Rest of the Story
President Bush recently issued an executive order for companies doing business with the government about employees' rights and union membership. Only, he forgot some other very important employee rights. Read the Rest of the Story.

The IAM's
Executive Council
Tuesday, May 22, 2001
---

St. Louis Boeing Workers Prepare to Strike
IAM members at Boeing's St. Louis military aircraft division voted overwhelmingly Sunday to reject a company contract offer and to strike. The union delivered a "seven-day strike notice" to Boeing on Monday and, barring any moves to improve the offer, a strike will commence May 28, Memorial Day. Principal issues in the dispute include pensions, wages and bonuses and job security.

"Boeing has a $436 million surplus in the pension fund and our members expected to see a major increase in pension benefits over the next three years. Instead, Boeing offered to increase the formula to $50 per-month, per-year of service – the amount IAM members in Kansas, Oregon and Washington bargained two years ago," IAM Aerospace Coordinator Dick Schneider explained.

"Boeing's wage offer was also plainly substandard: a 3 percent GWI in the first year, followed by two annual 3 percent lump sum bonuses. Boeing can and must do better than that," Schneider said.
Worker dissatisfaction was clear in a 1857 to 497 vote to reject Boeing's offer and a 75 percent vote to strike.
---

Lockheed Thumbs Nose At USAF Veterans
When our nation's military began to downsize in the late 1980s, it left the US Air Force pared to the bone. There were enough aviators to man aircraft, but few left to train replacements. Outside contractors filled the void using former USAF personnel to do the training. Companies like Lockheed-Martin have profited handsomely from selling the experience and expertise of battle-tested veterans to the government.

In fact, it was Lockheed-Martin who won a six-year training contract at New Mexico's Kirtland Air Force base in September 2000. Soon after the contract was awarded, Lockheed told its 60 some decorated veterans at Kirtland they would no longer be salaried professionals and be changed to hourly non-professionals with no pensions, a loss of benefits, and work rule changes which would greatly endanger job security.

When the company turned a deaf ear to their concerns, the veterans turned to the IAM and were initiated into IAM Local Lodge 794 in February. After the company stone-walled during the first few negotiating sessions, the veterans struck Lockheed-Martin earlier this month. One striker said: "If we don't take a stand we will continue to be rolled over by a corporate giant."

---

Organizing Win at Jamestown Metal Products
Employees of Jamestown Metal Products in Jamestown, New York recently voted for IAM representation. The election win brings in 76 new members.

"We welcome these new members and thank them for making a choice that will benefit their families and their co-workers," said Eastern Territory GVP Warren Mart.

"Congratulations to District 65 Organizer Jim Upton, Assistant DBR Norm Smith and DBR Greg Stone and the rest of the team for doing a fine job."

---
Members Keep The Pressure On UAL
Showing support for their negotiating committees and extending a friendly hand to the traveling public were twin objectives behind a day of action by United Airlines members of Districts 141 and 141-M.

Frustrated and angry with United Airlines management for their foot dragging at two bargaining tables, aircraft mechanics, cleaners, public contact employees, ramp and stores workers, security guards and food service workers marched together in front of airports nationwide to demand their fair share of the enormous profits posted by the airline during the past six years.

The airline workers took a different message to arriving passengers facing flights that now have a one in four chance of being delayed or cancelled. "We want passengers to know the truth," said Randy Canale, District 141 president and general chairman.

"Overbooking, understaffing and irresponsible scheduling practices have more to do with flights being delayed than airlines will ever admit - and it's not going to get better overnight," said Canale. "It's incredibly irresponsible for airlines like United to blame their own employees for the problems of air travel today."

Our message to United's passengers is, "We're in this together," said GVP Roach, who joined IAM marchers at Dulles International Airport. "It is passengers and employees who made United Airlines the company it is today. We will not allow management to dismantle that relationship to serve their current purpose at the bargaining table."

Both Districts have been negotiating with United since December 1999. District 141 declared an impasse in their talks last week and petitioned the NMB for a release from further negotiations. District 141-M, representing 15,000 mechanic and related employees at United, made a similar request in November 2000.

Related Links
IAM Transportation
District 141
District 141-M

---
Comments, suggestions, or story items for imail?
Contact IAMAW via email or at 301-967-4520

Read previous imails