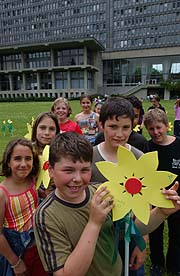 Around the world, some 246 million children between 5 and 17 years old are working instead of attending school. That's one out of every six children in the world today. The International Labour Organization has chosen June 12 as World Day Against Child Labour to focus world attention on the urgent need to eradicate child labour.
---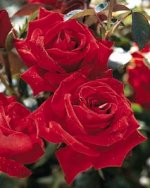 New Rose Honors UFW Founder Cesar Chavez
Gardeners who want the union label on their flowers may want to check this one out. Farm Workers members have teamed up with California flower grower Bear Creek to develop a rose dedicated to the memory of UFW founder Cesar Chavez. Ten percent of the proceeds from sale of the lustrous red rose go to the Cesar A. Chavez Foundation, which educates young people about the union leader's legacy.To order, call 800-292-4769 or visit www.jacksonandperkins.com.
---

Three West Coast governors – John A. Kitzhaber, Gary Locke and Gray Davis -- were interviewed recently on the IAM's Third Shift program. Jobs, healthcare and college costs were some of the issues affecting working families that the governors addressed.
---
Find out about health care in your state: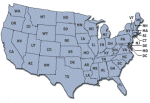 The Kaiser Family Foundation's State Health Facts Online resource contains the latest state-level data on demographics, health, and health policy, including health coverage, access, financing, and state legislation.
---


Get Your Convention Gear Check out gear for the 2004 IAM Convention
---

The IAM
Executive Council
International President
R. Thomas Buffenbarger

Secretary Treasurer
Donald E. Wharton

GVP Western
Territory
Lee Pearson

GVP Canada
Dave Ritchie

GVP Midwest
Territory
Alex M. Bay

GVP Headquarters
Robert V. Thayer

GVP Southern
Territory
George Hooper

GVP Eastern
Territory
Warren L. Mart

GVP Transportation
Robert Roach, Jr.
Friday, June 14, 2002

Labor Leaders Seek
Manufacturing Solutions
Union presidents and business executives sat down with Congressional leaders this week to discuss the plight of American manufacturing workers and how to protect companies that choose to remain in the United States.
The 'Summit to Save American Jobs – A Matter of National Security' was organized by the IAM, the industrial unions of the AFL-CIO and the US Business and Industry Council (USBIC).
Members of the House and Senate heard the labor and business leaders bluntly describe the human cost of U.S. policies that are destroying manufacturing jobs by the hundreds of thousands. The point was driven home by new figures that show U.S. factories cut 1.5 million jobs from their payrolls in the last 14 months.
"A plantation mentality" in corporate boardrooms is undermining any effort to enforce existing trade regulations that could protect American jobs and businesses, said IP Buffenbarger. In addition, the strong dollar policy, technology transfers and an unchecked trade deficit were cited as reasons why U.S. manufacturing employment has fallen to nearly the same level it was in 1964."This has to stop," declared House Minority Leader Dick Gephardt. "We can't have a strong economy without a strong manufacturing base."

---
IAM-Boeing Negotiations Draw Near

With 11 days before the June 25 start of negotiations; IAM members at Boeing are itching to confront the aerospace giant across the bargaining table. Layoffs in Seattle and Wichita and the company's strategy of shifting work overseas is stiffening the union's resolve to focus the upcoming contract talks on job security.
"Cyclical layoffs in the face of declining aircraft orders are one thing, but Boeing's strategy of dismantling production facilities and shipping them overseas will damage U.S. employment opportunities and our national industrial and defense base for years to come," said IAM Aerospace Coordinator Dick Schneider who will lead the talks with Boeing.
IAM members can follow the progress of negotiations with Boeing at http://www.goiam.org and on local and district lodge websites at: District 70 (Wichita), http://iamdl24.org (Portland), Local Lodge 834 (Wichita) and http://www.iam751.org/ (Seattle and Puget Sound).
---

Machinists Say "No Thanks"
to United Airlines Offer
United Airlines (UAL) CEO Jack Creighton told a roomful of industry analysts this week that UAL's finances are improving and the carrier's survival is not in doubt. At that same meeting, Creighton also stated he expects "to see substantial participation by United's employees" in the carriers recovery plan. United has proposed across-the-board 10 percent wage reductions for IAM represented employees.
In response to United's proposal, District 141 and 141-M Presidents Randy Canale and Scotty Ford said, "We feel the company has overstated the need for employee participation in such a recovery program. Additionally, UAL has not provided any documentation or communication to its employees demonstrating such a need." Both presidents have said they will not endorse United's proposal.
---
IAM Backs Union Rights
for Federal Workers
Unionized federal employees who become part of the new Department of Homeland Security could lose certain collective bargaining rights, if a White House proposal calling for hiring and firing 'flexibility' is adopted.
"It's not hard to see where the administration is headed with this proposal," said Frank Carelli, IAM Director of Government Employees, who, along with Rick Brown and John Paolino, met this week with staff members of the Government Reform Committee. "We're going to make sure our members' representational and collective bargaining rights are fully protected."
Federal employees with direct national security duties, including FBI, CIA and the military, are excluded from union membership. Currently, about 55 percent of the 1.8 million federal employees are covered by union contracts.
According to newspaper reports, a spokesperson for the administration's homeland security office said it was possible that a new department would seek 'flexibility' in its personnel matters.
---

Airline Worker Rights at Risk


A legislative campaign currently underway and orchestrated by the nation's major air carriers is designed to severely undermine the collective bargaining process and weaken the rights of all airline employees.

Spearheaded by the Air Transport Association (ATA), an industry trade association made up of 22 U.S. member airlines and four foreign-flag associate members, airline CEO's are urging Congress to amend the Railway Labor Act to include mandatory binding arbitration in labor negotiations. This would effectively take away an airline employee's right to vote on collective bargaining agreements.

GVP Robert Roach, Jr. sent a letter this week to Carol Hallet, President and CEO of the ATA, outlining the IAM's stern opposition to such a scheme. "Baseball arbitration would take the employees out of the process and certainly lead to unnecessary disruptions in service," said Roach. The full text of GVP Roach's letter to the ATA can be viewed at http://www.goiam.org/territories.asp?c=3163

You can help preserve airline employees rights by urging your Senators to oppose forcing mandatory arbitration into airline negotiations. You can email or fax Congress directly. Click on "Oppose Phony Labor Law Reform" at the IAM's Political Action web site at

www.goiam.org/politics.asp.

---
Good News for Shipyard Workers



The U.S. House of Representatives voted recently to authorize $54.1 million for an important program that makes affordable loans available to those who commit to build in U.S. shipyards.
The Title XI shipbuilding loan guarantee program is helping to preserve the shipbuilding base in this country and is responsible for securing tens of thousands of shipbuilding jobs over the past ten years. According to recent studies, the program generates $20 worth of economic activity for every dollar invested in it.
"The thousands of vessels built in U.S. shipyards during the past decade are a testament to the value of this program," said GVP Thayer. "We need more programs that use public funds to support our manufacturing base that, in turn, supports so much of the North American economy."

---
Recovery Resources
Now Available to IAM Retirees


Cybersober.com, an online center for resources pertaining to addiction, recovery and treatment, is now available to IAM retirees. Cybersober.com has a wide array of resources for any IAM member or their family, such as access to more than 210,000 twelve-step meetings in the U.S. and seventy-two countries worldwide and help with Mapquest to get directions to those meetings. Other features include interactive recovery sections, questionnaires and lists of treatment providers.

"The number of IAM retirees has doubled over the last decade," says IAM Retirees and Community Services Director Maria Cordone. "We are pleased to make these resources available to such an important part of our union. Cybersober.com offers help to those who have given all of us so much."

IAM members have a special section of Cybersober.com that can be accessed by going to cybersober.net/iamaw. The User Name is IAMAW and the Password is Union.