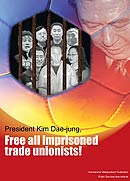 Support trade unionists in South Korea face who severe repression.
Use the IMF digital postcard feature to send a letter of protest to the South Korean government.
---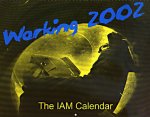 The IAM is holding a members-only photography contest this year and if your photo wins, you could win a cash prize and your picture could appear in the 2003 IAM Calendar. The deadline is June 30, 2002. For complete contest information and an entry form, click here.

---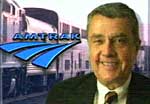 NewsHour with Jim Lehrer interviewed Amtrak president David Gunn, who recently took over the troubled rail service. Gunn talks about Amtrak's financial situation, the proposal to break up Amtrak, and the role Congress played in creating the crisis at the nation's passenger rail carrier.
---


Get Your Convention Gear Check out gear for the 2004 IAM Convention
---

The IAM
Executive Council
International President
R. Thomas Buffenbarger

Secretary Treasurer
Donald E. Wharton

GVP Western
Territory
Lee Pearson

GVP Canada
Dave Ritchie

GVP Midwest
Territory
Alex M. Bay

GVP Headquarters
Robert V. Thayer

GVP Southern
Territory
George Hooper

GVP Eastern
Territory
Warren L. Mart

GVP Transportation
Robert Roach, Jr.
Friday, June 28, 2002

White House and IAM
Discuss Amtrak, US Airways
IAM leaders met with White House officials this week to discuss the state of the transportation industry. Transportation GVP Robert Roach, Jr. led the delegation in wide-ranging talks on the fate of Amtrak, federal loan guarantees in the airline industry and negotiation procedures under the Railway Labor Act.
"We discussed the need for the continued funding of Amtrak," Roach said. "The Machinists Union is committed to achieving a long-term solution to the problems faced by our nation's rail passenger service."
In a similar vein, US Airways claims it will need to restructure its operation in bankruptcy if it doesn't receive federal loan guarantees. United Airlines also filed for hefty federal loan guarantees, citing the need to address financial problems made more acute by the aftermath of September 11. Both airlines are awaiting decisions from the Air Transportation Stabilization Board. For a more complete report, visit the Transportation Department's web page at www.goiam.org.
---


Families Stonewalled in P & W Cancer Study
Despite earlier pledges, Pratt & Whitney workers and the families of cancer victims who worked at the firm's sprawling facilities in Connecticut slammed into a stone wall when they sought information on a study group's initial proposals to probe the high number of brain cancer deaths among Pratt workers.
The proposals from a scientific team hired by P&W to investigate the cancer deaths "are confidential," both the company and the scientists said. Once company officials and the investigators agree on all the details, they'll let families and the workers know what's going on, they said.
"That's not good enough," according to Rich Gross, an attorney who filed workers compensation claims on behalf of relatives of Pratt brain tumor victims. The workers want a voice in the investigation. Earlier this year, both Pratt and the state's health department promised to form a "working group" that would include both family members and union representatives.
After more than four months, that group has yet to meet.
"We know of at least 60 people who have died from brain tumors," reports Debra Belancik, chief safety representative for IAM Local 707, North Haven, CT. Most of them died from glioblastoma multiforma, a rare and aggressive cancer that strikes fewer than three in 100,000, according to medical studies. Yet Belancik and other IAM safety representatives say nearly 70 people have been diagnosed with the malady, all of who worked at Pratt localities in the area.
The summer issue of the IAM Journal has a more detailed account of the disturbing events at the aerospace firm.
---


Bush Plan Zings Social Security
A New York Times column graphically outlined the "fuzzy math" in President Bush's plan to privatize Social Security. Author Paul Krugman points out that Social Security is a system "in which each generation's payroll taxes are mainly used to support the previous generation's retirement."
If those contributions from younger workers go into personal accounts, who will pay benefits to today's retirees and older workers? "Privatization", Krugman contends, creates a financial hole that must be filled by slashing benefits, by massive infusions from other federal funds, or both.
Even Republicans are sidling away from the term "privatization", Krugman notes "Do not be complicit in Democratic demagoguery," says one party memo cited in the article. "So it looks like a duck and walks like a duck, but it isn't a duck—not until after the next election," Krugman said.
"But…it is a duck. And the Administration economists who claim that privatization will strengthen Social Security are, more than ever, quacks," Krugman concluded.
---


Drug Firms, GOP Party Hearty
Among its other skills, the pharmaceutical industry has mastered the art of political timing. Just hours after the House Ways and Means Committee approved a prescription drug plan backed by the industry and the White House, many of those drug firms forked over $250,000 each to hear President Bush speak at a Republican fundraising dinner
The GOP-endorsed prescription drug plan would force seniors into HMO-type plans and provides those with average drug bills virtually no benefits at all. A study by the Congressional Research service found the Republican bill's drug coverage is 40 percent less generous than the Democratic alternative.
---


IAM Partners with Aviation High School
Aviation High school Principal Eileen Taylor, GVP Roach,
and banner contest winner Kevin Deeble.

The IAM took an active part in recent graduation ceremonies at New York City's Aviation High School. The IAM has been working with Aviation High School and US Airways taking students out of the classroom and into the hangars at LaGuardia Airport to spend a day interacting with experienced aircraft technicians.
"The IAM is the first union willing to partner with our school," said Eileen Taylor, the school's principal. Aviation is the only high school in the United States that is designed to prepare students for careers in aviation-related fields. The school's 1,600 students can specialize in aviation mechanics and engineering while obtaining a strong academic education.
The school has an on-site hangar with various aircraft and aviation equipment, providing intensive exposure to the aviation industry as well as hands-on experience.
The IAM also sponsored a contest in which students competed to design a banner demonstrating the Union's new partnership with Aviation High School. The banner hangs in the schools own on-campus hangar. Transportation GVP Robert Roach, Jr. presented the winners with toolboxes at the graduation ceremony.
---
Last Call for IAM Photo Contest Entries
Get those contest entries into the mails ASAP. The deadline for entering the IAM Photo Contest is June 30. Winning photos may be included in 2003 IAM calendar and may even qualify for a cash prize.
This year's theme is "North America's Might" and our panel of independent judges will be looking for photos that show IAM members at work doing what they do best. The contest is absolutely free and open to all IAM members. You can obtain a complete contest entry form at www.iamaw.org/publications/2002photocontest/index.htm or by contacting the IAM Communications Department, 301-967-4520.