---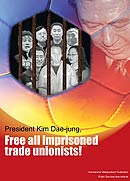 Support trade unionists in South Korea face who severe repression.
Use the IMF digital postcard feature to send a letter of protest to the South Korean government.
---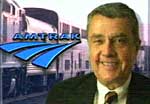 NewsHour with Jim Lehrer interviewed Amtrak president David Gunn, who recently took over the troubled rail service. Gunn talks about Amtrak's financial situation, the proposal to break up Amtrak, and the role Congress played in creating the crisis at the nation's passenger rail carrier.
---


Get Your Convention Gear Check out gear for the 2004 IAM Convention
---

The IAM
Executive Council
International President
R. Thomas Buffenbarger

Secretary Treasurer
Donald E. Wharton

GVP Western
Territory
Lee Pearson

GVP Canada
Dave Ritchie

GVP Midwest
Territory
Alex M. Bay

GVP Headquarters
Robert V. Thayer

GVP Southern
Territory
George Hooper

GVP Eastern
Territory
Warren L. Mart

GVP Transportation
Robert Roach, Jr.
Tuesday, July 2, 2002


House Passes GOP Drug Plan
On a largely party-line vote, the Republican-controlled House of Representatives passed a prescription drug plan that is little more than a political smoke screen for GOP candidates facing a tough election season, according to most union observers.
"Every day older Americans face tough choices because of the soaring costs of their prescriptions. Do they buy food, or do they buy medicines," asked IP Tom Buffenbarger. "This measure brings little real help to senior citizens. It gives money to private insurance companies and does nothing to stop drug company profiteering at seniors' expense."
Eight Republicans defied the GOP leadership and voted against the bill, which the Alliance for Retired Americans called "a hoax and a fraud." Eight Democrats, however, crossed over to vote for the bill and its infamous "doughnut" hole which provides no coverage at all for prescription drug bills ranging between $2,000 and $3,700. GOP leadership refused to allow Democrats to amend or offer a substitute for the measure.
Senate Democrats offer an alternative that comes closer to meeting the needs of older Americans, noted George J. Kourpias, Alliance president. "We will work with the Senate to improve their bill to include, among other features, a $2,000 cap on out-of-pocket expenses by beneficiaries." For more information, visit www.fairdrugprices.com.
---
IAM Members Can Speak Out on
Blue Ribbon Commission Online Survey
For the next 30 days, the IAM will conduct an online survey at www.goiam.org to give members an opportunity to connect with the IAM's policy-making Blue Ribbon Commission.
The Commission recently completed Town Hall meetings in 40 locations across North America where thousands of IAM members participated and responded to three important questions: What is working well with our Union; What is not working well with our Union and What changes need to be made in our Union?
As in previous Blue Ribbon Commission meetings in 1995 and 1998, IAM members' responses will guide policy changes, program development and reforms throughout our Union.
The anonymous survey is brief and takes only minutes to complete. Start by clicking on to www.goiam.org and then follow the simple instructions. Your input will help set the tone and direction of the IAM for years to come.
---
Boeing Members to Vote July 9
IAM members at Boeing will cast strike sanction ballots on July 9 in Wichita, Portland and Seattle. A preliminary strike authorization is required to collect strike benefits in the event members reject the company's 'last best and final' offer and vote to strike on August 29.
A strike vote is not an indication a strike is likely to occur and does not mean the Negotiating Committee can call a strike without an additional vote of the membership.
Negotiations for a new contract opened June 25 in Wichita. Round-the-clock bargaining with Boeing will begin August 15, culminating in a final offer by the company. A contract ratification vote is scheduled for August 29, 2002
---
Workers 'Pan' Lockout
at Dow, Sterling Chemical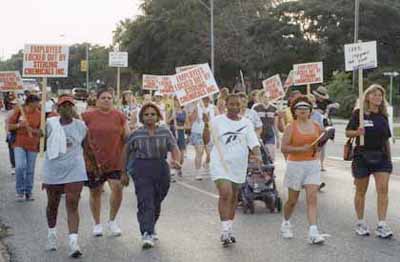 More than 200 spouses and children of locked out Sterling
Chemical workers marched to the plant to demand a meeting
with the plant manager.
Hundreds of workers manned the picket lines at a Dow Chemical Co. plant in Texas City, TX, to show solidarity with units of the Texas City Metals Council, whose 400 workers have been without a contract since April 1. The workers belong to nine unions, including IAM Local 6.
In a similar fashion, 215 workers, including IAM Local 6 members, were locked out by Sterling Chemical Corp. just minutes after they voted down the company's "best and final offer." More than 200 spouses and children marched to the Sterling plant banging pots and pans and demanding a meeting with the plant manager who refused to come out of his cozy corporate suite.
"This is corporate terrorism," declared Joe Gunn, state AFL-CIO president. He pledged the federation's full support for the workers for as long as it takes to win justice at the two chemical firms.
---
Save Social Security Plan Kicks Off
In addition to the usual fireworks and festivities, July 4 is the date Americans across the country will demand that members of Congress and political candidates "declare their independence" from President George W. Bush's dangerous plans to privatize Social Security and cut benefits.
Union activists and those who battle for seniors, women and people with disabilities and the Campaign for America's Future will hold dozens of events across the country during the July 1-7 congressional recess. The campaign plans to expose the Republicans' plan to privatize Social Security by pumping the system's trust funds into an increasingly volatile stock market.
"Some of the so-called 'experts' want us to put our retirement security into the hands of Wall Streeters who will invest our money in some of those creatively financed operators like Enron and WorldCom," scoffed IP Tom Buffenbarger. "I don't think so," he said.
During the recess, activists will ask candidates to sign a pledge to oppose privatization and to support a strong Medicare prescription drug benefit. To download a copy of the pledge and learn more details, visit www.aflcio.org.
---