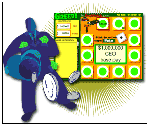 Corporate profits are down, layoffs are way up—and CEOs still get huge paychecks, bonuses and retirement perks. To see how you'd fare compared to these CEOs, play GREED!
GREED is the AFL-CIO's Executive PayWatch Board Game that takes the PayWatch visitor through a story of what life is like for a millionaire CEO and a worker struggling to make ends meet.
---

Union Plus uses the collective strength of union members to provide a wide range of services at discount prices, from credit cards to home mortgages.
This month, Union Plus spotlights its discount legal services program. For more information, click here.

---

Get your legislator to sign a pledge to protect Social Security and Medicare
To find out how much you could lose from Bush's plan to privatize Social Security, find out more information about the Bush plan and download flyers to distribute at work, click here

---


Get Your Convention Gear Check out gear for the 2004 IAM Convention
---

The IAM
Executive Council
International President
R. Thomas Buffenbarger

Secretary Treasurer
Donald E. Wharton

GVP Western
Territory
Lee Pearson

GVP Canada
Dave Ritchie

GVP Midwest
Territory
Alex M. Bay

GVP Headquarters
Robert V. Thayer

GVP Southern
Territory
George Hooper

GVP Eastern
Territory
Warren L. Mart

GVP Transportation
Robert Roach, Jr.
Friday, July 12, 2002

IAM, SPEEA Warn Wall Street About Boeing
The IAM and SPEEA which represents unionized aerospace engineers warned investors Thursday that Boeing is sacrificing its long-term health for short-term profits by outsourcing skilled personnel and top shelf technologies.
More than 40 of the world's top investment houses (including Deutsche Bank, Goldman Sachs, J. P. Morgan, Vanguard and Prudential) participated in the 90-minute meeting in New York City in person and through a worldwide audio hook-up.
"The issues affecting our members directly affect Boeing shareholders, too," explained Steve Sleigh, IAM Director of Strategic Resources, who led the briefing along with SPEEA representative Stan Sorscher.
"Boeing claims they are increasing shareholder value but what they are really doing is generating cash by selling core skills and technologies. They are hollowing out the company and selling off its future," Sleigh told investors.
"The same 'financial engineering' that destroyed McDonnell Douglas' position in commercial aviation is now damaging Boeing, as well. The IAM and SPEEA want to commit to a different path with Boeing: a path of rising productivity and total focus on expanding and strengthening North America's aerospace industry," he said.
Both the IAM and SPEEA, the largest Boeing unions, are negotiating new contracts with the aerospace giant this year. The IAM's contract expires September 1 and SPEEA's contract expires December 1.
The meeting with investors took place one day after thousands of IAM members voted by a 98% margin to authorize a strike against Boeing if necessary.
---
US Airways' Loan Bid Gets Conditional OK
The Air Transportation Stabilization Board gave conditional approval Wednesday to US Airways' application for a $900 million federal loan guarantee. Among the several conditions listed in the Board's letter (http://www.goiam.org/territories.asp?c=3273) to US Airways CEO David Siegel is a condition to "conclude legally binding agreements, satisfactory to the Board, regarding the concessions and initiatives described in the business plan."
"Although the IAM supports US Airways' application for federal loan guarantees, we have been in discussions with the carrier since May to reach an agreement that is satisfactory to our members, not the Board," said District 141-M President and General Chairman Scotty Ford.
---
Homeland Security Bill
a 'Trojan Horse' for Federal Workers
Union leaders and legislators are gearing up for a fight over language that could strip union rights and protections from federal workers covered by the Homeland Security Bill (HR 5005).
Advocates for employees with civil service protection and collective bargaining rights are pressing the House Government Reform Committee to amend sections of the legislation calling for a "modern, flexible and responsive" personnel system in the new federal agency.
'Flexibility' is a code word used by managers to skirt established protections in the workplace. Early in his administration, President Bush unilaterally eliminated union representation for hundreds of federal workers, claiming their duties placed them in 'security sensitive' positions. Federal workers in such positions are prohibited from union membership.
---
Corporate Corruption Fuels Campaign Fires
Gleeful Democrats cheer every sleazy disclosure by another scandal-ridden corporation profiting from fudged numbers and fuzzy math. With President Bush and the GOP scurrying for cover, Democrats aggressively seized the higher ground for the coming congressional elections this fall.
President Bush spoke to cheering CEOs at a Wall Street luncheon, but he drew tepid reviews from the news media. Investors continued unloading stock shares at a record pace.
Additionally, news accounts focused on past business dealings by both Bush and VP Dick Cheney raised even more questions. While he denounced corporate attempts to "fudge the numbers", President Bush did exactly that when he was in the energy business. Before coming to the White House, both he and Cheney posted business records spotted with irregularities similar to those racked up by WorldCom and other corporations condemned by the White House.
Since the Enron collapse late last year, business and corporate irregularities that hide losses, create phony profits, cost workers' jobs and pensions and shatter the public's confidence have been revealed at corporations around the country.
---
GOP Cash Cup Runneth Over
Even as the stain of corporate corruption spreads the Republican Party continues to rake in cash for the November election cycle. GOP campaign committees raised $361 million. Democratic committees came up with $224.3 million. That's $137 million less than their Republican opponents.
More than half of the Democrats' take was in so-called "soft money," contributions that will be banned after Nov 6. Soft money comes from contributions by corporations, unions, trade associations and wealthy donors.
---
RxExpress Pays Off for Seniors
Seniors who traveled by bus to Canada to buy prescription drugs as part of the Alliance for Retired Americans RxExpress saved an average of $1,340 per person. At a Capitol Hill press conference, Alliance officials reported that 378 seniors traveled an average of 277 miles each, riding for 14 hours, to realize a total savings of $506,845 on their purchases. The RxExpress focused attention on the need for legislation to lower prescription drug costs for senior citizens.
---