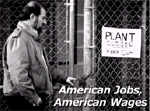 President Bush is set to sign Fast Track legislation that will usher in a new round of NAFTA-style agreements.
To get the Facts about 'Free Trade' and its damaging effect on America's workers, read "The Real Cost of 'Free' Trade" from Vermont Congressman Bernie Sanders.
---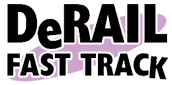 Congress Caves in to Corporate Pressure,
Fast Track Passes
The Senate passed Fast Track on Aug 1 and the House passed Fast Track on July 27 to give President Bush the authority to negotiate new NAFTA-style trade agreements.
To see how your Senators voted,
click here.
To see how your Representative voted, click here.
---

Union Plus uses the collective strength of union members to provide a wide range of services at discount prices, from credit cards to home mortgages.
This month, Union Plus spotlights its discount legal services program. For more information, click here.

---


Get Your Convention Gear Check out gear for the 2004 IAM Convention
---

The IAM
Executive Council
International President
R. Thomas Buffenbarger

Secretary Treasurer
Donald E. Wharton

GVP Western
Territory
Lee Pearson

GVP Canada
Dave Ritchie

GVP Midwest
Territory
Alex M. Bay

GVP Headquarters
Robert V. Thayer

GVP Southern
Territory
George Hooper

GVP Eastern
Territory
Warren L. Mart

GVP Transportation
Robert Roach, Jr.
Tuesday August 6, 2002


Boeing Workers In 'Stand United' Rally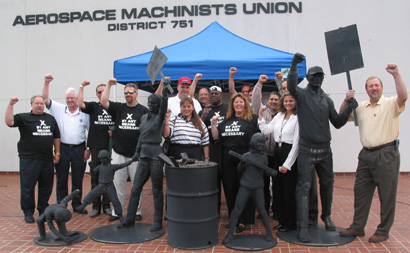 The August 5 start of daily negotiations between the IAM and Boeing was marked by a 'Stand United' rally in Everett, Washington where Machinists lit the 'flame of solidarity' in a burn barrel sculpture erected following the 1995 IAM strike at Boeing.
Teamsters, firefighters, operating engineers, food service workers, pilots, drivers and security guards all pledged support for IAM members in their fight for a fair contract with job security, better pensions and health insurance. "We're with the Machinists, side by side," declared Charles Bofferding, executive director of SPEEA, whose members begin contract talks with Boeing in October.
The IAM and Boeing will hold daily meetings until the start of 'round the clock' talks on August 15. The fast-paced negotiations will conclude with IAM members voting on a so-called 'last, best and final' offer from Boeing on August 29.
---
Davis-Bacon is Latest Homeland Bill Target
The proposal to create a Homeland Security Department ran into a hail of protest and stalled last week over language giving the president 'flexibility' to ignore union rights and civil service protections for nearly 170,000 employees who would be drafted into the new super-agency.
The legislation is also running into opposition from Republicans over language that would require the new department observe the Davis-Bacon Act, the 1931 law requiring prevailing union wages on federally financed construction projects.
"Davis-Bacon requires government-funded contractors pay fair wages to workers, whether they are unionized or not," said IP Buffenbarger. "The law ensures quality construction when that construction uses taxpayer's money. It's unfortunate some legislators want to use the Homeland Security bill to turn back the clock on common sense wage rights that go back more than 70 years."
---
Public Supports Stronger Amtrak
A national survey conducted by the Washington Post shows a majority of Americans favor increased federal funding to expand Amtrak, the national passenger rail system. The poll found strong support among all age groups, education levels and incomes and ran counter to recent administration proposals to cut funding and reduce train service nationwide.
A total of 1,012 adults were given three options regarding Amtrak funding: End federal aid; increase federal aid or keep federal aid the same? Only 29 percent favored cutting all funding, with 58 percent favoring increased federal aid. Thirteen percent responded, "don't know."
News of the poll was welcomed by the IAM, which fought for years to expand and stabilize rail service. "Passenger rail service deserves the same support in Congress that is has throughout the country," said Transportation GVP Robert Roach, Jr. "Proposals by so-called 'reform groups' to carve up Amtrak and end service on key routes should be rejected."
---
Machine Shop Win Highlights Diversity
An organizing victory in the industrial heartland is always something to celebrate, but the recent decision by 60 Illinois workers to join the IAM deserves special recognition.
A determined effort by Spanish-speaking IAM volunteers and District 8 staff led the way to strong support among the Hispanic workforce at Universal SPC, Inc., a high-tech machine shop making parts for mass transit systems, including the Chicago Transit Authority.
"The right to safe working conditions and a secure retirement transcends language," said IP Tom Buffenbarger. "To be successful, organizing must appeal to the goals we all have in common."
"Wins like this show we can overcome language barriers in the fight for better wages, benefits and working conditions," said Alex Bay, GVP, Midwest Territory. "Special thanks go to DBR Carl Gallman, GLR Cristina Munoz, GLR Macario Carmolinga and Local 701 Retiree Paul Espinoza."
---
New Contracts for Machinists at Tyndall AFB
Seventy-seven IAM members at Lockheed Martin Systems Management at Tyndall AFB in Panama City, Florida, won annual wage hikes of 4 percent and 3.5 percent in their first IAM agreement. The two-year accord also increased benefits and seniority rights, gained agency shop protections and a grievance procedure.
The workers include mechanics, technicians and remote pilots for full-scale and sub-scale drones used by the U.S. Navy.
At the same time, 175 newly organized IAM mechanics at Lockheed Martin Logistics Management achieved similar terms in a three-year agreement. These workers provide maintenance for F-15 engines, components and parts at Tyndall AFB.
"I'd like to thank the Business Representatives and DL 75 Organizer Ray Moffatt for bringing home strong first agreements for our members," said Southern Territory GVP George Hooper. "They have done an incredible job in organizing, bringing the members through the bargaining process. I commend them on their excellent job."
---
IAM Communicators in Voter Registration Drive
District and Local Lodge Communicators will be distributing tips to members encouraging voter registration using online tools that make the process easier than ever. The drive will highlight an online National Voter Registration form usable in all 50 states that is only a click away on the IAM website at www.goiam.org.
The drive will also encourage members who are already registered to find one family member, friend or co-worker and get them registered. The goal is to double the number of Union members at the polls in the upcoming election cycle.
---