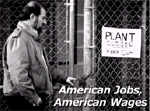 President Bush signed Fast Track legislation that will usher in a new round of NAFTA-style agreements.
To get the Facts about 'Free Trade' and its damaging effect on America's workers, read "The Real Cost of 'Free' Trade" from Vermont Congressman Bernie Sanders.
---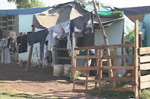 Video:
Live Here if You Dare
Join Eastern Territory IAM members in a tour of the Maquiladora area in Tijuana, Mexico to see firsthand the deplorable living and working conditions of Mexican workers.
---

This year's Union Label Week runs Sept. 2-7.
Download a full range of resources to help promote union-made products at the AFL-CIO Union Label and Service Trades website, www.unionlabel.org.
---


Get Your Convention Gear Check out gear for the 2004 IAM Convention
---

The IAM
Executive Council
International President
R. Thomas Buffenbarger

Secretary Treasurer
Donald E. Wharton

GVP Western
Territory
Lee Pearson

GVP Canada
Dave Ritchie

GVP Midwest
Territory
Alex M. Bay

GVP Headquarters
Robert V. Thayer

GVP Southern
Territory
George Hooper

GVP Eastern
Territory
Warren L. Mart

GVP Transportation
Robert Roach, Jr.
Tuesday, August 20, 2002



IAM Seeks Mediation in Boeing Talks
Only hours into their first day of full-time negotiations with the Boeing Co., IAM leaders have summoned a federal mediator, complaining that the company's "hostile intransigent tone" at the table is "seriously hindering these negotiations."
"We have only 12 days left to reach an agreement and Boeing made it very clear, we are miles and miles apart on every major issue – jobs, affordable health care and improved pensions. Boeing expressed no interest in moving on anything. Our members don't have time to play their game and these issues are way too important for that. This contract is way too important to the future of the people in the Puget Sound, Wichita and Portland," said Mark Blondin, president of the 19,500-member IAM District 751 in Seattle.
"It is highly unusual to request a mediator so early in negotiations, but right from the get go Boeing showed zero interest in listening or engaging us on the issues. Perhaps they need another voice urging them to drop their hostile intransigent tone and get serious about this contract," said IAM Chief Negotiator Dick Schneider.
---
IAM to sit on US Airways Bankruptcy Panel
Machinist Union representatives and legal counsel appeared on behalf of IAM members at a meeting in Virginia to organize an Unsecured Creditors Committee in the US Airways bankruptcy case. A United States Trustee appointed the IAM to a seat on the 13-member committee made up of select US Airways creditors.
The purpose of the committee is to represent the interests of the class of unsecured creditors by monitoring the debtor's operations during the bankruptcy case and by expressing its opinion as to the best means to achieve a successful reorganization.
IAM Airline Coordinator Jim Varsel represents the IAM membership on the committee. He began his career as an Allegheny Airlines aircraft mechanic in 1962 and is currently a member of Local Lodge 1976 in Pittsburgh, PA.
---
Bush Veto Threatens WTC Site Workers
President Bush gave the back of his hand to thousands of working Americans who helped in the recovery and cleanup at the Sept. 11 World Trade Center attacks. Bush said he would not release $5.1 billion Congress approved for supplemental homeland security programs, including $90 million to monitor the health of workers who cleared up the rubble.
"Actions speak louder than words," noted Fire Fighters President Harold Schaitberger in a scathing response to the White House declaration. "Don't lionize our fallen brothers in one breath then stab us in the back by eliminating funding for our members to fight terrorism and to stay safe."
The funding was targeted for setting up health screening programs to track workers who loaded and hauled debris, restored utilities and performed other cleanup work that exposed them to several toxic substances.
Some medical experts estimated at least half the workers cleaning up the Ground Zero site would require treatment for serious health problems after being exposed to asbestos, carcinogens and other health hazards.
---
Social Security Celebrates 67th Birthday
The nation's most successful social insurance program celebrated its birthday last week with a minimum of fuss. Social Security turned 67 and the program's trustees annual report says the system is alive and well---and financially hale and hardy.
Social Security faces no near-term crisis, despite the scare stories festering in the news media and within certain political circles. Revenues currently exceed benefit payments and the surplus will allow benefits to be paid in full through 2041, according to the fund's trustees.
More than 60 percent of all seniors depend on Social Security for more than half their income. Yet, despite its proven value to older Americans there are those, including President Bush and many members of Congress, who want to "privatize" the program by investing a portion of payroll taxes in Wall Street accounts.
"We had 'privatization' for 160 years," pointed out IP Tom Buffenbarger. "During that time, citizens were left free to invest as they chose. Those who earned good money or inherited wealth lived well. Those who saved little, usually because of low wages, spent their final years in the county poorhouse."
Because of the Social Security program, only 10.2 percent of the elderly live below the poverty line.
---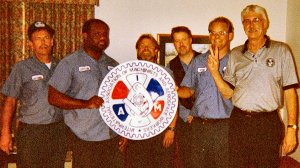 Raytheon Workers Vote Union
Eight Raytheon workers at Goodfellow AFB, San Angelo, TX recently voted for IAM representation. The new members provide training on firefighting equipment at the facility. Shown from left are new members Mike Klosterhoff, Bruce Davison, Bob Killam, David Moos and Casey Ryan. They are joined by IAM rep Larry Washam.
---
Voter Registration Drive Gains Steam
An innovative IAM voter registration drive is gaining momentum fueled by easy online procedures that make registration even easier. District and Local Communicators are distributing handy tips through an online National Voter Registration form usable in all 50 states. It's just a click away on the IAM website at www.goiam.org.
The campaign encourages members who are already registered to canvass family, friends and neighbors and get them registered. The goal is to double union turnout in the November elections and return the Congress to a more worker-friendly leadership.
---