Tuesday, August 27, 2002


Machinists Rally in Seattle, Wichita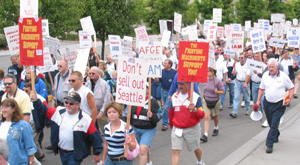 In Seattle and Wichita, IAM members
hit the streets to support contract negotiations.
IAM members and supporters rallied in Seattle and Wichita this week in support of the union demands for job security, decent pensions and affordable health care.
"All our members want is to build the best airplanes in the world right here in Seattle, Wichita and Portland," Tom Buffenbarger told the cheering crowd that marched outside the hotel where negotiations are underway. "We're not the ones who cut and ran from Seattle to hide in Fortress Chicago. Boeing did that, and we say to Boeing: 'Come home and invest in the men and women who built this company.'"
IAM members were joined by members from SPEEA, Firefighters, Teamsters, Security Guards, AFSCME, ILWU, HERE, Operating Engineers, SEIU and dozens of other area unions.
Boeing is scheduled to deliver its so-called 'last, best and final' offer to union negotiators in Seattle on Aug. 27. The current contract covering 26,000 IAM members at Boeing expires on Labor Day. Up-to-the minute information on the contract talks is available on the IAM website at: www.goiam.org and on the IAM 751 website at http://www.iam751.org.
---
US Airways Members Set to Vote
US Airways Fleet Service and Mechanic & Related members of IAM District 141 and 141-M respectively will vote August 28 on company proposals designed to aid in the airline's bankruptcy recovery plan.
The airline filed for Chapter 11 bankruptcy protection on August 11, 2002, becoming the first major U.S. carrier to take that step in the shadow of the September 11 attacks.
In the absence of a recovery agreement, a company in bankruptcy can appeal to the bankruptcy judge for 'relief' from the wages and benefits contained in labor agreements. A judge can then severely narrow the scope, wages and protections of a collective bargaining agreement, or abrogate it entirely.
---
ITF Congress Hails 'Global Solidarity'
The IAM joined with delegates to the 40th Congress of the International Transport Workers Federation (ITF) in Vancouver, British Columbia, and pledged to make 'Global Solidarity' among labor unions a force equal to the threats confronting transport workers worldwide.
"Transportation unions understand the importance of sharing information and coordinating campaigns to oppose transnational corporations with no fixed address or loyalty," said Transportation GVP Robert Roach, Jr. "Air rage, unchecked outsourcing and obstacles to union organizing are threats that do not recognize borders. The ITF gives transport unions around the world a global forum to meet these challenges."
The week-long conference is held every four years on behalf 604 transport trade unions in 137 countries, representing nearly 5 million workers.
As one of the largest transportation unions in North America, the IAM is deeply involved in ITF activities. This year, ITF delegates elected GLR Carla Winkler to be Chairperson of the Civil Aviation section and GVP Robert Roach, Jr. was elected to the ITF Executive Board.
---
UAL To Revise Offer to Unions, ATSB
As part of its financial recovery program, United Airlines announced it will reveal new cost-cutting proposals to union representatives and employees before the end of this week.
United also said it would submit a revised application to the Air Transportation Stabilization Board (ATSB) as part of a bid to secure $1.8 billion in loan guarantees.
United, the nation's second largest airline, lost $2.1 billion in 2001 and $851 million in the first six months of 2002. UAL CEO Jack Creighton told employees United will look beyond labor for cost savings and plans to increase flights on profitable routes to increase revenue.
---
Terrorists No Match for Union Power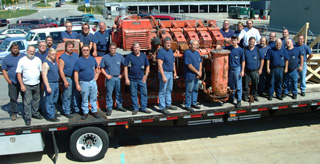 Local 1377 members who helped build the emergency generators at the World Trade Center
The skilled hands of IAM workers craft products that can withstand the best shots of the craven cowards exemplified by those who planned and carried out the attacks on September 11. Among the survivors pulled from the World Trade Center are a half-dozen diesel-powered emergency generators built by IAM members at the Waukesha Engine Co. in Waukesha, WI.
The six engines were built and installed in 1971. Some of them survived an earlier terrorist attack on the North Tower in 1993. Last September, the engines came on-line and provided crucial lighting that helped hundreds of survivors escape the burning towers.
Of the six engines built by Local 1377 members, three were declared unsalvageable and scrapped, two are being rebuilt for another productive service life and the final survivor has been put on display as a reminder of the nation's commitment to victory. It will be put on display at the Milwaukee War Museum from Sept. 10-13 and then returned to the plant where it will be given an honored position near its original production line.
---
Health Care Industry Led Lobby Pack
The health care industry spent more money than any other industry to lobby members of Congress last year, according to a report in the Washington Post. The article said the industry racked up $234,724,579 to make its case.
"Perhaps that's why prices for prescription drugs are out of sight," declared IP Tom Buffenbarger, "and maybe that's why we can't get an affordable drug plan for our senior citizens."
He reminded working families that can make their voices heard November 5—at the ballot box." Our votes are a far more potent political weapon than lobbyists' dollars. Let's make sure Congress hears our voices in November."
---