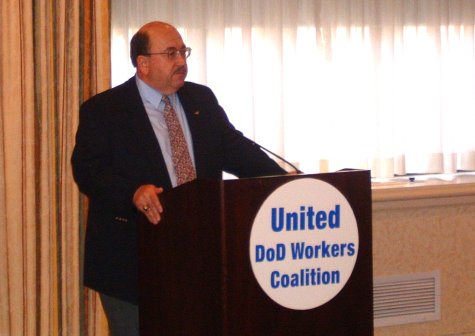 IP Buffenbarger told government union leaders that the Department of Defense threatens to substantially reduce or eliminate collective bargaining rights for nearly 750,000 civilian employees.
Defense Department Targets Union Rights
A new personnel system being proposed by the Bush Administration and Defense Secretary Donald Rumsfeld threatens to substantially reduce or eliminate collective bargaining rights for nearly 750,000 civilian employees.
Pentagon officials say the National Security Personnel System (NSPS) is on track for deployment in late 2005, but union leaders gathered this week in Washington, D.C. accused the administration of overstepping its authority and using the new rules to gut long-standing union protections.
"This administration is hiding behind the war on terrorism to wage war on workers' rights and union rights," said IP Tom Buffenbarger. "The tens of thousands of civilian workers in the Department of Defense are among our most loyal and patriotic citizens. They deserve better than this smear campaign being organized by the anti-union, anti-worker extremists in the Bush Administration."
Congress authorized changes to personnel rules last year in response to pressure from the White House and others, however, lawmakers made it clear that union representatives should be partners in the process. The administration won similar authority to rewrite personnel rules in 2002 for employees of the newly created Homeland Security Department.
Join the IAM Campaign to Save Pensions
In the battle to preserve pensions at United Airlines, every union member stands to be personally affected by the outcome. The IAM is calling on all members, airline and non-airline, to join the fight to protect employee pension plans throughout the United States.
IAM members are urged to visit, call, fax and email their elected representatives and urge them to demand United Airlines CEO Glenn Tilton end his campaign to terminate United's pensions.
If United is successful in terminating their pension plans, other airlines and industries are sure to follow. Corporate America must not be allowed to dump its pension obligations on the federal government and the American taxpayer.
You can find contact information for your elected officials here. You can also email your representatives by filling out the form available here.
Click here to find sample letters, background information, talking points, and tips to use in communicating with your representatives. Additionally, there is a map detailing how many IAM members reside in each of the 50 states and a feedback form for the membership to return to the Transportation Department following discussions with elected leaders.
This issue extends beyond United Airlines. Immediate action is needed to prevent the abandonment of pension plans for all working Americans who have been loyal employees and toiled many years with the expectation that they would be rewarded with the pensions they earned.
On August 31, District 140 issued a letter in French and English detailing the sick leave and long-term disability protections available to District 140 General Chairpersons.
"We want to emphasize that each and every General Chairperson is entitled to three months sick leave with full pay," said the letter issued in response to an earlier communiqué regarding District 140 General Chairperson Sylvain Provencher. "Brother Provencher received this benefit. When the sick leave expires, District 140 pays a Long Term Disability premium on behalf of the applicant, which kicks in immediately. Brother Provencher has chosen for whatever reason, not to apply for the Long Term Disability offered by District Lodge 140."
Labor Rallies at GOP Convention
More than 10,000 union members and supporters rallied for good jobs, healthcare and other working family priorities this week in New York City outside the Republican National Convention. At the same time, some 5,000 workers in a 60-block line stretching from Wall Street to Madison Square Garden created a symbolic unemployment line, representing the nation's nearly 1.9 million jobless workers who are victims of President George W. Bush's economic policies. Those in the "unemployment" line carried large, pink signs warning, "The next pink slip might be yours."
"It's time for a change," says Jerry Nowadzky, a Machinist member from Monticello, Iowa, who spoke at the rally. "We need jobs that pay a living wage. Middle-class jobs are being affected and we need to save those jobs so our children will have some place to work." Nowadzky lost two jobs––one was sent to China, the other to Mexico. Now he's working as a grocery clerk, making half as much as he did as a machinst and receiving no health or pension benefits.
New York City workers organized the rally in place of this year's Labor Day parade to protest the Bush administration's anti-worker policies that have cost good U.S. jobs, weakened workers' freedom to join unions, ignored high unemployment and skyrocketing health carecosts, taken overtime protection away from millions of workers, opposed increases in the federal minimum wage, fought project labor agreements, undermined public education and supported corporate moves to export U.S. jobs.
Pratt & Whitney Cancer Probe Update
Families of Pratt & Whitney workers who died from a rare form of brain cancer are concerned that a company-funded study examining the link between the cancers and workplace chemicals could take too long and fail to warn current workers about exposure risks.
Researchers from the Connecticut Department of Public Health initially identified dozens of cases of brain cancer among Pratt workers, but failed to reach a definitive conclusion about their cause. Following widespread publicity and pressure from victims' families, Pratt hired researchers in 2001 to conduct a more detailed study.
The current study is examining medical records of more than 200,000 current and former Pratt workers and plans to complete the study in 2008. The size of the study has led researchers to ask for additional money and they now anticipate an additional two years before results are released.
Click here for more information and updates on the legal battle to uncover the cause of the deadly cancers.
Another Zig Zag for Zell
Georgia's Democratic Senator Zell Miller performed one of the "zig zags" he is noted for as he lambasted presidential candidate John Kerry with a wild-eyed harangue at the Republican convention before a national television audience. It wasn't so long ago that Miller heaped high praise on Kerry. In 2001 Miller praised John Kerry as "one of this nation's most authentic heroes, one of this party's best-known and greatest leaders, and a good friend."
Despite Miller's public questioning of Kerry's suitability to lead the country, the Georgia Senator hasn't always felt that way:

"In his 16 years in the Senate, John Kerry has fought against government waste and worked hard to bring some accountability to Washington. Early in his Senate career in 1986, John signed on to the Gramm-Rudman-Hollings Deficit Reduction Bill, and he fought for balanced budgets before it was considered politically correct for Democrats to do so. John has worked to strengthen our military, reform public education, boost the economy and protect the environment."
(U.S. Senator Zell Miller - Remarks to the Georgia Democratic Party Jefferson Jackson Dinner 2001)
Local 2461 Ratifies New Agreement
Members from Local 2461 in Newport News, VA employed by Siemens Automotive, overwhelmingly ratified a new three-year contract with general wage increases in all three years, a 401(k) company match and reduced employee contributions for medical benefits.
"The pension administered by the company left our members with very little to look forward to in later years," said Grand Lodge Representative Stephen Spain. "With hard bargaining and planning we were successful in bringing 550 of our members into the IAM National Pension Fund. This gave a 65 percent increase to our members' pension factor during the term of this contract."
"It's great to see a local come together to fight hard for a good contract," said Southern Territory GVP Bob Martinez. "Congratulations to brothers Spain and ADBR Tipton, the entire negotiating committee and the membership."
---
Past iMail | Your Email |www.goiam.org | Print Version | iMail Sign-Up