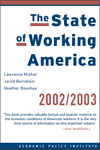 Preliminary findings from the biennial State of Working America from the Economic Policy Institute.
---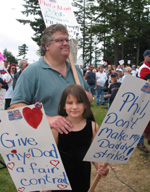 Keep up to date on Boeing negotiations on the "IAM Boeing News" page on goiam.org. Video, press releases, updates and news stories are available.

---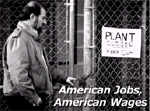 President Bush signed Fast Track legislation that will usher in a new round of NAFTA-style agreements.
To get the Facts about 'Free Trade' and its damaging effect on America's workers, read "The Real Cost of 'Free' Trade" from Vermont Congressman Bernie Sanders.
---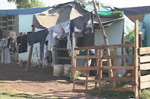 Video:
Live Here if You Dare
Join Eastern Territory IAM members in a tour of the Maquiladora area in Tijuana, Mexico to see firsthand the deplorable living and working conditions of Mexican workers.
---


Get Your Convention Gear Check out gear for the 2004 IAM Convention
---

The IAM
Executive Council
International President
R. Thomas Buffenbarger

Secretary Treasurer
Donald E. Wharton

GVP Western
Territory
Lee Pearson

GVP Canada
Dave Ritchie

GVP Midwest
Territory
Alex M. Bay

GVP Headquarters
Robert V. Thayer

GVP Southern
Territory
George Hooper

GVP Eastern
Territory
Warren L. Mart

GVP Transportation
Robert Roach, Jr.
Thursday, September 5, 2002


FMCS Calls For 'Press Blackout'
in IAM-Boeing Negotiations
On request of Peter J. Hurtgen, director of the Federal Mediation and Conciliation Service (FMCS), the International Association of Machinists and Aerospace Workers (IAM) has agreed to observe a "press blackout" while mediated talks continue towards a contract settlement with the Boeing Company.
Accordingly, there will be no further news releases or discussions with the news media by the IAM regarding the Boeing contract while talks with the FMCS continue.
---
Union Leaders at UAL
Seek Out of Court Recovery
Machinists, Pilots, Flight Attendants, Meteorologists and Dispatchers' representatives met Wednesday in Chicago and urged new CEO Glenn Tilton to embrace a business plan for United that does not include seeking or threatening bankruptcy. "The employees of this airline are anxious to achieve an out-of-court recovery, and we give you our commitment that we are ready to work with you to achieve that result," said the union leaders in a letter that called for practical solutions to United's problems. "Those solutions should, in our view, be sufficient to give the Company access to the capital markets, either with or without an ATSB loan guarantee, thereby stabilizing the Company and giving it the time to address the many other difficult issues confronting it."
IAM representatives at the meeting called on Tilton to modify the recovery timetable and terms put forward by previous management at United and urged the new CEO to work more closely with front line employees at the airline.
---
Mediator Extends Talks With IAM
Federal mediators in Washington, D.C. scheduled additional meetings with IAM representatives seeking a negotiated settlement on behalf of 26,000 Boeing workers in Wichita, Portland and Washington State.
IAM and Boeing representatives arrived in Washington on Wednesday at the request of the Federal Mediation and Conciliation Service (FMCS) officials, who called for the meeting in the midst of last week's contract vote by union members. FMCS officials also called for additional negotiations.
"We came to Washington because we believe a negotiated settlement is possible and in the best interest of our members, their families and communities," said chief IAM negotiator Dick Schneider. "It's seems clear that federal mediators are working toward that goal also."
---
Election 2000 Guide Available Online
A voters guide to issues and candidates is now available at www.goiam.org. The easy-to-navigate site, called 'Making Every IAM Vote Count' points out just how close recent votes in Congress actually were. Legislation regarding unemployment insurance, worker safety and economic stimulus were all decided in the House and Senate by a handful of votes. The site also links members to a National Voter Registration Form, which can be used in all 50 states to complete voter registration in time to participate in the upcoming elections. Voter registration closes by October 5 in most states.
---
Homeland Security Tops Hill Agenda
A raging debate over how to shape a homeland security plan took center stage as Congress returned from its summer recess. The Senate is likely to host the first skirmishes as it debates President George W. Bush's attempt to strip collective bargaining rights and civil protections away from 170,000 federal workers expected to be shifted to the new Homeland Security department.
Unlike the measure passed by the GOP-ruled House, the Senate's version maintains the workers' rights.
In other actions, the Senate will debate 401(k) reform legislation that calls for elected worker representatives on the retirement plan boards of trustees, as well as regulations preventing employers from overloading plans with company stocks and calling for independent investment advice for workers.
Another bill calls for a new workplace ergonomics standard. That measure may be offered as an amendment to the Labor, Health and Human Services appropriations bill.
---
Enron Workers Gain Bonus
A bankruptcy judge handed 4,200 former Enron employees a healthy $34 million severance package. The workers will receive up to $13,500 each under terms of the ruling. Also, the laid-off workers earned the right to try to take back up to $85 million in bonuses snatched by Enron executives just before the firm filed bankruptcy papers.
The AFL-CIO which assisted in the lawsuit is urging Congress to restore a measure of fairness to bankruptcy law by putting workers first in any such proceedings.
---
Seniors Play Key Role in Election
Senior voters may be the deciding factor in this year's midterm elections, according to a new poll by the Alliance of Retired Americans. The poll is a comprehensive look at the political views of seniors and the priority issues that will influence their vote.
Older Americans are among the most consistent voters in off-year elections and their turnout could decide close races this fall.
Alliance President George J. Kourpias stressed that point in his keynote speech to the organization's national meeting in the nation's capitol this week. "What happens over the next nine weeks will decide what kind of America we will have… whether it is an America that keeps its promises or breaks them…whether it is an America that takes care of its citizens or forsakes them…the choice is yours," he said.
Political observers predict senior citizens will count for as much as 25 percent of the vote in the November election. For more information, visit www.retiredamericans.org
---
Kourpias Elected Alliance President
Delegates to the Alliance for Retired Americans national conference elected former IAM head George J. Kourpias as president of the organization. IP Tom Buffenbarger nominated Kourpias and awarded him his 50-year IAM membership pin.
In one of his first official actions, Kourpias led more than 1,000 retirees and supporters in a rally protesting skyrocketing prescription drug prices.
---