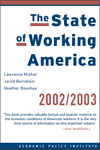 Preliminary findings from the biennial State of Working America from the Economic Policy Institute.
---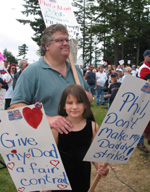 Keep up to date on Boeing negotiations on the "IAM Boeing News" page on goiam.org. Video, press releases, updates and news stories are available.

---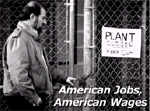 President Bush signed Fast Track legislation that will usher in a new round of NAFTA-style agreements.
To get the Facts about 'Free Trade' and its damaging effect on America's workers, read "The Real Cost of 'Free' Trade" from Vermont Congressman Bernie Sanders.
---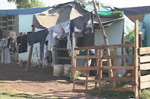 Video:
Live Here if You Dare
Join Eastern Territory IAM members in a tour of the Maquiladora area in Tijuana, Mexico to see firsthand the deplorable living and working conditions of Mexican workers.
---


Get Your Convention Gear Check out gear for the 2004 IAM Convention
---

The IAM
Executive Council
International President
R. Thomas Buffenbarger

Secretary Treasurer
Donald E. Wharton

GVP Western
Territory
Lee Pearson

GVP Canada
Dave Ritchie

GVP Midwest
Territory
Alex M. Bay

GVP Headquarters
Robert V. Thayer

GVP Southern
Territory
George Hooper

GVP Eastern
Territory
Warren L. Mart

GVP Transportation
Robert Roach, Jr.
Tuesday, September 10, 2002


Vote Dates Set for Boeing Machinists
IAM members at Boeing will vote Thursday or Friday on a company offer that union negotiators say will cost thousands of jobs and fails to adequately address the key issues identified by members.
Machinists in Wichita and Portland will vote Thursday, September 12th. Machinists in the Puget Sound region will vote on Friday, September 13th.
In a message to Boeing Machinists released over the weekend, IP Tom Buffenbarger called on members to reject the proposed agreement. "We will vote on Boeing's 'last, best and final' offer," said Buffenbarger. "And we ask you to reject it, absolutely certain in the knowledge that a better one was -- and is -- available to you. We will ask you to give your negotiating team a resounding two-thirds strike authorization vote to strengthen their hand when Boeing is ready to resume talks, serious talks. It's the hard way. It's the old way. And obviously, it's the only way Boeing understands."
IAM members in Washington State can find voting times, locations and additional information at http://www.iam751.org. Voters in Wichita can find voting information at http://www.d70iam.org. Portland members can find their information at http://www.iamdl24.org
---
Welch Rakes in GE Retirement Riches
Jack Welch, General Electric's recently retired CEO, doesn't fret much about the future of Social Security. That's because his GE pension goes way beyond generous. He will have to make do on a modest $9 million annual pension.
Like many retirees, Welch had to find a part-time job. Once again, GE showed its compassion to ex-employees. The firm handed Welch a part-time consulting job that will pay him $86,535 for 30 days labor each year. That's more than twice the annual wage for the average industrial worker. Welch will earn $17,307 for each day over 30-day allotment.
Welch's retirement bonanza at GE's expense doesn't stop there. The New York Times reports that in court documents filed by Mrs. Welch in divorce proceedings, GE is picking up most of the expenses at Welch's "palatial" apartment in New York, including "condominium fees, property taxes, furnishings, food, wine, flowers, cook and wait staff, housekeeper, laundry and dry cleaning, utilities, newspaper and magazine subscriptions."
Welch also gets access to "Boeing 737 business jets, helicopter, limousine service, rental cars and security personnel when traveling abroad."
Court documents say GE is picking up "V.I.P. seating at Wimbledon, a box at the Metropolitan Opera, a box at Red Sox games, a box at Yankee games, four country club fees … and discounts on diamonds and jewelry settings."
"This information will make it very difficult for GE to plead poverty when we open contract talks next year," said GVP Bob Thayer, who coordinates GE bargaining for the IAM.
---
Bush Threatens Veto Over Union Rights

The Bush administration continues to hold Homeland Security legislation hostage in a bid to eliminate basic civil service and union rights for the 170,000 employees who would become part of the new mega-agency.
President Bush threatened to veto the bill unless the workers lose their rights. About 50,000 currently enjoy union representation. The rest are protected by civil service laws.
A recent poll finds the White House is out-of-step on this issue. The poll found that 74 percent of Americans believe employees of the new federal department should have "the same job protections and rights to union representation that other federal employees have." Only 14 percent support the GOP stance, which Sen. Joe Lieberman, D-CT, called "a pure red herring."Lieberman authored the bill now before the Senate.
In addition to the attack on workers' rights', Senate Republicans are expected to try and strip the bill of its Davis-Bacon prevailing wage provisions for workers involved in construction projects that are part of Homeland Security efforts.
Tell your Senators to protect Federal Workers, call the Capitol Switchboard at 202-224-3121 or send an email message clicking on "Politics and Legislation" at www.goiam.org and then select the 'Action Alert' to Protect Federal Workers in Homeland Security Bill (http://capwiz.com/iamaw/issues/alert/?alertid=472566.)
---
US Airways Mechanics to Decide

District 141-M will hold a vote for Mechanic and Related members at US Airways on September 17, 2002, to determine whether or not the group will accept the bankrupt carrier's recovery proposal.
US Airways acknowledged company officials may have misled employees in statements and during informational meetings prior to the initial vote on August 28, 2002. The airline, which declared bankruptcy last month, proposed amendments to the Mechanic and Related agreement in an effort to reduce costs and deflect more drastic measures before a bankruptcy court judge. By a 57 percent margin, employees rejected the airline's proposal.
Based on statements by the company, many members indicated they expected a better offer to follow or leniency before the judge. By contrast, members are now being advised that the bankruptcy judge can only rule on whether or not to abrogate the Mechanic and Related contract in its entirety in the absence of voluntary modifications.
"The IAM is prepared to defend your agreement," said District 141-M President Scotty Ford in a bulletin to members. "However, you must understand that the judge only has the authority to rule on the motion before him, and that motion will not be for modification, but for rejection of the total agreement. The bankruptcy court cannot craft a 'compromise deal.'"
---
Deregulation's Alarming Legacy

The decades-long assault on regulations to protect our health and safety at work, preserve the purity of our air and water, provide financial protection for pensions and investments continues to this day and threatens to permanently alter the role of government in the lives of its citizens.
A 20-page report, 'The Republican Agenda and The New Corporate Abuse' (http://www.iamaw.org/publications/pdfs/obeycorpreport.pdf) from the office of Congressman David Obey, looks at the tragedies of Enron, Arthur Andersen and WorldCom and concludes more are likely to follow.

Government regulation of big business is not anti-free enterprise, argues the report; it is necessary to make the free enterprise system work as well for workers and consumers, as it does for investors and businesses.

The report concludes the government must return to being a watchdog for every working family, instead of being a lapdog for the most powerful in this society.
(You will need Adobe Acrobat Reader to view the Obey report; download Acrobat Reader for free. http://www.adobe.com/products/acrobat/readstep2.html)
---