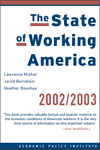 Preliminary findings from the biennial State of Working America from the Economic Policy Institute.

---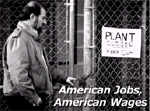 President Bush signed Fast Track legislation that will usher in a new round of NAFTA-style agreements.
To get the Facts about 'Free Trade' and its damaging effect on America's workers, read "The Real Cost of 'Free' Trade" from Vermont Congressman Bernie Sanders.
---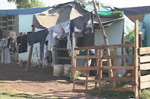 Video:
Live Here if You Dare
Join Eastern Territory IAM members in a tour of the Maquiladora area in Tijuana, Mexico to see firsthand the deplorable living and working conditions of Mexican workers.
---


Get Your Convention Gear Check out gear for the 2004 IAM Convention
---

The IAM
Executive Council
International President
R. Thomas Buffenbarger

Secretary Treasurer
Donald E. Wharton

GVP Western
Territory
Lee Pearson

GVP Canada
Dave Ritchie

GVP Midwest
Territory
Alex M. Bay

GVP Headquarters
Robert V. Thayer

GVP Southern
Territory
George Hooper

GVP Eastern
Territory
Warren L. Mart

GVP Transportation
Robert Roach, Jr.
Thursday, September 19, 2002


Machinists at US Airways Ratify Proposal
Mechanic & Related members at US Airways ratified contract amendments worth $160 million in annual savings as part of the bankrupt carrier's restructuring program.

The vote, which carried by 57 percent, marks the second time US Airways' Mechanic & Related employees were polled on the company's restructuring proposal. A re-vote was scheduled after US Airways' CEO David Siegel acknowledged statements he made prior to the initial vote led to confusion over the consequences of rejection.
"The decision to hold a re-vote was made when it was clear that employees initially received misleading information," said IAM District 141-M President Scotty Ford. "Ratification of this proposal restricts US Airways from seeking further cost reductions from IAM members in bankruptcy court."
The proposal covers US Airways' 6,800 Mechanic & Related employees. The carrier's 5,400 Fleet Service Employees, represented by IAM District 141, approved a separate proposal on August 28, 2002.
---
Ground Zero Heroes Plagued by Illness
According to a recent Washington Post article, workers who braved smoke and fire following the collapse of the World Trade Center Towers are facing serious respiratory illnesses.
Doctors at Mount Sinai's Irving J. Selikoff Center for Occupational and Environmental Medicine were among the first to recognize the potential for widespread health consequences. The center has already treated 600 workers exposed to smoke, dust and airborne toxins, with 60 percent suffering persistent and potentially long term upper and lower respiratory problems.
The IAM is supporting the work of the Selikoff Center by donating all profits from the sale of its 'Everyday Heroes' documentary. "The film tells the story of the men and women who worked at Ground Zero," said IP Buffenbarger. "But the story does not end there. We need to do everything possible to protect these workers who risked their lives and their health when we needed help most."
For more information on the 'Everyday Heroes' project and how you can help, go to www.goiam.org.
---
IAM Federal Workers Standing Firm
"U.S. Government employees have a proud history of providing service to this country and its citizens," said Rick Brown, DBR, Federal District 1, at the annual convention of IAM Federal Employees. "We will stand up to the current assault on federal workers at the same time we reach out and organize a new generation of government employees."
The rights of unionized federal workers are currently threatened by proposals that would give administration officials the right to revoke union and civil service protections for many of the 170,000 employees slated to become part of the new Homeland Security Department.
"Civil service protections and collective bargaining rights are not a threat to national security," said Frank Carelli, IAM Government Employees' Director. "Despite the view of anti-union zealots, the war on terrorism, here and abroad, is about protecting freedoms such as the right to belong to a union – not eliminating them."
---
White House Targets Worker Rights
The Bush administration and its Republican allies in the Senate put worker rights squarely in its crosshairs as debate opens on Homeland Security issues. Bush wants to strip away basic rights enjoyed by some 170,000 workers who will be affected by the bill.
Bush says he will veto any bill that maintains workers collective bargaining rights and civil service protections. The Senate version, authored by Sen. Joe Lieberman, D-CT, does just that.

You can urge your senators to protect these basic rights by sending an 'Action Alert' email message at the Politics and Legislation section of http://goiam.org/politics.asp or call the Capitol switchboard at 202 224-3121.
---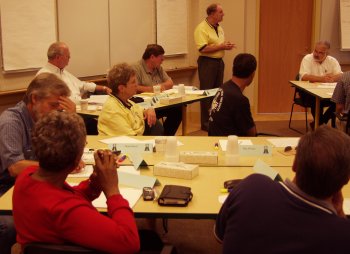 Blue Ribbon Commission Drafts Final Report
Members of the Blue Ribbon Commission gathered at the Winpisinger Center last weekend to draft a final report of the comments made by IAM members at 40 town-hall meetings held last Spring and early Summer. Eight groups with five members each crossed the U.S and Canada to listen to what IAM members had to say about their union and what changes are needed. The five-member groups were made up of leaders from local, district and grand lodge levels and came from different industries and regions in North America.

"These Blue Ribbon Commission members did a terrific job. Each group went out and listened carefully to our members. They learned what our members are most concerned about and what changes we need to make," said Blue Ribbon Commission Chairperson GVP Robert Thayer. "The Executive Council will use the final report generated at this meeting to recommend important changes for the years ahead."
---
Eastern Territory Gains New Members
IAM District 12 recently organized 28 new members at Maryland-based Cobro Corporation. Workers there operate test equipment and provide data analysis for U.S. government agencies on a wide range of machinery, engines and vehicles.
"On behalf of the IAM and members throughout the Eastern Territory, I'd like to welcome the members at Cobro Corp. into the Machinists Union," said GVP Warren Mart. "Our objective is to provide first class service and representation for every bargaining unit, regardless of size." Mart recognized Organizer Henry Scott, Shop Stewards Dorothy Hartman and Milo Cremeans, and District 12 DBR Vickie Fultonberger for their work in this latest Eastern Territory win.
---
SEC Probes GE Payoff to Welch
That enormous retirement package General Electric forked over to Jack Welch, its former CEO, has come under scrutiny from the Securities and Exchange Commission (SEC). The firm said it is cooperating with the inquiry.

Welsh raised the corporate greed bar to new heights with a retirement package that called for GE to pick up the tab for his Manhattan luxury apartment, including food, wine, cooks, waiters, laundry and furnishings. It also included prime seats at sky boxes at Yankee Stadium and Fenway Park and other perks.

This comes in addition his $9 million pension and other goodies, including a lucrative consulting contract.

Welsh has said he will give up all the extras and struggle to get by with just the pension itself. He may have to dip into his personal savings if times get really hard. He is said to have amassed a personal fortune of some $900 million.
---
Prescription Drugs Tops Election Agenda
Both major political parties grabbed onto a prescription drug benefit for senior citizens in fierce battle to win votes among that high-turnout voter bloc. Republicans tout a House-passed bill they claim will help older Americans pay their prescription drug bills.

Democrats say that measure is a fraud, since it has a yawning gap in coverage and funnels billions of dollars in subsidies to HMOs and big drug companies. It also allows HMOs and drug companies to make most of the decisions--how much the plan costs, which drugs are included in the plan and whether or not to even offer coverage for seniors, Democratic critics charge.

Republicans point to the fact the Democratic-controlled Senate has yet to pass a drug bill.

"As activists, it is our job to make sure that every retiree in America understands why the House measure is absolutely the wrong bill to address the problem and why no bill in the Senate is better than a bad bill," explained George J. Kourpias, who heads the Alliance of Retired Americans.
---
Bayer Offers to Sell Indiana Plant for $1
After four years of dismantling assembly lines and shipping work to Mexico and Germany, the pharmaceutical giant Bayer is looking to finish the job by offering to sell the hollowed out remnants of its Elkhart, Indiana factory complex for one dollar.
Local officials charge Bayer's plan is designed to relieve the company of a $372,000 annual tax bill and annual maintenance costs of $7 million. Demolishing the complex, a move favored by some residents, would cost Bayer as much as $20 million.
Prior to layoffs and shipping work offshore, the plant employed 3,000 people in and around Elkhart. Less than 750 remain.
---