T
hursday, October 2, 2003
---
Raytheon Contract Clock is Ticking

Negotiations are underway between IAM Local Lodge 933 in Tucson, Arizona and Raytheon Missile Systems on behalf of nearly 2,000 employees whose current contract will expire at midnight on October 26, 2003.
Key issues in the closely watched negotiations include retiree medical benefits, prescription drug costs and a General Wage Increase.
IAM members in Arizona understand the national significance of their negotiations. "This contract could impact what happens at Raytheon plants across the nation," said Bobby Martinez, Local 933 Directing Business Representative. "We want to put an end to Raytheon's bad trend of taking away from their employees. We must do whatever it takes to secure the manufacturing jobs that we have right here in Tucson, Arizona and across the U.S."
---

The IAM and affiliated AFL-CIO transportation unions are calling on Congress to grant Amtrak's full $1.8 billion funding request and reject lesser proposals designed to cause a shutdown of the nation's intercity rail network.
If Congress and the President fail to act, an Amtrak shutdown would strand millions of travelers and idle 23,000 workers in virtually every community in America. The Amtrak funding dispute is heightened by privatization advocates in the Bush administration seeking to break up the national rail network. No developed nation in the world, other than the U.S., requires its basic rail service to operate without significant government subsidies.
Go to the Action Alerts and Advocacy page on the IAM website and click on
"Help Save Amtrak" to send a message to Congress calling for approval of the full amount needed to keep passenger rail service alive and well in the United States.
---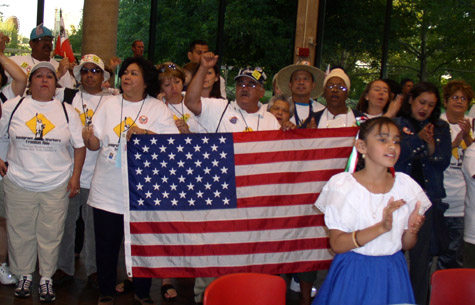 A cross-country caravan of 18 buses rolled into Washington, DC this week en route to a massive rally in New York City on October 4. The 'Immigrant Workers' Freedom Ride' set out from nine cities across the U.S. seeking better working conditions for immigrant workers.
Earlier in the week, more than 100 Freedom Riders stopped in Wichita, Kansas, where they were welcomed by a coalition of labor unions, including Machinists District 70, who hosted a dinner and served breakfast to the riders before they resumed their journey.
Inspired by the original civil rights freedom riders of the 1960s, the riders carry the same non-violent message of fair treatment and equal rights under the law. "The prospect of increased rights and protections for immigrants may rattle some, but the history of abuse in this country is undeniable," said IP Tom Buffenbarger. "We need enforceable laws to guarantee their basic labor rights."
Click www.iwfr.org for more information and photos of the Immigrant Workers Freedom Ride and details about the Oct. 4 New York rally.
---
Workers at Gila Bend Notch First Contract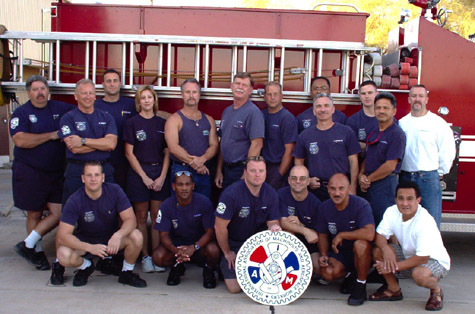 The 24 firefighters, paramedics and alarm room monitors working at a fire station at Gila Bend, Arizona under the Service Contract Act (SCA) have won a first contract. Negotiated by GLR Don Whitaker, the contract features generous improvements in wages, pensions, holiday pay, and paid time off, as well as added bereavement pay, severance pay, and strong grievance and arbitration language. The Fire Station is located on the Gila Bend Air Force Auxiliary Field and the Barry M. Goldwater Range.
---
Guide Dogs Banquet, Golf Tourney Deadlines Near

Sign-up deadlines are drawing near for the annual charitable events which benefit the Guide Dogs of America. This year's 23rd Annual Charity Banquet will be held on Saturday, November 15 at the Flamingo Hotel in Las Vegas, Nevada. Those individuals who plan on attending should make reservations now. Flamingo Hotel Reservations must be made by October 10, 2003 to qualify for the special Guide Dogs of America rate. Reservations can be made directly with the hotel at 800-835-5686. Refer to group reservation code DOG3.
The annual series of fundraising events benefit Guide Dogs of America, a charitable organization that provides guide dogs and training to sight-impaired individuals for no charge. The charity was started more than fifty years ago by a blind IAM member and has had strong support by the IAM and IAM-represented companies ever since.
Other scheduled fundraising events include a Golf Tournament on Friday, November 14 and an all Harley-Davidson Desert Tortoise Run on Thursday, November 13 that is sponsored by the Nevada Hawgs for Dogs Chapter. For more information on any of the scheduled events, contact Debbie Sands or Rhonda Bissell at 818-362-5834, ext. 226 or 229 or visit www.guidedogsofamerica.org

---

Past iMail | Your Email | Visit www.goiam.org | Print Version | Sign-Up for iMail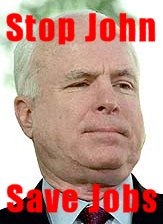 Senator John McCain (R-AZ) is back flying combat missions. This time, however, he seeks to shoot down the proposed lease of Boeing 767 tankers by the US Air Force. And he is using every weapon at his disposal to chalk up another kill. Help stop John McCain and save North American jobs.

---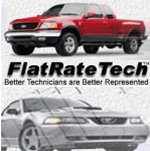 FlatRateTech is an organization "created for and by Ford and Lincoln Mercury service technicians solely to speak as one loud voice rather than 50,000 smaller voices," according to their website http://flatratetech.com. The fast-growing site offers forums for Ford customers, technicians and dealers to exchange information.

---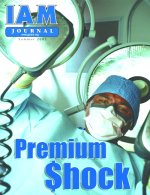 The Summer 2003 IAM Journal is now online. Skyrocketing health care costs are causing Premium Shock for members and employers. The IAM Journal looks at what's causing the increases and what can be done to change America's health care system.
---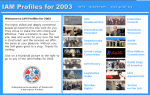 See who works for you, how the IAM is structured, and what services the IAM offers. Go to: IAM profiles for 2003.
---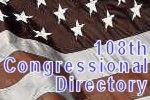 The 108th Congressional Directory . . . get your copy. Send $5 to the MNPL Education Fund, c/o IAMAW, 9000 Machinists Place, Upper Marlboro, MD, 20772.
---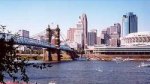 The official site for the 36th Grand Lodge Convention to be held in 2004 in Cincinnati, Ohio is now online. Check it our for convention news, sponsorship offers, and convention gear.